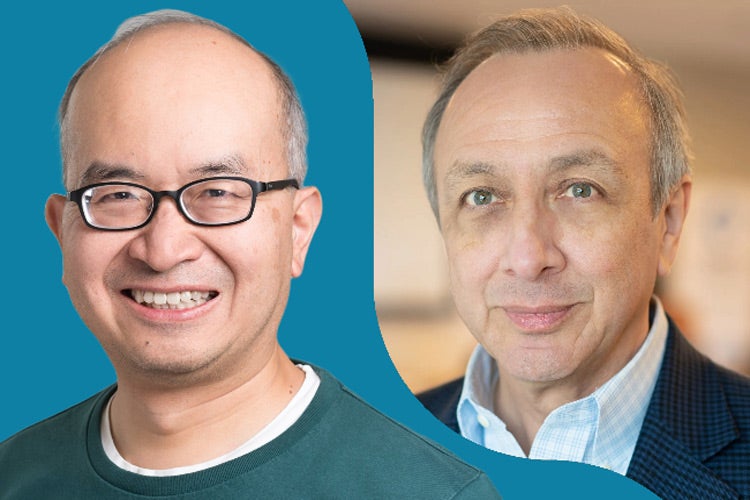 Hoi-Kwong Lo and J.J. Garcia-Luna-Aceves honoured by IEEE
Professors Hoi-Kwong Lo and J.J. Garcia-Luna-Aceves have been selected by IEEE, the world's largest technical professional organization, as 2023 recipients for prestigious, career-spanning awards.
Lo, a professor in the Edward S. Rogers Sr. department of electrical and computer engineering (ECE) in the Faculty of Applied Science & Engineering, cross-appointed to the department of physics in the Faculty of Arts & Science, was awarded the IEEE Photonics Society Quantum Electronics Award for his research in practical quantum cryptography and quantum networks.
Lo was among the first to prove that the encryption provided by one of the best-known applications of quantum cryptography, called quantum key distribution (QKD), is virtually unbreakable. He says he's grateful for U of T taking a chance on him.
"They hired me over 20 years ago, back when quantum computing was just an obscure intellectual curiosity, and gave me the opportunity to forge my path," he says. "Winning this award means a lot to me and hopefully, in a small way, to U of T too."
Garcia-Luna-Aceves, who was awarded the IEEE Harry H. Goode Memorial Award, joined ECE recently and has decades of research in routing algorithms, protocols and architectures in computer networks. Like Lo, his work has been adopted for everyday technology, such as the routing algorithms for today's wireless and server networks. He holds 70 U.S. patents and has published three books.
"I am of course very proud of my research," Garcia-Luna-Aceves says. "However, what has given me most joy is my success in sharing with my students the thrill of discovery and invention. I am thrilled that many former students became great researchers in their own right.
"I would like to think my mentoring had a small part to do with that."
Having two professors from ECE recognized with such prestigious awards is a testament to the breadth and strength of our department, Professor Deepa Kundur, chair of ECE says. "I'm excited to see where their leadership in their respective fields will take us."
UTC