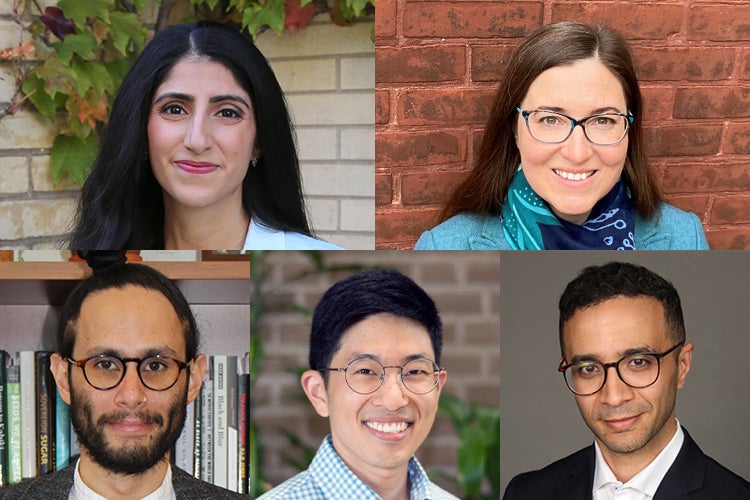 Five University of Toronto faculty recognized with Early Career Teaching Awards
The University of Toronto has recognized five outstanding teachers – Alexandra Bolintineanu, George Ibrahim, Sanghyun (Kris) Kim, Uahikea Maile and Elham Marzi – with the Early Career Teaching Award.
"These faculty members are enriching the experiences of students through exciting and creative teaching practices," says Susan McCahan, vice-provost, innovations in undergraduate education. "The University of Toronto congratulates them on their exceptional commitment to student learning, pedagogical engagement and teaching innovation."
An assistant professor, teaching stream, in the Faculty of Arts & Science, Bolintineanu created a minor program in digital humanities combining research and critical analysis with experiential learning. Students visit rare book collections and museums, and work with text encoding, digital mapping, data visualization, augmented and virtual reality and 3D printing.
A pediatric neurosurgeon and senior scientist at the Hospital for Sick Children in Toronto, and an associate professor in biomedical engineering, medical science and surgery in the Temerty Faculty of Medicine, Ibrahim is developing microlearning tools for neurosurgical teaching locally and internationally.
An assistant professor, teaching stream in the department of chemical and physical sciences at U of T Toronto Scarborough, Kim has partnered with students to design virtual and in-person laboratory exercises, fostered a relationship with the UTSC Campus Farm and Toronto Zoo and developed community-engaged learning projects.
An assistant professor in the Faculty of Arts & Science's department of political science, Maile is a Kanaka Maoli (Native Hawaiian) scholar, organizer and practitioner from Maunawili, Oʻahu. The director of Ziibiing Lab, a research collaboratory focusing on Indigenous politics, Maile is cultivating an alternative learning community for faculty, students and community members.
An assistant professor, teaching stream, with the Institute for Studies in Transdisciplinary Engineering Education & Practice in the Faculty of Applied Science & Engineering, Marzi has advised the vice-president, international, on global classrooms and facilitated international collaborations to advance research and practice on global education.
UTC