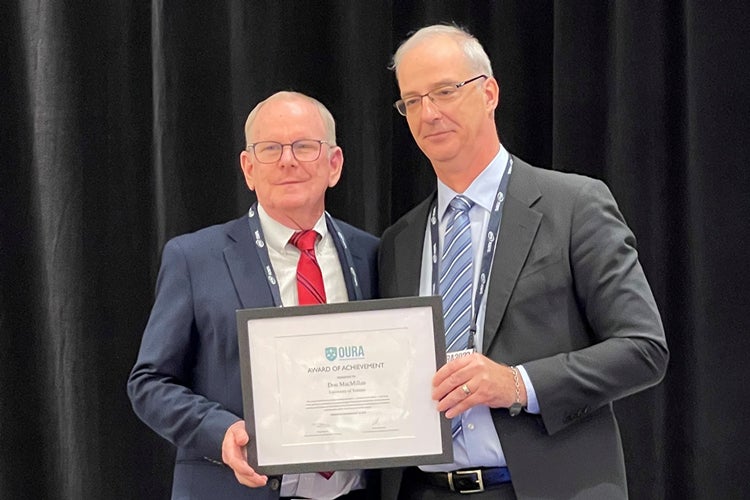 Don MacMillan receives OURA Award of Achievement  
Don MacMillan, former registrar with the University of Toronto's Faculty of Applied Science & Engineering, has been recognized with the OURA Award of Achievement by the Ontario University Registrars' Association.
The award honours long-standing members who have made significant contributions by participating through active membership on the executive, standing committees and workshops, and actively enhancing and developing academic administration within the Ontario university system. 
As a member of OURA, MacMillan was involved in supporting the liaison community's dialogue conference at U of T Scarborough. As chair of the Initial OISE Teacher Education Admission Committee, MacMillan advocated strongly to eliminate barriers for students not well represented in the teaching ranks. During his time at U of T, he co-founded the innovative UTSC Green Path program, bringing hundreds of excellent students from China to U of T Scarborough. MacMillan also advocated for the highest possible level of service to students using technology, staff development, and reducing unnecessary bureaucracy. 
"Don is an exceptional colleague who advocates for and strives to enhance the student experience," University Registrar Angelique Saweczko says. "Through his efforts in establishing recruitment partnerships and implementing system enhancements, Don's contributions to the university and student success are immeasurable.
"It is with great honor that we celebrate Don's recognition from OURA, and I feel privileged to have worked alongside him." 
MacMillan began his career at U of T as the campus registrar and director of enrolment for U of T Scarborough from 1998 to 2009, then served as the faculty registrar at OISE from 2009 to 2013, the director of student services in the school of graduate studies from 2013 to 2015, and as the faculty registrar, Faculty of Applied Science & Engineering from 2015 to December 2022, when he retired.
Provost's Office