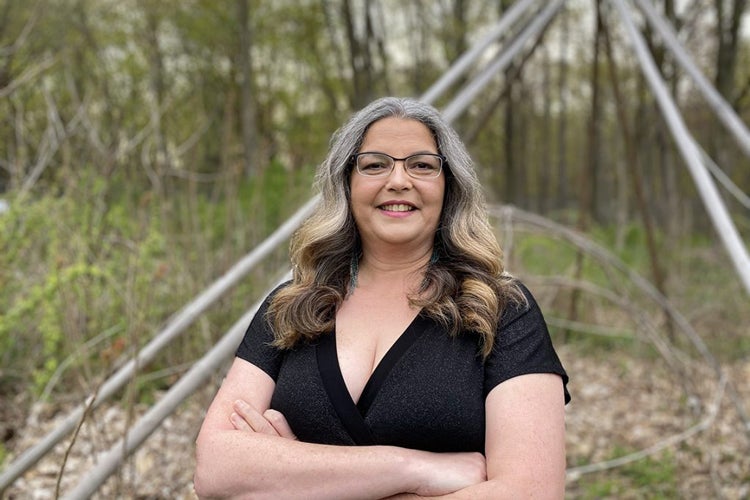 Angela Mashford-Pringle receives Connaught Community Partnership Research Award
Angela Mashford-Pringle of the Dalla Lana School of Public Health has received an award from the Connaught Community Partnership Research Program for community-based participatory action research that aims to strengthen the capacity for First Nations and public health efforts in adapting to the climate-health risk of Lyme disease.
Mashford-Pringle is one of four researchers at the University of Toronto to receive the award this year. The others are Andrea Charise of the University of Toronto Scarborough, Beverley Essue of the Dalla Lana School of Public Health and Pedro Mateo Pedro of the Faculty of Arts & Science.
"In Indigenous research, it is imperative that you have a true and authentic relationship with your partners," says Mashford-Pringle, who will use the program's support to develop relationships with eight First Nations within central Muskoka.
Once a foundation of trust has been built with the university and the communities, Mashford-Pringle and PhD student Claire Hiscock will work with the Simcoe Muskoka District Health Unit and First Nations partners to study and share knowledge around ticks, Lyme disease and climate change.
The Connaught Community Partnerships Research Program encourages collaborative research partnerships that will foster access to each other's unique knowledge, expertise and capabilities on issues of shared interest. It is intended that the partnerships supported by this program will strengthen over time.
"We didn't want to charge in and say,'This is what we're doing about Lyme disease,' but rather we wanted to build a partnership, see what they already know, see what they need and how we can move it forward," Mashford-Pringle says.
Dalla Lana School