The year in pictures: U of T News looks back at 2022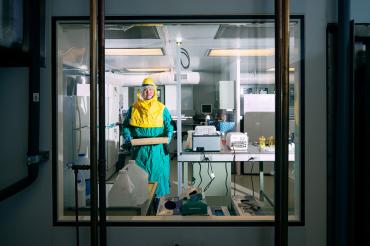 Members of the University of Toronto community shared many memorable moments across the three campuses in 2022.
In spring, graduating students returned to Convocation Hall. In fall, more than 90,000 students from across Canada and around the world were welcomed back to U of T for what President Meric Gertler described as  "our biggest back-to-school ever." Through the year, the university's renowned scholars continued to make their mark through pathbreaking research and innovation that made an impact locally and globally. Meanwhile, events with world leaders deepened the university's international collaborations and partnerships.
For all those highlights and more, U of T News photographers were there. Below is a selection of striking images and special moments from 2022: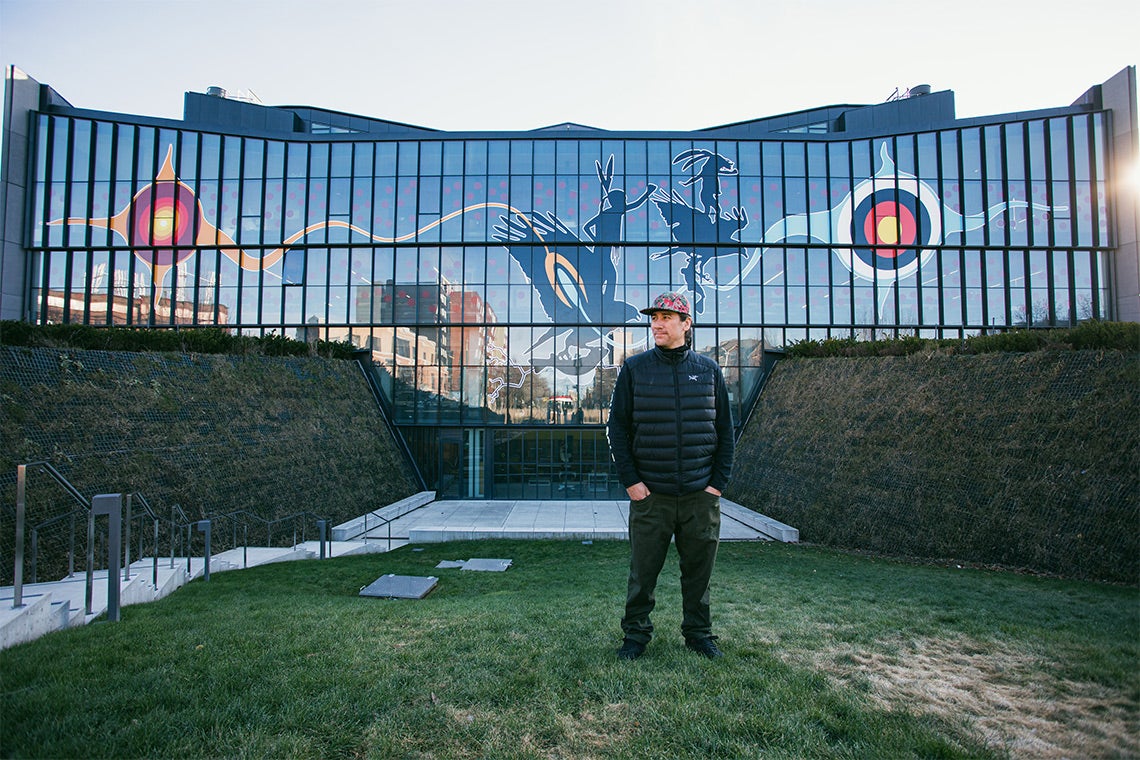 Indigenous artist Que Rock, a member of the Nipissing First Nation, stands in front of the mural he created honouring the 215 children whose unmarked graves were discovered at the site of a former residential school in Kamloops, B.C., in 2021.
The mural is on the north facade of the building housing U of T's John H. Daniels Faculty of Architecture, Landscape, and Design. (Photo by Nadya Kwandibens/Red Works Photography)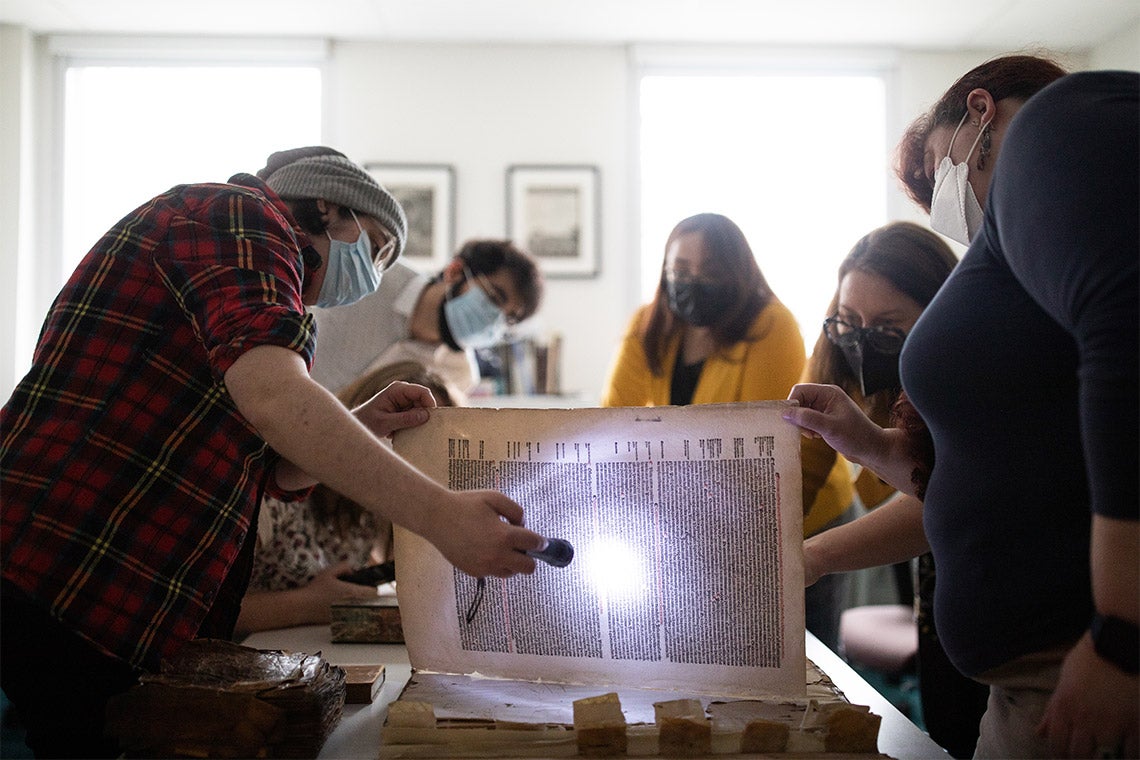 The Hidden Stories project, co-ordinated by the research team at U of T Mississauga's Old Books New Science Lab and funded by the Mellon Foundation, aims to explore the systems, peoples and cultures that make a book.
Alexandra Gillespie, U of T vice-president and U of T Mississauga principal, leads the Old Books New Science Lab. (Photo by Nick Iwanyshyn)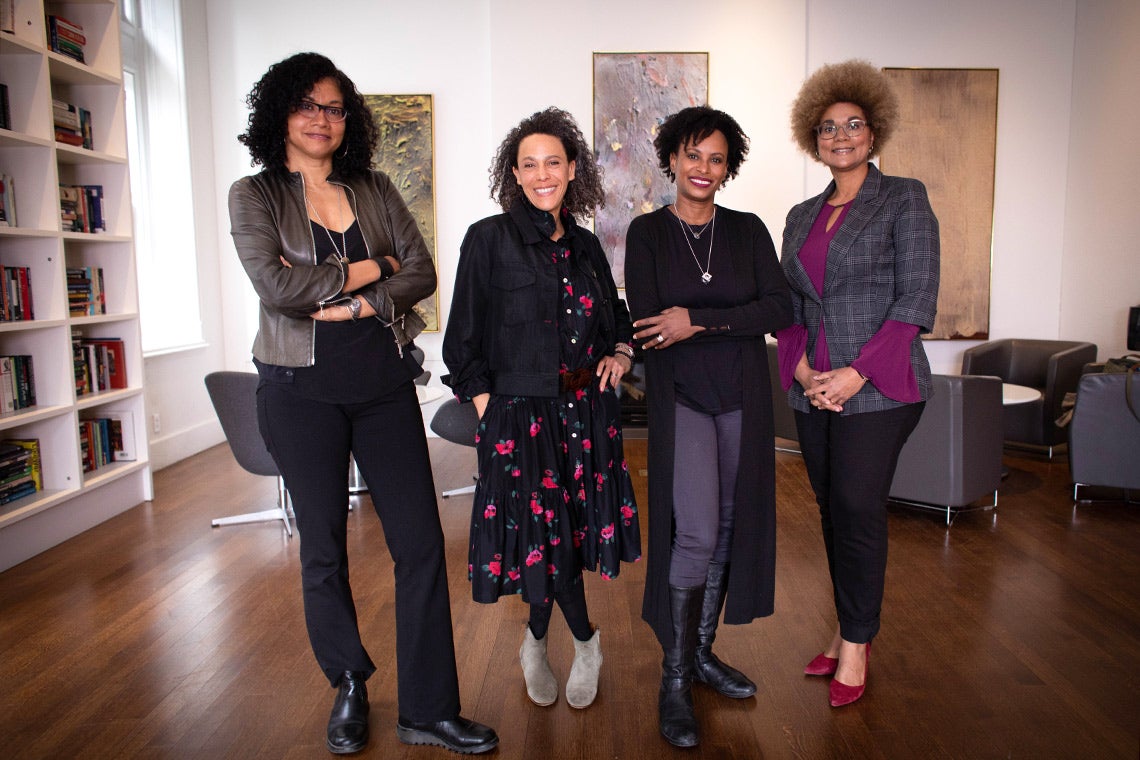 The founders of the Black Research Network, Alissa Trotz, Beth Coleman, Rhonda McEwen and Maydianne Andrade, appeared in an episode of Groundbreakers, a U of T multimedia series on Institutional Strategic Initiatives, to discuss Black research excellence and enhancing the research capacity of Black scholars across U of T's tri-campus community. 
The renowned scholars and pathbreaking leaders also discussed the origins of the Black Research Network and opportunities for collaboration and policy change. (Photo by Lisa Lightbourn)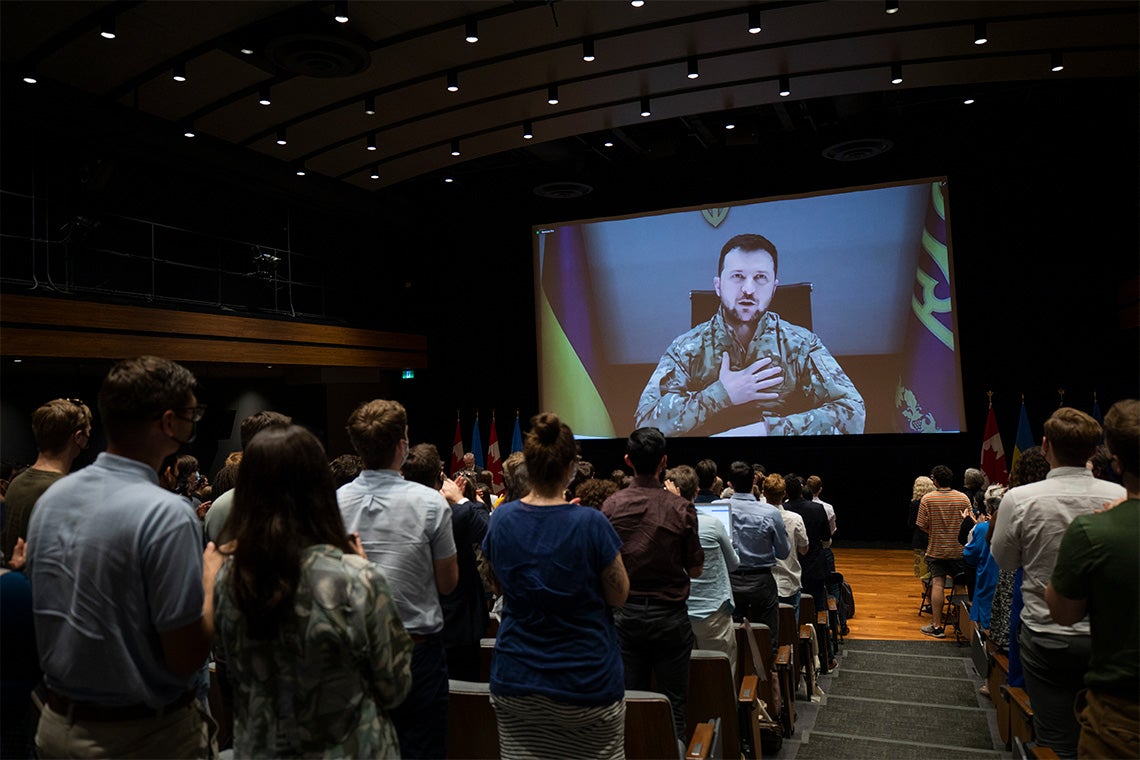 Volodymyr Zelenskyy, the president of Ukraine, delivered an address and participated in a Q and A with students at U of T and other universities across Canada at an event hosted by U of T President Meric Gertler and the Munk School of Global Affairs & Public Policy in June. (Photo by Nick Iwanyshyn)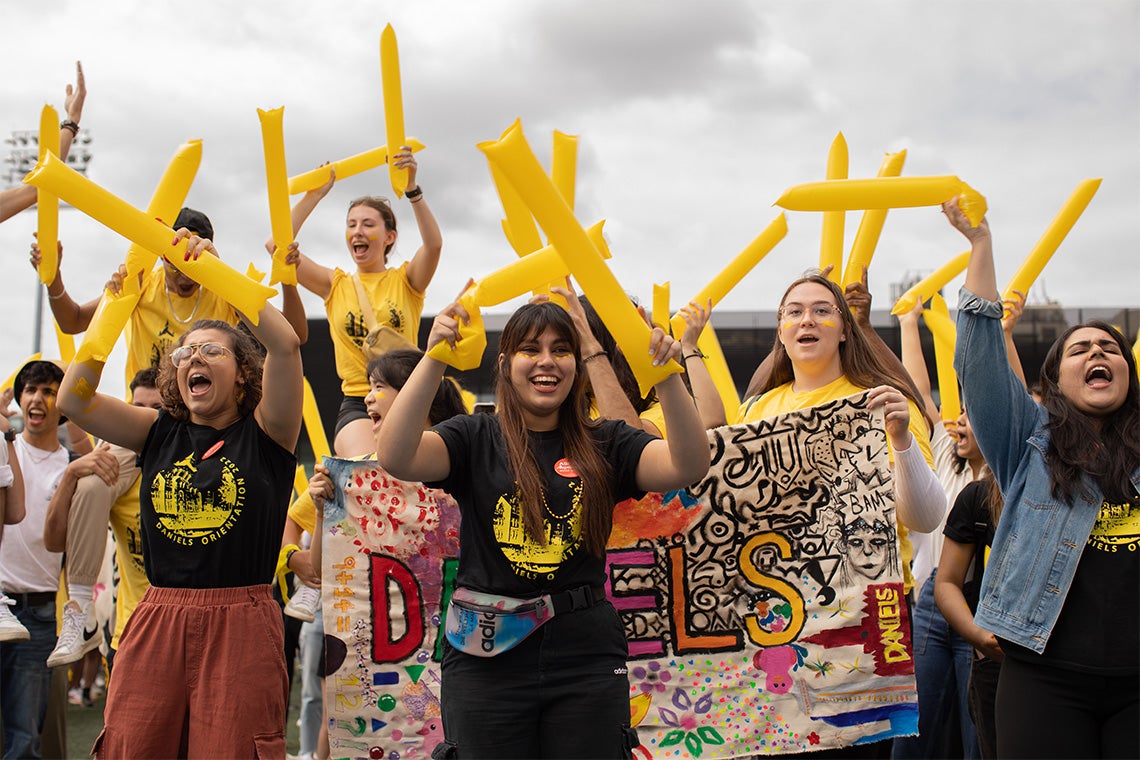 More than 90,000 U of T students were welcomed back to U of T for their fall term with a wide range of events, including a cheer-off at Varsity Stadium on the St. George campus. (Photo by Johnny Guatto)
The proximity of the U of T Scarborough campus to Highland Creek Valley and Rouge National Urban Park offered many opportunities for students to enjoy the outdoors throughout the seasons.
A year-round program started by Athletics and Recreation organizes activities such as snowshoeing, hiking, dragon boating and rock climbing. (Photo by Don Campbell)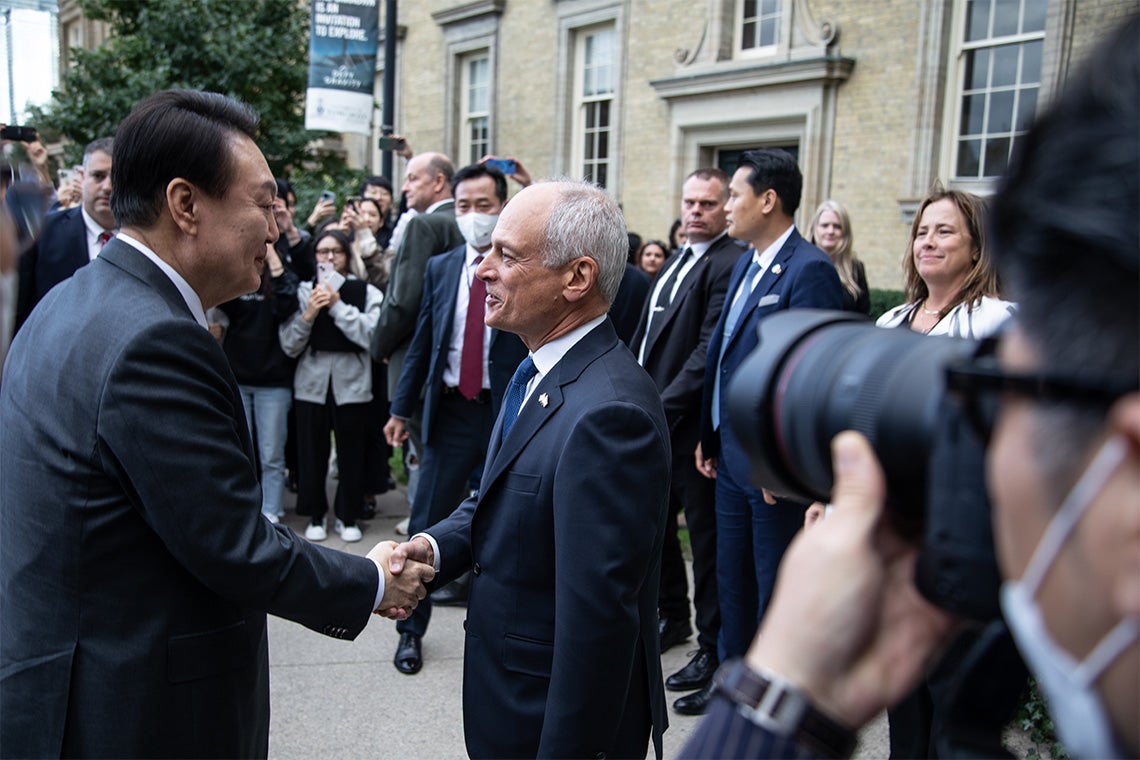 U of T President Meric Gertler welcomed Yoon Suk-yeol, South Korean president, to Simcoe Hall to discuss artificial intelligence and opportunities for further collaboration between the university and South Korean partners.
The meeting included a roundtable discussion titled "AI for the Better Future of Humanity," that featured AI leaders and luminaries, including University Professor Emeritus Geoffrey Hinton and Lee Jong-ho, South Korea's minister of science and ICT (information and communication technology). (Photo by Polina Teif)
Kaeliana Smoke, a master's student in anthropology at U of T Mississauga, was a member of the inaugural cohort of Eagle Feather Bearers during spring convocation.
The Eagle Feather Bearer carries a ceremonial Eagle Feather into Convocation Hall at the outset of each ceremony. The new tradition symbolizes the university's enduring partnership with Indigenous Peoples. (Photo by Lisa Sakulensky)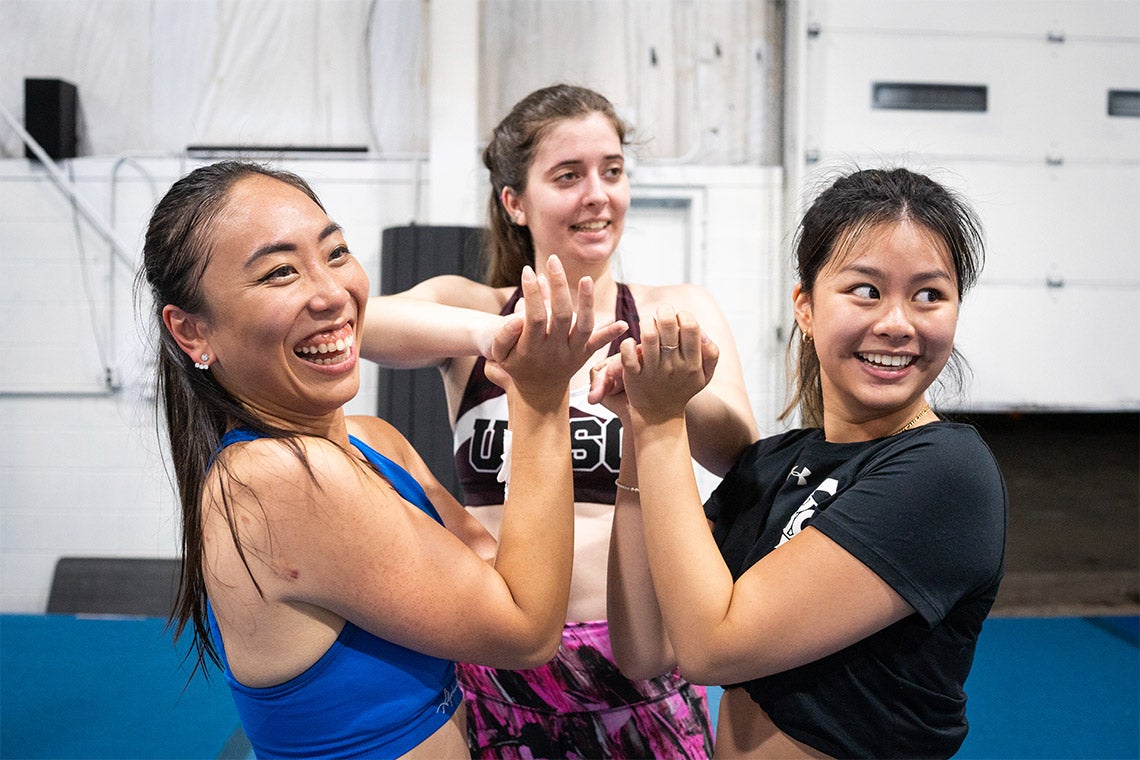 The U of T Scarborough Cheer Team – open to all U of T students, regardless of athletic ability – is one of hundreds of clubs and extracurricular options students participated in across U of T's three campuses this year. (Photo by Geoffrey Vendeville)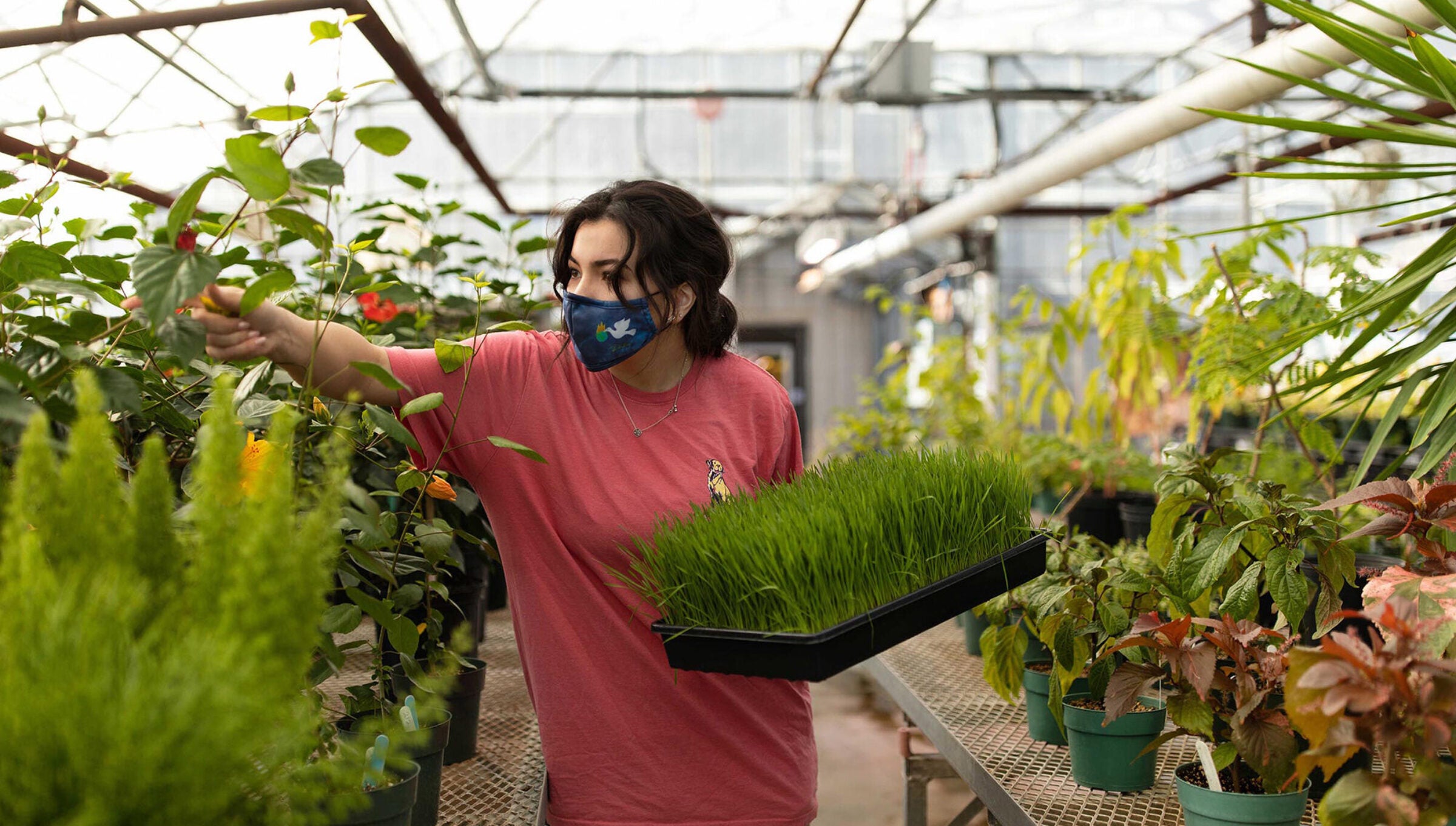 In 2022, a new ranking placed the university second in the world for sustainability, recognizing the way sustainability permeates U of T's entire mission of research and teaching as well as its operations. 
The greenhouse atop the Davis Building at U of T Mississauga, which provides research opportunities for undergraduate biology students, is home to some annuals, including beans and corn and has a permanent collection of flora that includes hibiscus, orchids, mosses, peppers, cotton, bananas and figs. (Photo by Nick Iwanyshyn)
UTC