'Your ancestors walk with you': Eagle Feather Bearers reflect on new tradition ahead of fall convocation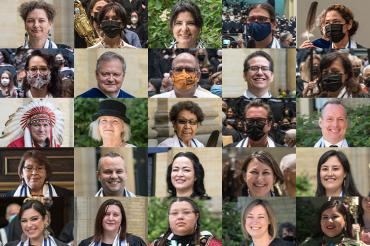 The chancellor's procession at the University of Toronto's fall convocation ceremonies will once again be led by the Eagle Feather Bearer – a ceremonial role first adopted in the spring as a symbol of the university's enduring partnership with Indigenous Peoples.
As a sign of the university's profound respect for Indigenous communities and cultures, the Eagle Feather Bearer carries a ceremonial Eagle Feather into Convocation Hall at the outset of each convocation ceremony, followed by the bedel carrying U of T's gold-plated mace.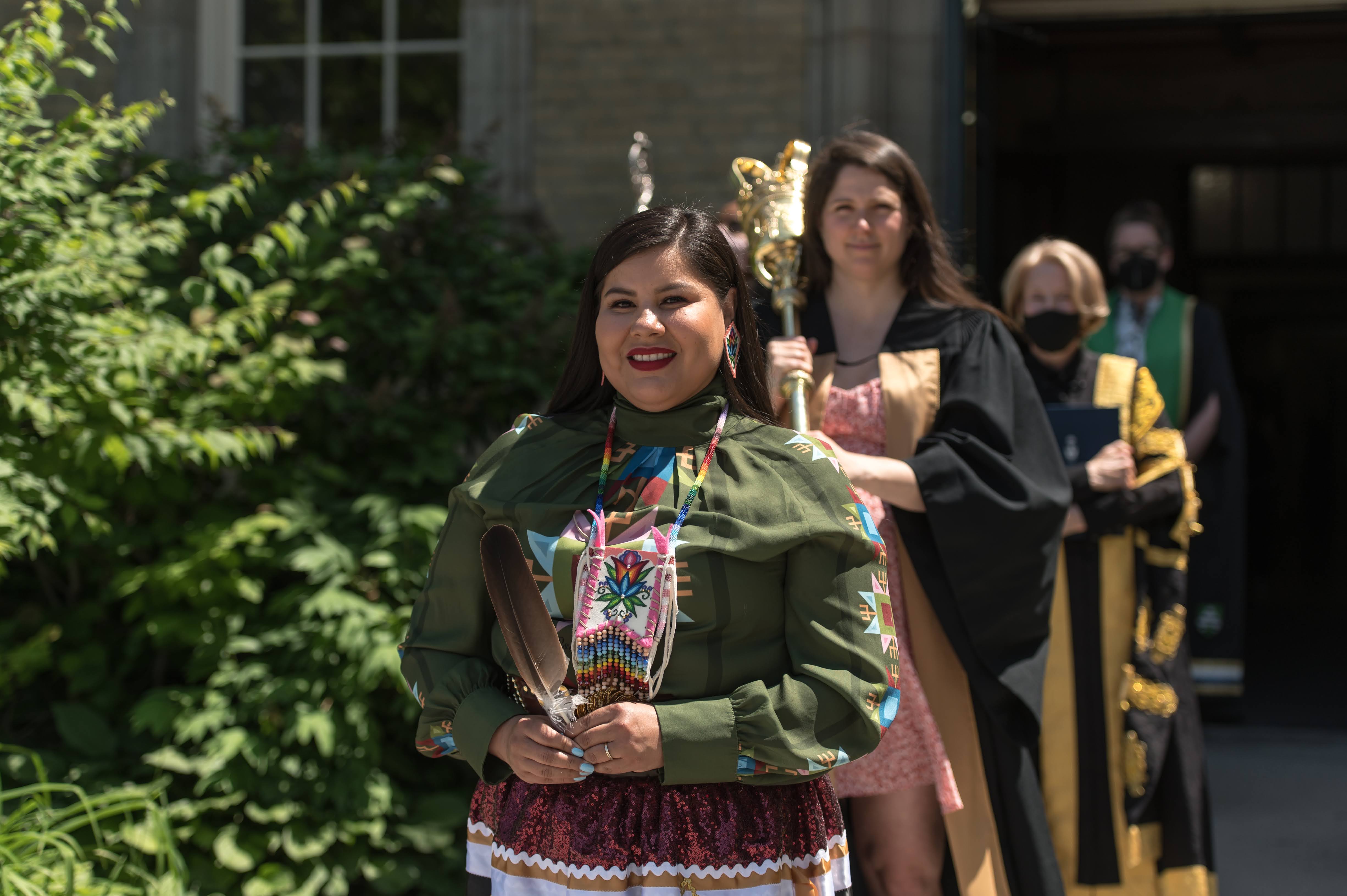 Tee Duke, director of Indigenous Initiatives at U of T Mississauga, leads the chancellor's procession during a convocation ceremony in the spring (photo by Lisa Sakulensky)
Nominated by their faculty or division, Eagle Feather Bearers are members of the U of T community and an Indigenous community.
 "The Eagle Feather, gifted to the Office of the President by U of T's Elders Circle on behalf of U of T's Truth and Reconciliation Steering Committee in 2017, carries great honour, and symbolizes wisdom and respect," said Shannon Simpson, director of Indigenous initiatives at the university.
 "Our Bearers are ambassadors of the community, and their presence lets Indigenous students know they matter, and they are seen."
U of T News spoke with three community members who were Eagle Feather Bearers during spring convocation (see the full list below). They shared their personal experiences of the role, offered words of advice and reflected on messages of hope for future generations.  
---
John Croutch 
Indigenous training co-ordinator, Office of Indigenous Initiatives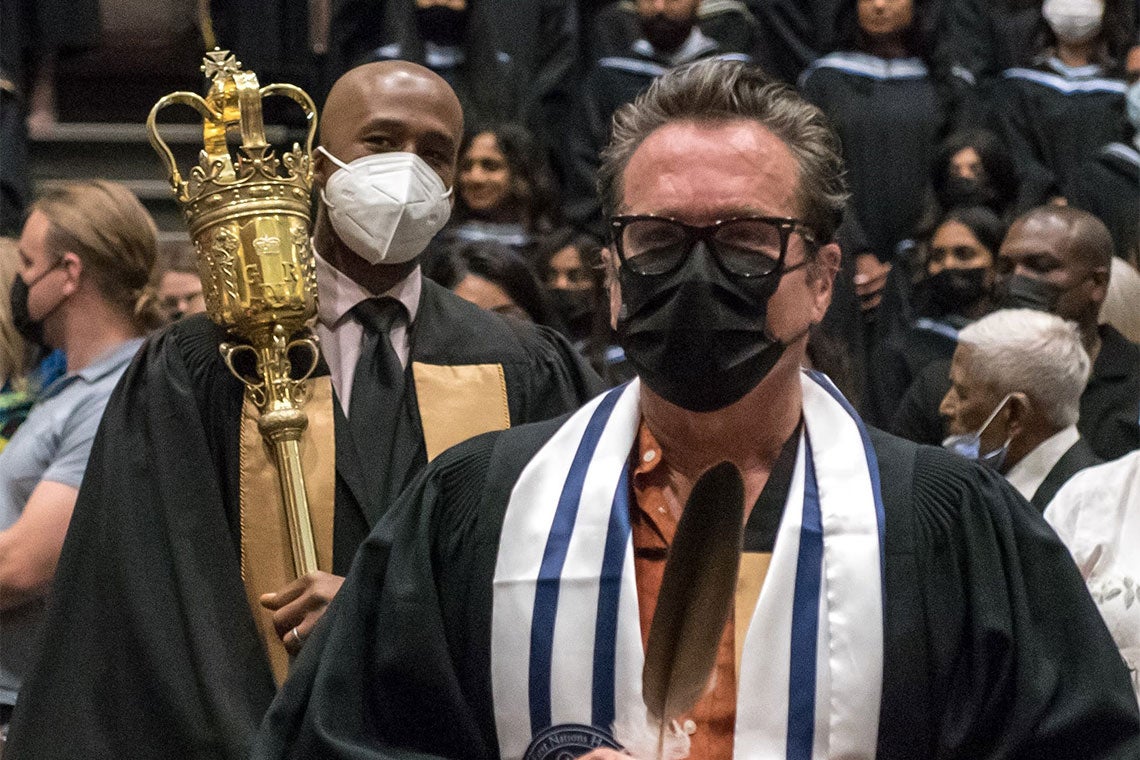 (Photo by Lisa Sakulensky)
"It felt bittersweet, but it was exciting and it was important to me. For too long, Indigenous people have been excluded, and to be leading the procession was a refreshing reminder that showed Indigenous Peoples have a role to play.  
 
Years ago, I received an Eagle Feather – one of the highest honours you can receive, because the eagle flies closest to the Creator – from Elder Lillian McGregor, and Lillian told me it signifies recognizing a person with vision. Vision is about asking where we are going when it comes to reconciliation, and I think it's significant that U of T implemented this new element in recognition of Indigenous Peoples.  
 
I want young people who are carrying that feather to be proud of who they are and to hold their heads high – and to recognize that this is a small step, but an important step, to opening the university up for future generations to see themselves as a successful, vibrant, and important part of this country." 
Kaeliana Smoke
Master's student in anthropology, U of T Mississauga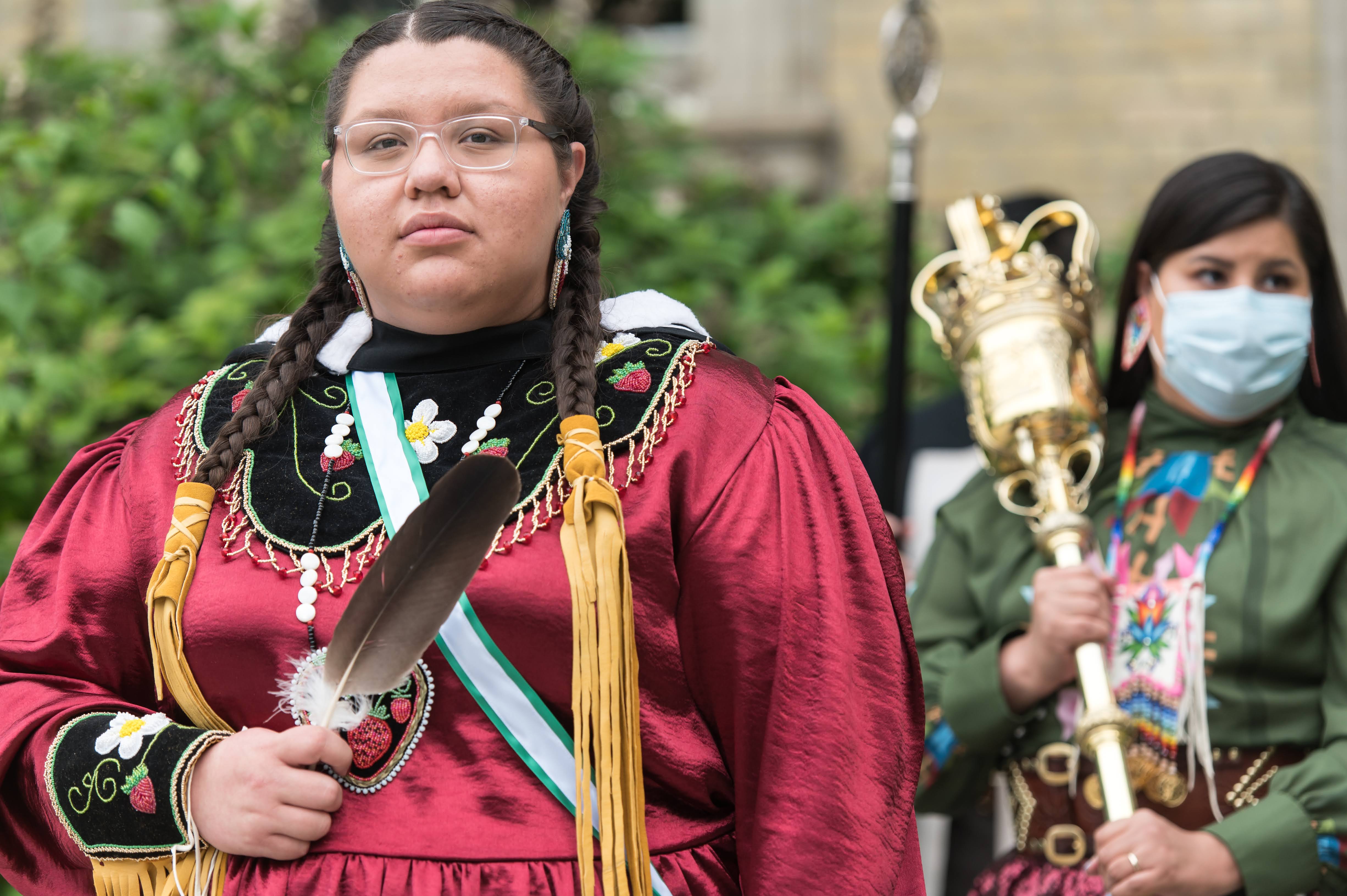 (Photo by Lisa Sakulensky)
 "It was an honour to be part of the ceremony, and it felt so rewarding after all the work that I've done over the years at U of T. At UTM, I created multiple new programs – I started the first Indigenous book club at UTM, for example – and so to be part of something new that helped increase Indigenous visibility and made us feel seen during the ceremony, and to honour the Indigenous community at U of T, it felt very on theme for me. 
 My parents were there, and my grandparents were there. I was really proud of that moment, and I was so happy for them to be there.  
 
To future Eagle Feather Bearers – as you're walking up on that stage, it's going to feel so profound and so powerful. It's going to feel like your ancestors walk with you, like you're being supported by an entire U of T community behind you, and by everyone that came before you." 
Jason Bazylak 
Professor in the department of mechanical & industrial engineering in the Faculty of Applied Science & Engineering, dean's adviser on Indigenous initiatives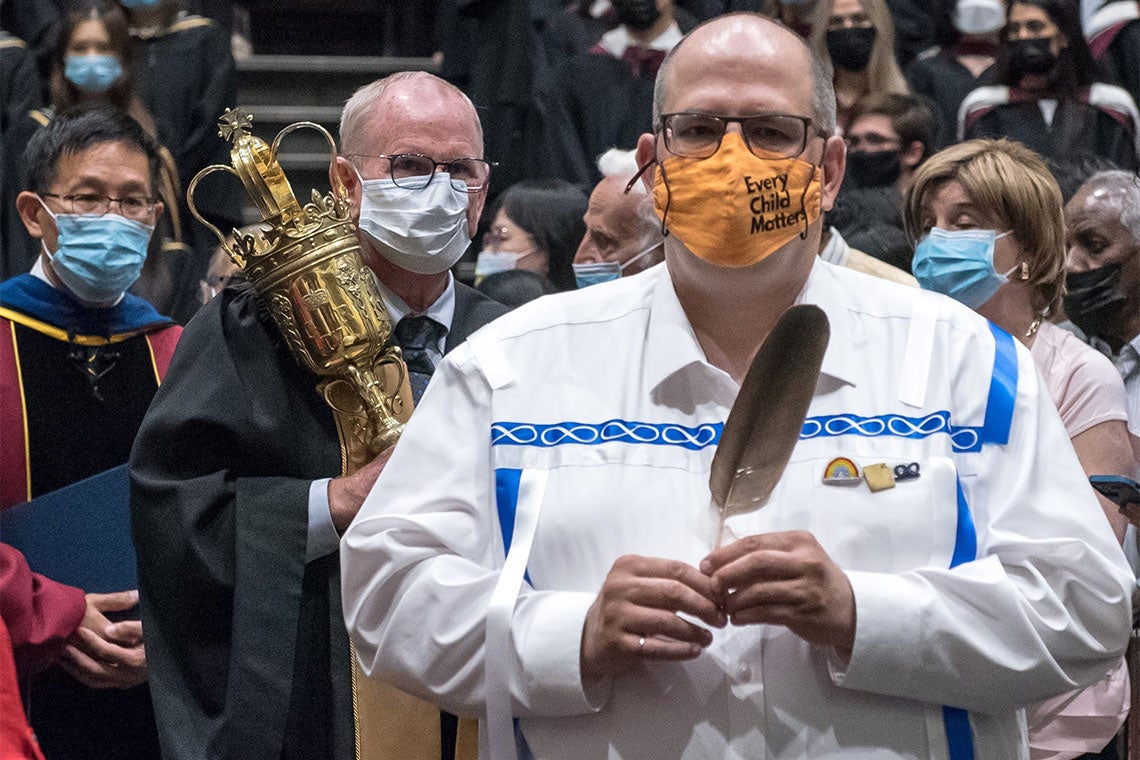 (Photo by Lisa Sakulensky)
"I had a very positive experience. I thought the university was very supportive in adopting and honouring the Eagle Feather Bearer role within the ceremony. Leading the procession was symbolic of the presence of Indigenous Peoples on Turtle Island before all of this, even before the long history here at U of T. 
 I sent a note out to my network of Indigenous colleagues around Canada and the United States to say, 'Look what we did!' and I was quite proud of it. A couple colleagues made a point to come out and see me and we took some selfies because they thought it was a big occasion. I was pleased to be a part of it, and I will continue to be a part of it [this fall]. 
It's always brought to light that there's a long journey towards reconciliation, and we're very far from that. But we still need to take the time to celebrate the accomplishments as we move along that path. And as leaders in the Indigenous community, I think it's wonderful to be able to show – particularly our younger students and junior faculty and staff – that we are here, we are present, and we are welcome." 
---
Here is the full list of Eagle Feather Bearers who took part in spring convocation (and who are featured in the article's main image and the photo viewer below):
Shannon Simpson
Miyopin Cheechoo
Sara Wolfe
Michael White
Sandra Laronde
Lisa Boivin
Jeff Trapp
Robin Gray
Tee Duke
Stacy Allison-Cassin
Kaeliana Smoke
Lindsey Fechtig
Riley Yesno
Naulaq LeDrew
Jennifer Brant
Mike DeGagne
Jason Bazylak
Jonathan Hamilton-Diabo
John Croutch
Juanita Muise
Sarena Johnson
Jaris Swidrovich
Constance Simmonds
Jacque Lavallee
UTC