From eSports to K-pop, U of T hosts hundreds of community-oriented clubs and student groups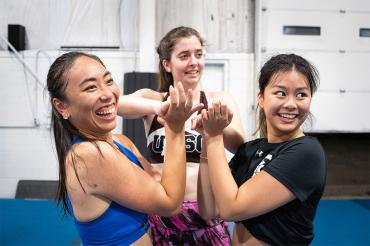 For many students, clubs are key part of the University of Toronto experience – helping them to meet like-minded people, form lasting friendships and learn outside class.
And there are literally hundreds of extracurricular options across U of T's three campuses.
The Student Organization Portal – a clubs directory – is a one-stop shop for information on recognized campus groups, ranging from "architecture" to "zero waste." The portal includes information on what each group does and how to go about joining.
Here is just small selection of U of T's student clubs and other groups:
---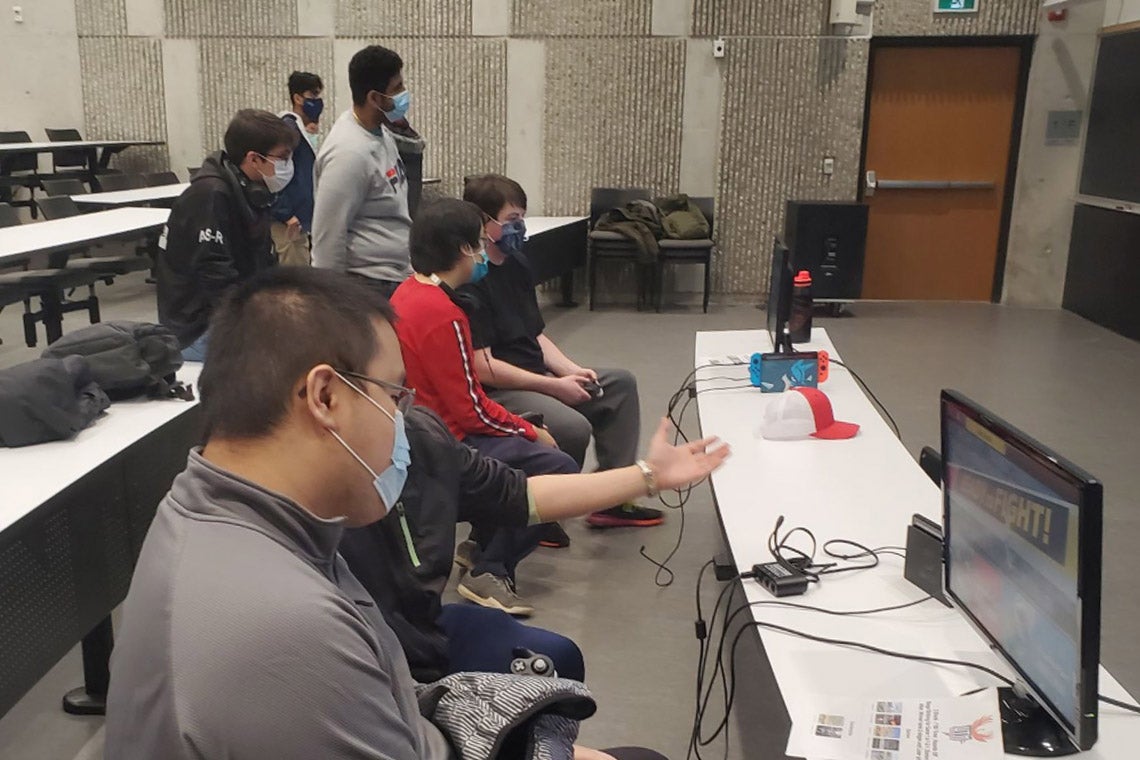 The UTM eSports club brings students together to play video games such as Valorant, League of Legends and Super Smash Bros. (photo courtesy UTM eSports)
Last year, about three billion people – more than a third of humanity – were active video gamers, according to Statista, a German market and consumer data company. Within the next two years, that number is expected to grow to 3.32 billion.
While gaming has come a very long way since physicist William Higinbotham invented what's said to be the first video game, Tennis for Two, in 1958, people are still getting used to the idea of professional gaming competitions, says Peter Ghobrial, president of the UTM eSports club and a computer science major.
"Video games in general are mainstream but the act of competing in them is on its way there," he says. 
At U of T Mississauga, the club provides a friendly space in the Student Centre for gamers to socialize and compete against each other and students at other universities.
Currently, the most popular games are Valorant, League of Legends and Super Smash Bros. for Nintendo Switch. Although video games can be played at home, they're often more fun to play with friends in person, says Ghobrial who goes by the username "Serp" (a reference to the serpentine Pokémon "Serperior").
"When I joined the club as a member in first year, that's honestly how I met a lot of people I'm friends with now," he says.
"If you feel like it's something you'd be interested in but feel shy – don't be. Everyone in the club is welcoming and wants to have a good time."
Thy Nguyen (centre), a linguistics major and member of University College and events officer in the K-Pop Dance Crew, teaches choreography at Hart House (photo by Geoffrey Vendeville)
Ada Huang, a student in life sciences at New College, became a fan of K-pop in 2013 when she discovered the girl groups SISTAR, AOA and Girls' Generation.
Only a year earlier Korean rapper Park Jae-sang, better known as Psy, became an international sensation with the earworm, "Gangnam Style," which overtook Justin Bieber and Katy Perry on the Billboard charts.
Today, K-pop has become so popular that supergroup BTS was invited to the Oval Office to address anti-Asian racism.
Huang says one of the reasons she was drawn to K-pop was bands' use of "concepts" – the distinctive styles that groups use in their videos, lyrics and costumes – that range from "high school" to "cute."
She joined the K-Pop Dance Crew in order to make new friends who shared a love of the genre and dancing. Together, they learn the steps to their favourite videos and sometimes share their performances on YouTube.
"I think what I really appreciate about K-pop," Huang says, is "how talented these young people are, and their determination in following their dreams of becoming a singer."
Instagram: @uoftkdc https://www.instagram.com/uoftkdc/?hl=en
Bo Huang, a graduate of the Rotman School of Management, fixes his bike at Bikechain, a campus cycling co-op on the St. George campus (photo by Geoffrey Vendeville)
On a typical afternoon at the Bikechain cycling co-op at the corner of Huron and College Streets, many grease-stained fingers are busy replacing punctured tubes and worn-out brakes.
The co-op is a place where students can turn to volunteers or full-time staff for guidance on bike repairs and even buy second-hand parts.
"It can be a little hectic, but it's very collaborative. People end up helping each other out," says Beth Austerberry, executive director of Bikechain.
Since 2005, the club has subsisted on student levies and donations to make cycling as affordable as possible for students who may already be living on a tight budget.
Bikechain is open four days a week for DIY repairs and once a week for drop-off repairs. U of T students can also borrow a bike for free for one week at a time with a TCard and $100 deposit.
In addition to helping cyclists maintain their rides, Bikechain encourages people to discover the city on two wheels. The club recently began leading group rides to scenic locations in the GTA, including Ontario Place and Leslie Street Spit, a five-kilometre stretch of infill that juts out into Lake Ontario.
"What people like about us is that we're a pretty social community space," Austerberry says. "It's partly about fixing your bike and partly about having fun with other people."
Instagram: @bikechainut https://www.instagram.com/bikechainut/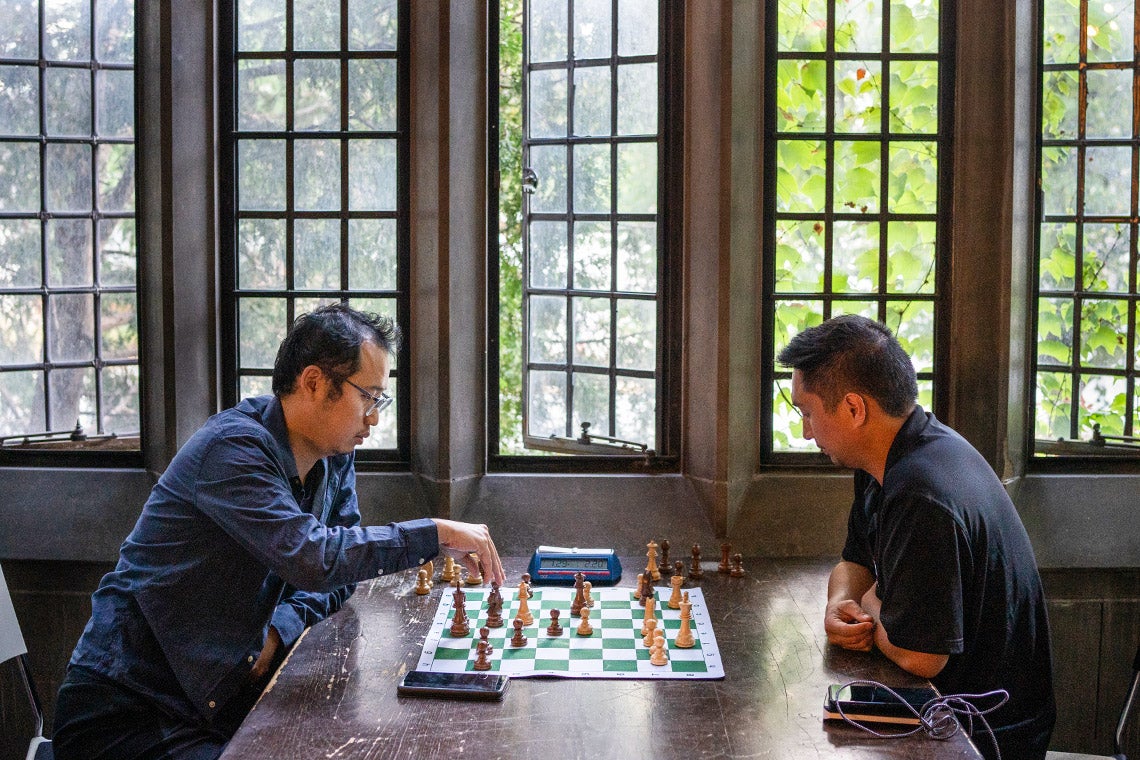 Chess lovers of all skill levels are welcome to join the Hart House Chess Club, which offers lessons and drop-in nights (photo by Geoffrey Vendeville)
Members of the Hart House Chess Club like to say that it's "where the kibitzer is king."
In chess-speak, a kibitzer is a spectator who comments on games in progress.
Ahmed Khalf, the club's communications director, says the motto – which appears on the back of their club t-shirt – speaks to the group's friendliness.
"Basically, the club is for anyone who's interested in chess. It doesn't really matter what level you are," says Khalf, a computer science major in the Faculty of Arts & Science and a member of Trinity College. Though the club includes players with the rank of FIDE Master and Candidate Master, any and all players are welcome.
Khalf says he only started playing "seriously" three years ago – part of a Queen's Gambit-inspired influx of players.
The club has a long history – in fact, it was founded in 1895, even before Hart House opened. It runs a weekly drop-in on Fridays and offers lessons that come with the $25 annual membership fee.
Khalf says being a member isn't just about learning to ambush your opponent's king. "It's not so much about the game as it is about the people around it," he says.
Instagram: @hhchessclub, https://www.instagram.com/hhchessclub/
The U of T Trash Team helps keep green spaces and waterways clean by picking up cigarette butts, plastic and other garbage (photo courtesy of the U of T trash team)
A couple of years ago, Madeleine Milne was looking for an interesting pastime that would allow her to help her community.
The U of T Trash Team – a science-based community outreach group of students, researchers and other volunteers – fit the bill perfectly.
Team members organize clean-ups in parks, ravines and along the waterfront by bagging heavy loads of plastic waste and other garbage. At Sir Casimir Gzowski Park on Humber Bay earlier this summer, Milne and the team collected tiny pieces of plastic, hundreds of cigarette butts and enough litter to fill 10 trash and recycling bags.
Keeping Toronto's green spaces pristine is its own reward, says Milne, who studied ecology and evolutionary biology and works in the lab of Assistant Professor and Trash Team founder Chelsea Rochman.
But she adds that a key advantage of Trash Team membership is that it offers an opportunity to get involved while maintaining a flexible schedule during the busy school year. Students who would prefer not to get their hands dirty can volunteer to visit grade school classrooms to educate youth about plastic pollution.
On clean-up days, the Trash Team often draws attention from people in the neighbourhood, who ask how they can do their part to reduce plastic waste. "It feels good to know you're having an impact on the community," Milne says.
Instagram: @uofttrashteam https://www.instagram.com/uofttrashteam/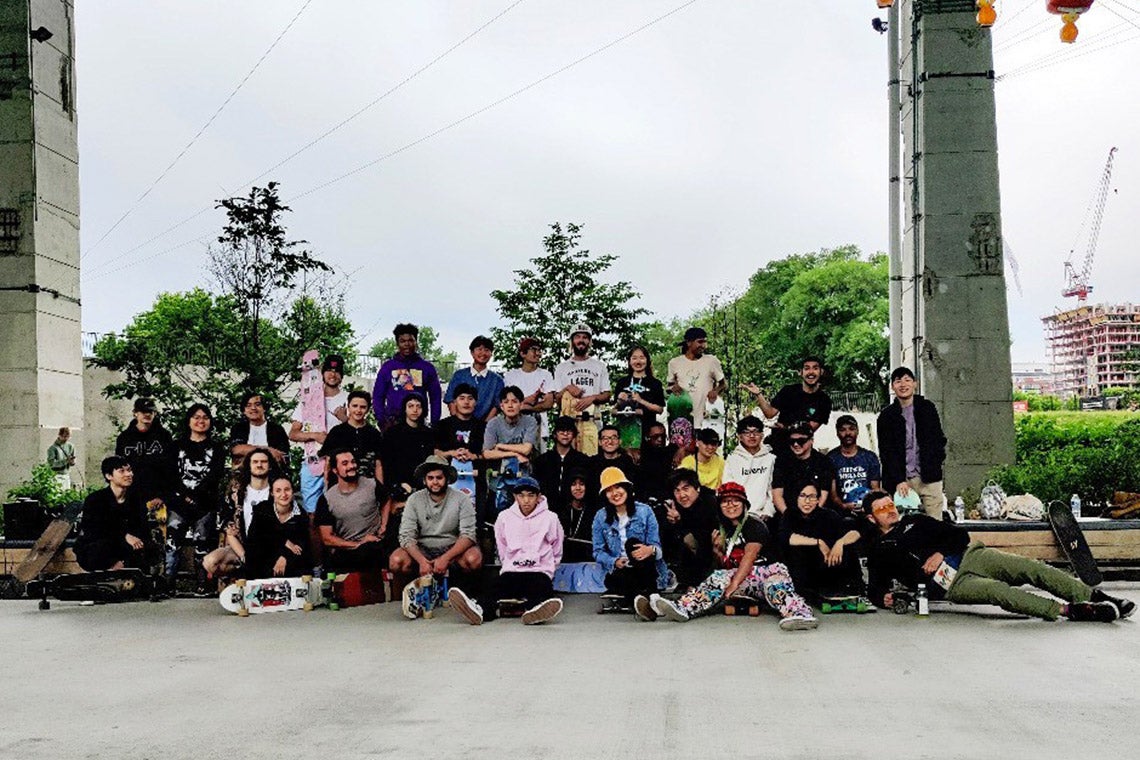 Not even sub-zero temperatures prevent die-hard members of U of T Skateboarders from practising (photo by Liam Ogilvie)
Skateboarding got an unexpected popularity boost during the pandemic, when gathering outside was the safest way to socialize, says Karna Goswami, president of the U of T Skateboarders Club and third-year public policy major.
The U of T club is open to everyone – students and the general public alike – and has a supply of extra boards for people to get a feel for the sport.
The club meets regularly and the most enthusiastic members skate throughout the year, as long as there's no snow on the ground. During the winter, the club also hosts social events so members can stay in touch.
All skaters are welcome, whether they're still learning to stand on four wheels or able to do a backside tailslide effortlessly.
"Skateboarding doesn't just expose people to a sport," Goswami says. "It helps you see the city in a more lively way. Also, doing sick tricks is a good time."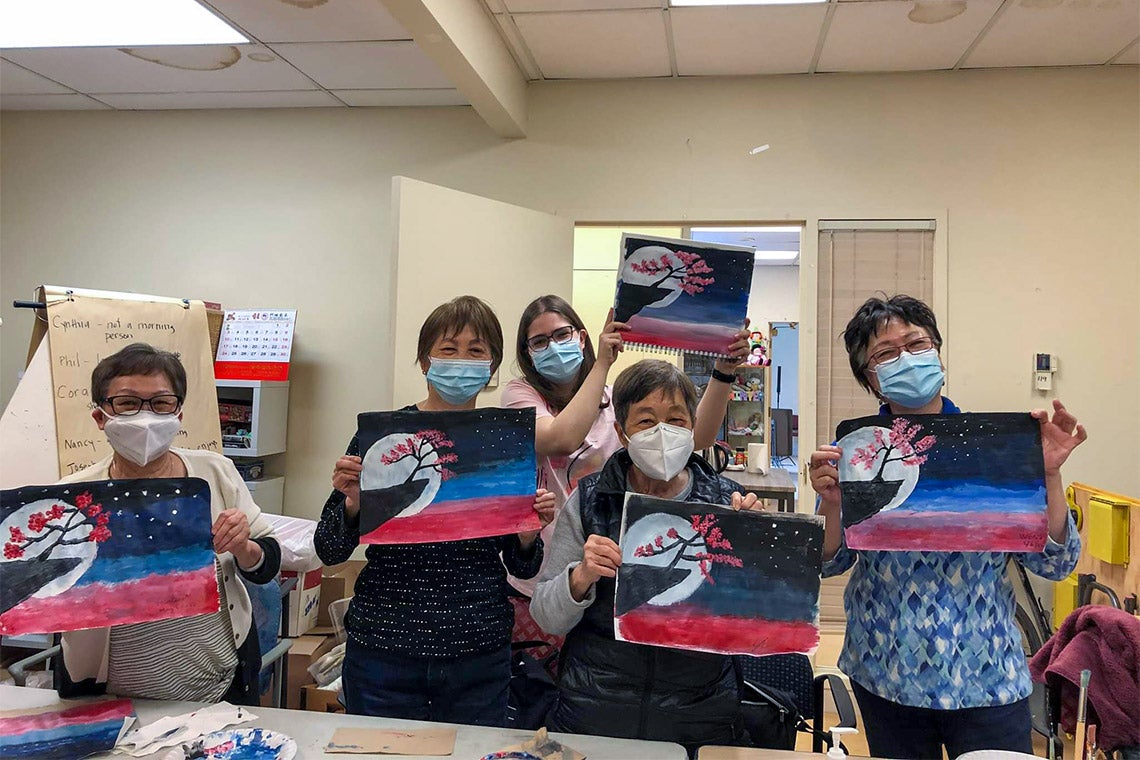 EmpowART helps forge connections between students and seniors through therapeutic art workshops (photo courtesy of EmpowART)
A beach chair framed by trees faces a calm lake, where a setting sun peeks over the horizon and casts a warm glow on the water's surface.
The tranquil scene is one of many that seniors have learned to paint in workshops led by the U of T chapter of the EmpowART Foundation, a non-profit that uses art as a therapeutic tool in nursing homes and hospitals.
Founded one year ago, the U of T chapter has taught workshops in person at seniors' homes around the GTA and online. Student volunteers take a Bob Ross approach to teaching, giving step-by-step instructions to paint a picture of a desert, galaxy or still life. At the end of the workshop, participants put their artwork on display in their rooms or as part of a small exhibition.
Niha Burugapalli, a student in peace, conflict and justice studies and global health and member of Victoria College, co-founded EmpowART with Kenneth Yip, an assistant professor, teaching stream, in the department of cell and systems biology in the Faculty of Arts & Science.
Burugapalli says the art workshops give seniors a chance to mingle with other residents and youth while doing something out of the ordinary and exercising their creativity.
As for students, they learn how to use their skills to benefit others – and they make new and interesting friends in the process.
"I think that [seniors] really do enjoy spending time with youth and I think that's a really important connection that we need to foster," Burugapalli says. "Oftentimes, older folks are cast aside or neglected in society when they have a lot of amazing advice and things to share."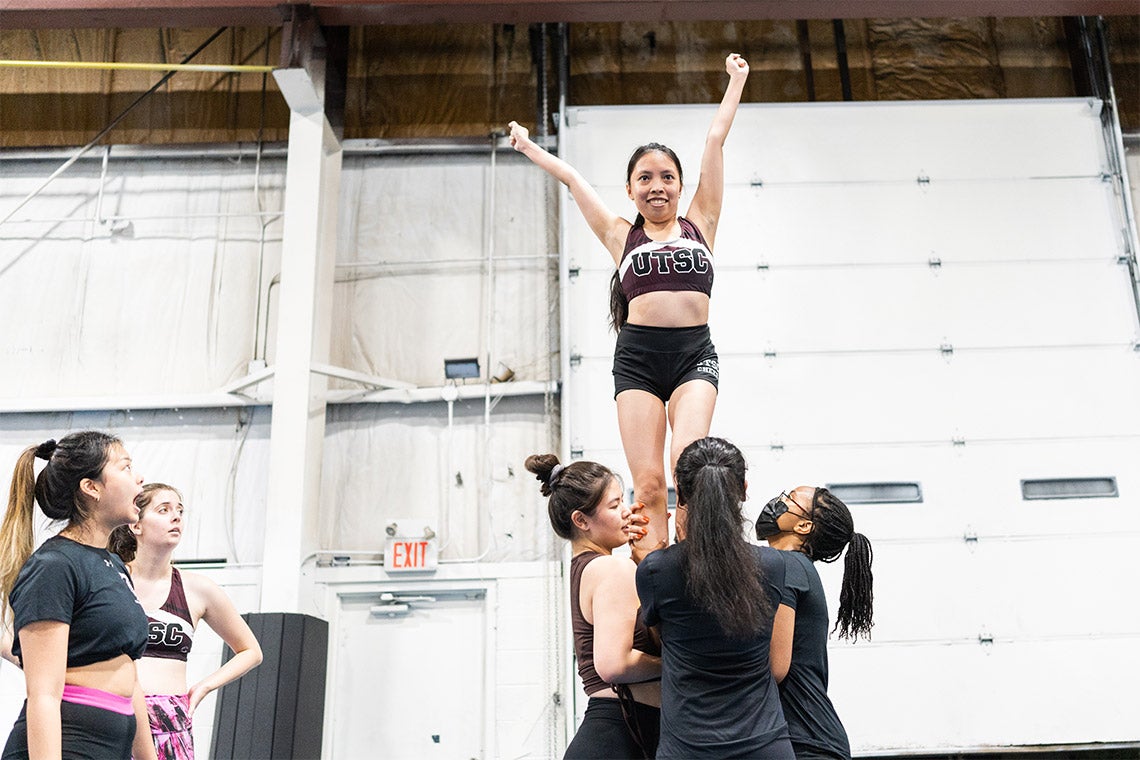 The UTSC Cheer squad has performed at U of T Scarborough sports games and Pride Parade (photo by Geoffrey Vendeville)
You may have seen the U of T Scarborough Cheer Team revving up crowds at basketball and hockey games, or maybe even dancing at the Pride Parade.
On a recent August night, the squad warmed up in a cheerleading gym in Scarborough with stretches and somersaults before going through a routine to the tune of Beyoncé's Renaissance.
Prior to the pandemic, the team took part in cheer competitions for the first time and received no deductions from the judges for their performance. Now, new and returning students are planning a comeback.
Although competitive cheerleading generally requires co-ordination and skill, the club caters to everyone, says Jessica Fernandes, who studied philosophy at U of T Scarborough.
"Our club is no-experience-needed," she says. "We welcome people with absolutely no training, even no athletics at all … All bodies are welcome – anybody can do cheerleading."
Instagram: @utsccheerleading https://www.instagram.com/utsccheerleading/?hl=en
UTC