Hidden Stories Project: U of T researchers lead international collaboration on centuries-old books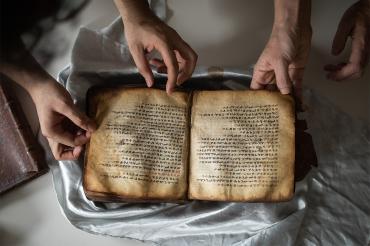 At first glance, the dusty and worn pages of an old book from centuries ago might not reveal more than their written content. But a closer look unlocks a treasure trove of knowledge.
It's those obscured treasures – hidden stories – that University of Toronto researchers want to uncover.
U of T is launching a collaborative and interdisciplinary project entitled Hidden Stories: New Approaches to the Local and Global History of the Book, funded by the Mellon Foundation. The Mellon Foundation has given a $2.69 million grant for the next four years to support the project, which involves a collaboration with 130 researchers – humanists, scientists, librarians, curators, conservators and others – at U of T and from 60 institutions across the world.
It's the latest in a series of projects in global book history co-ordinated by the research team at UTM's Old Books New Science Lab.
"I became really interested in the way that there were stories about books that could be told that were not only about the texts that are in them," says U of T Vice-President and U of T Mississauga Principal Alexandra Gillespie, who leads the Old Books New Science Lab.
"That's this 'hidden stories' idea, that there are stories about the makers of books, the users of books, that leave all kinds of traces that are non-textual."
The Hidden Stories project will run from November 2022 to January 2027 and aims to explore the systems, peoples and cultures that make a book, including its physical and biological properties that reveal new knowledge. Everything from fungal growth on its pages to the trade routes involved in the materials used to make the book will be studied.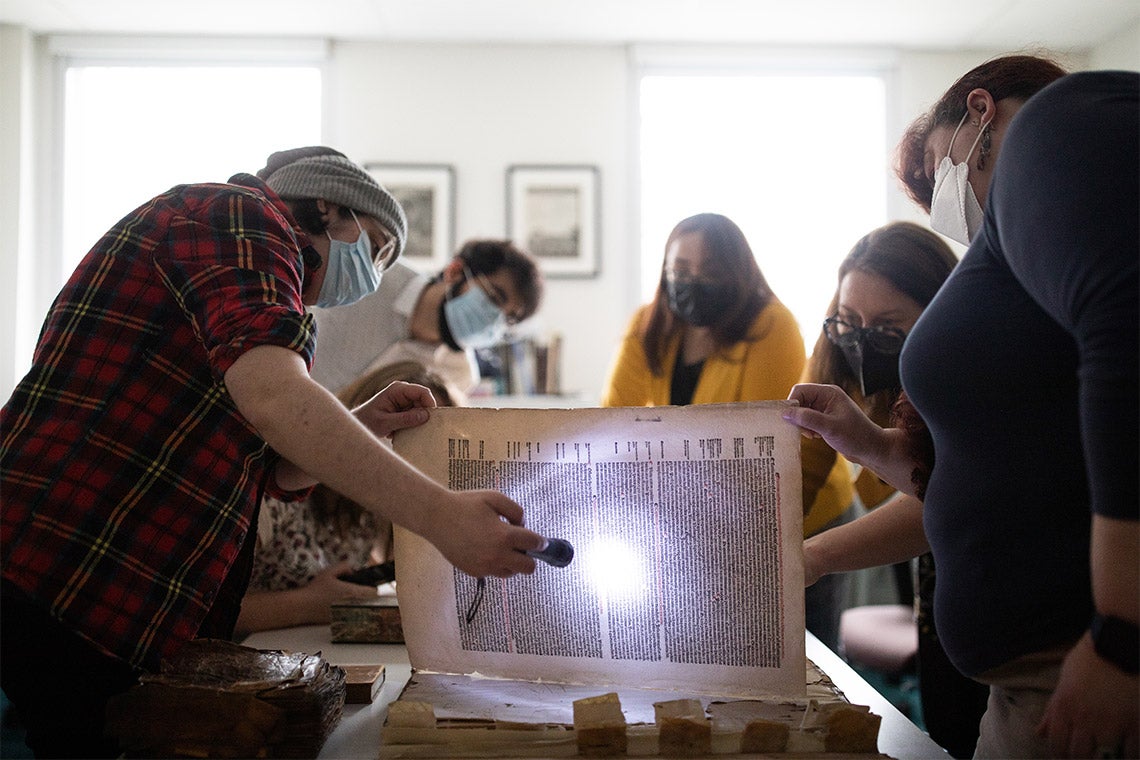 Alexandra Gillespie, vice-president and principal of U of T Mississauga, and principal investigator for the Hidden Stories project, joins researchers working on The Book and the Silks Roads project, March 2022. (photo by Nick Iwanyshyn)
This latest project is named after a public exhibition displayed at the Aga Khan Museum from October 2021 to February 2022. That display, which included contributions from U of T, the Thomas Fisher Rare Book Library and other collaborators, showcased manuscripts including a 17th century manuscript of the Bhagavad Gita from Kashmir.
The Hidden Stories project examines manuscripts in the Thomas Fisher Rare Book Library and across the world including China, Ethiopia, East Africa, North America, Tunisia and Nepal.
Some of these books are so fragile that opening them to read would destroy the manuscript. To get past this hurdle and access its contents, researchers conduct micro-CT scans of the book, layer by layer – not page by page. Because the pages are wavy, and both the ink and the page are made of carbon, reconstructing a 3D model of the scanned layers involves the use of AI.
The project leaders are Gillespie, Institute for Advanced Study (IAS) Professor Suzanne Conklin Akbari, and University of Toronto Libraries (UTL) IT Director Sian Meikle, who will provide oversight for project goals and outcomes. Akbari was a professor at U of T for nearly 25 years, including serving as director for the Centre for Medieval Studies between 2013 and 2018 before moving to IAS in New Jersey. She was the co-curator for the Aga Khan Museum exhibition from which the project sprang.
"We're working together to preserve and share the knowledge of the past," says Jessica Lockhart, the Old Books New Science Lab's head of research, calling this the "most ambitious project" the lab has ever undertaken.
The results of the research will be made available through open-source code, open data repositories, academic publications, media posts, podcasts, videos and exhibits.
UTL project librarian Rachel Di Cresce will direct the project's technical development and approach to intellectual property, data rights, data sovereignty, sustainability, curation and preservation. IAS research associate Melissa Moreton will co-ordinate individual research clusters based all over the globe, from South Asia to the Americas.
A component of the project is to find better ways to conserve old manuscripts. While some of the books are too fragile to open, other manuscripts made of parchment degrade through a process of gelatinizing. "It's where the page starts to physically break down on the molecular level," Lockhart says. "We don't really have a good conservation solution for that, so that's part of the work."
Other conservation issues include what's known as the carbon black problem. CT scans of books with charcoal ink reveal that the ink and the page are both made of carbon, which makes it difficult to distinguish in a scan, as is the case with some 16th century Kashmiri birchbark manuscripts. Researchers have turned to machine learning, imaging scientists, Sanskrit scholars, librarians and conservators to figure out how to conserve the book and read it.
But the project is much more than scanning old books. In addition to imaging and machine learning, it includes DNA analysis, ecosystem analysis, data management and cataloging. It also involves directing funding toward communities of origins – the communities where the manuscripts were initially found.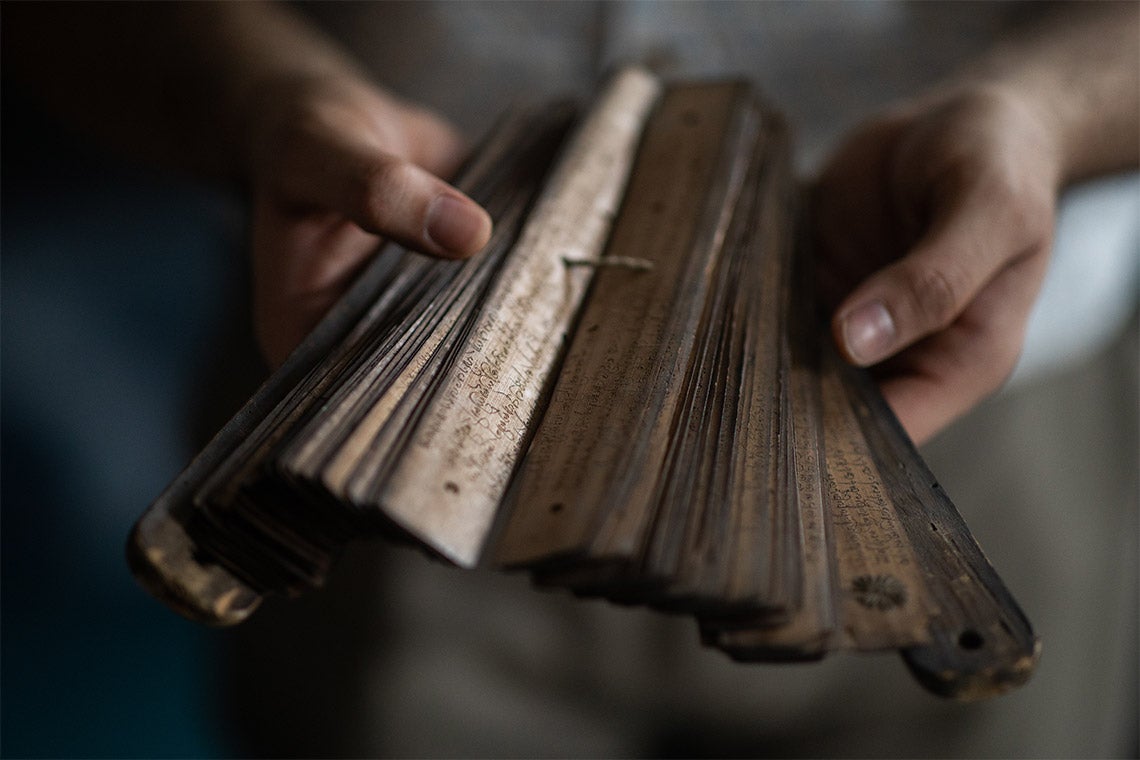 PhD student Arka Chakraborty holds a palm leaf manuscript. (Photo by Nick Iwanyshyn)
One of the project's primary investigators, Gillespie is interested in "disrupting the traditional narrative about the arrival of printing in Western Europe" which, she explains, is "inconsistent with pre-modern textual culture."
That narrative, which she refers to as the "Gutenberg myth," is that the arrival of printing in Western Europe in the 15th century is what produced modernity.
But Hidden Stories aims to change this narrative by studying diverse and creative ways of knowledge-sharing that have existed millennia before the development of the printing press in Europe. Those stories range from the squashed bug flattened between the pages of an old book to textual traditions in non-Western societies that were suppressed by colonialism or Western scholarship.
"The stories we tell about the past shape the way we live in the present," Gillespie says.
"Recovering knowledge people have ignored, neglected, stolen or excluded, recovering knowledge, sharing it, doing it truthfully, openly, is necessary for our world to thrive," she adds. "It's also a tool for cultural resilience – a way of giving hope for the future by affirming the cultural vitality of the past."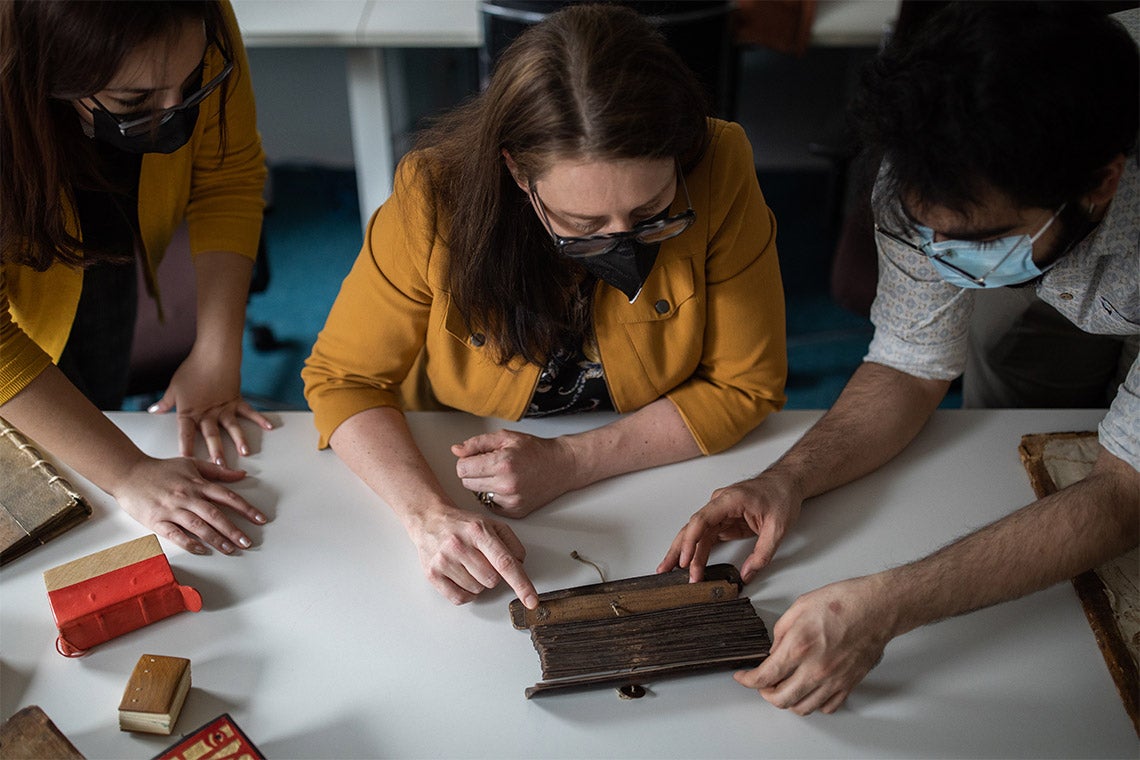 (Photo by Nick Iwanyshyn)
Among the project's most important collaborators are members from Indigenous communities, including the Mississaugas of the Credit First Nation and the Munsee Delaware Nation, both located in what is now Ontario. Since the Munsee homeland is in what is now New York and New Jersey, that collaboration is carried on through IAS faculty. Meanwhile in Nepal, U of T collaborators are working with the local community to clean and catalog a collection of manuscripts in a monastery.
Akbari says the project developed organically and soon spread into a web of connections of interested researchers.
"It started very early on with conversations among medievalists at Toronto," she says. She hopes Hidden Stories will generate research, speak to a wider public, create exhibitions and effect change in curricula.
"The book is a conduit that lets us find ourselves in the past," she says. "It's about the different ways of accessing the past, telling those stories in a good way, respecting the evidence and respecting how people have told the story over time."
UTM