'Very humbling': U of T students, alumni to celebrate their peers at virtual fall convocation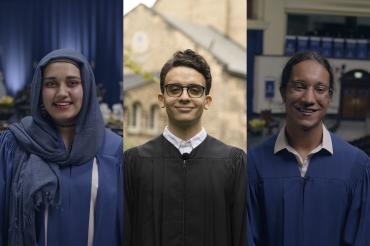 With the lights on him and the camera rolling, Devlin Grewal recently prepared to make his film debut for the University of Toronto's virtual fall convocation event.
He stumbled on his words at first – and then proceeded to nail his takes.
"I've never done anything like this," Grewal admitted after the shoot. "It was really new for me and kind of scary – but a lot of fun."
A U of T Scarborough student in his final year of the integrative biology program, Grewal stepped in front of the cameras in order to greet the real stars of the show – U of T's graduating Class of 2021 – who will be tuning into the pre-recorded fall convocation ceremony at noon ET on Nov. 18.
He was joined by two other campus welcome ambassadors: Khaled Elemam, a bioinformatics and computational biology student at St. George campus; and Amna Adnan, a psychology major at U of T Mississauga.
Elemam is also one of 26 divisional ambassadors who will make cameos during the virtual ceremony to salute graduating students across U of T faculties, colleges and campuses. [See the full list here]
More than 5,700 students from 70 countries are due to receive their degrees in absentia this fall.
Grewal, who intends to pursue a career in conservation after graduation, said he felt at home on the Scarborough campus – just steps from the Valley Land Trail and a few minutes' drive from Rouge Park.
"We have a really gorgeous campus," he said. "There's a greater appreciation for the green spaces that we have – and the connection to nature – because you've got this good mix of a little urban, a little nature."
Grewal moved to Toronto four years ago from Fiji, a country made up of more than 300 islands, where he initially dreamed of becoming a marine biologist.
At U of T, he found a new passion: plants.
"Having grown up in Fiji, conservation action had always been an important part of my life, but given our reliance on marine systems, I think that's where I had directed a lot of my focus," he said. "When I moved to Canada and started to see the diversity of landscapes, as well as take some plant identification courses, it was like a whole new world had been revealed to me."
To the Class of 2021, Grewal said it is inspiring to see them reach an academic milestone despite the uncertainties associated with COVID-19. 
"Honestly, if you can graduate from U of T in the middle of a pandemic … you can really do anything from there on," he said.
Faraz Alidina, a fourth-year PhD student in the department of Near and Middle Eastern civilizations, and School of Graduate Studies Dean Joshua Barker (photo by Nick Iwanyshyn)
Faraz Alidina, a fourth-year PhD student in the department of Near and Middle Eastern civilizations in the Faculty of Arts & Science, represented the School of Graduate Studies at the virtual ceremony, appearing alongside Dean Joshua Barker.
Earlier this year, Alidina won the tri-campus Three-Minute Thesis contest, summarizing his research on 13th-century Persian poet Farid al-Din Attar in 180 seconds or less.
He considered it a privilege to be among the ambassadors who will salute the graduating class as they embark on a new chapter in their lives.
"This is a unique situation with COVID-19 and convocation. It's very nice that those who are graduating still have the kind of similar convocation experience," he said. "It's very humbling to be a part of that and be part of a day that, for many people, they'll remember for a long time.
"Given how long this [the pandemic] has gone on, I think it's important to celebrate the good moments when they come – and to do so in a safe and responsible manner."
Alumna Samantha Cheung and Faculty of Applied Science & Engineering Dean Christopher Yip (photo by Nick Iwanyshyn)
Samantha Cheung, who completed her PhD in chemical engineering in May, was tapped to represent the Faculty of Applied Science & Engineering. She now works for U of T biomaterials start-up ALT TEX, which makes sustainable fabric from food waste to replace synthetics like polyester.
"She's a great ambassador because of her research project, where she is now, her work at a startup – all the stuff she's been involved in really reflects the diversity of our students' experience and what they're getting out of being in engineering and being part of this community," said Christopher Yip, dean of the Faculty of Applied Science & Engineering.
For Cheung, the highlight of U of T Engineering wasn't convocation – it was the friends she made on the road to graduation. "I feel that's the best part of engineering – the people," she said. "People that can inspire you, people who are smarter than you and teach you things.
"I made a lot of friends along the way, and we worked through challenges together." 
---
Here is the full list of student ambassadors who will appear during the virtual fall convocation event: 
Divisional ambassadors:
Faraz Alidina of the School of Graduate Studies
Terrence Amponsah of New College
Janelle Brady of the Ontario Institute for Studies in Education
Samantha Cheung of the Faculty of Applied Science & Engineering
Alin Condescu of U of T Scarborough
Prathit Dave of the Faculty of Arts & Science
Khaled Elemam of University College
Julian Gilmore of the Leslie Dan Faculty of Pharmacy
Jennifer Hutter of the Temerty Faculty of Medicine
Mailey Jean Michel of Trinity College
Gillian Jiajing Shi of the Faculty of Information
Brenaven Kugamoorthy of the Faculty of Kinesiology & Physical Education
Courtney-Brooke Laurie of the Dalla Lana School of Public Health
Elizabeth (Lily) Lawson of the John H. Daniels Faculty of Architecture, Landscape, and Design
Fang-Chi Li of the Faculty of Dentistry
Setareh Malekian Naeini of Woodsworth College
Anil Nair of the Faculty of Law
Yukei Ng of the Lawrence S. Bloomberg Faculty of Nursing
Idara Okon of St. Michael's College
Aishwarya Patel of the Faculty of Music
Jessica Rapson of the Munk School of Global Affairs & Public Policy
Rena Seeger of Victoria College
Annalicia Skeete of the Factor-Inwentash Faculty of Social Work
Kaeliana Smoke of U of T Mississauga
Joshua Staynor of Innis College
Marcin Zegarmistrz of the Rotman School of Management
Welcome ambassadors:
Amna Adnan of U of T Mississauga
Khaled Elemam of U of T St. George*
Devlin Grewal of U of T Scarborough
*Khaled Elemam is both a welcome ambassador and a divisional ambassador
UTC