Velkommen! Norwegian would-be disrupters arrive at U of T to learn how to launch startups
"I'm interested in sustainable energy. That's why I chose Toronto"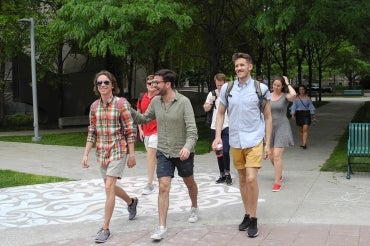 After working in Norway's huge offshore oil and gas sector, Emil Blattman wants to launch a startup in the sustainable energy space – and he's come to the University of Toronto to learn how to do it. 
Blattmann is one of two dozen students enrolled in the Norwegian School of Entrepreneurship program, coordinated by the University of Oslo's Centre for Entrepreneurship, who arrived in Toronto earlier this week to take part in a 10-week summer internship and training program organized by U of T's Impact Centre accelerator. 
While at U of T, the Norwegian students will receive a mix of classroom training and real-world experience, working at one of 22 Toronto-based startup companies.
"I want to change my path and start something new – start fresh," said Blattman, 26. 
The Norwegian School of Entrepreneurship, or Gründerskolen, was founded by a University of Oslo professor in 1999. The program, which brings together several universities and colleges in Norway, has since sent more than 1,500 students abroad to participate in entrepreneurship-focused internships in partnership with U.S. schools such as University of California, Berkeley, Rice University and Boston University.
It has also sent students to the National University of Singapore.
Alon Eisenstein, the Impact Centre's experiential learning educator, said this is the first time the program has been offered in partnership with a Canadian university, and that the goal is to expose the Norwegian students to North America's disruption-focused startup culture.
"Living in Norway, they have a pretty comfortable life," explained Eisenstein, as he prepared a seminar for the newly arrived students earlier this week. "They have a good social [safety net]. People don't face a dire need to shake the Earth to make things better."
At the same time, U of T's participation in the program helps to showcase its growing global reputation as a hub for research-driven startups, Eisenstein said.
U of T alone boasts 10 accelerators on campus, including the Impact Centre, and is partners with several others. Notable startups that have emerged from U of T in recent years include smart lighting company Nanoleaf, nanotech agriculture firm Vive Crop Protection and AI-powered legal research firm ROSS Intelligence.  
Eisenstein said Norway's future disrupters will spend four days a week working at one of 22 local startups, including several from U of T, and one day a week of instruction on everything from building a business plan to pitching investors. 
They will also receive help in forming their own ideas for a startup to be implemented upon their return overseas at the end of the summer.
Henriette Lund, 24, said she applied to the program after hearing positive reviews from friends at the University of Oslo who had completed similar entrepreneurship internships in U.S. cities like San Francisco. 
Like Blattmann, Lund opted to come to U of T because of its growing reputation as a clean tech innovator.
"I'm interested in sustainable energy," she said. "That's why I chose Toronto."
UTC