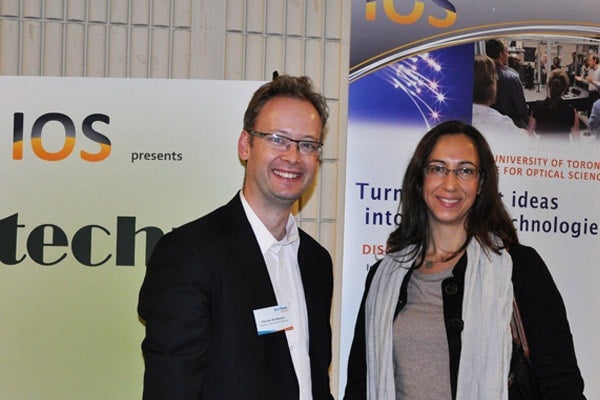 Meet Darren Anderson of Vive Crop Protection
In 2006, alumnus Darren Anderson was one of six University of Toronto scientists with the Department of Chemistry who banded together to launch Vive Crop Protection.
Today, Anderson is chief technology officer for the company, which develops products, including pesticides that help grow food more efficiently and with less impact on the environment. Vive's formulations have the potential to dramatically reduce the amount of harmful chemicals used by farmers, leading to cleaner air, soil and water.
Anderson oversees all technical direction at the company, including product development, strategic direction and intellectual property. Writer Christine Elias of the Faculty of Arts & Science asked Anderson to share his thoughts on entrepreneurship, the challenges facing today's students and why it's important to give back.
Tell us a bit about your time at the University of Toronto.
I spent eight years at the University of Toronto – four as an undergraduate and four as a graduate. There are too many memories to choose from when answering this question!
 
But the best memory is of the night I met my wife. I was out with some friends at Einstein's and she was playing pool with her friends. That was six years ago and we just got married in September!
Why do you continue to be involved with the university through such projects as TechnoLABS?
When we were first getting started, we had a ton of people who were willing to give their time to advise us – back then, we were brand new at this and needed a lot of help. Without our advisors, we wouldn't have gotten to where we are today. Helping the next generation of entrepreneurs is just returning the favour.
The IOS (Institute of Optical Sciences) does fantastic work and everyone at Vive is highly supportive. Without Cynthia Goh, director of the IOS, and her network, we wouldn't have gotten started, and I'm sure the same is true for all of the new companies coming from the IOS activities.
The most unique aspect of the IOS program is that it uses students as the vector for entrepreneurship, instead of the activities being led by faculty or technology transfer professionals. This is the key – students are intimately familiar with the technology, are at a stage in their lives where risk-taking is appropriate and are thirsty to learn. When you combine all these attributes, you get an ideal entrepreneur!
Do you have any advice for today's students?
The world is always changing. It's almost impossible to predict exactly what the job market will look like when you graduate, much less what it will look like when you're in your forties and mid-career. I'm a chemist and many chemists in the pharmaceutical industry who were hired 20 years ago were convinced that they had jobs for life – but the pharma industry is losing a lot of jobs right now. I don't think that careers for life really exist anymore. You need an education that gives you lots of options – and keep in mind that you can probably pursue many different careers regardless of what your degree is in.
Any advice specifically for budding entrepreneurs?
Start now! One of the biggest barriers to starting a company is...starting. This can be particularly true when you're in school, because the university is a safe environment – not like the big scary outside world! But unless you can get over that –and really start building your business – you're wasting time. Besides, if you're fresh out of school, what do you have to lose? This is the best time in your life to take risks and even if your new business fails, think about what you'll learn.
What do you look forward to in 2013 for Vive Crop Protection?
Our products help people grow food more effectively. In the last two years, we've shown incredible benefits in greenhouse and lab studies. This year we're expanding our testing under real-world agricultural conditions in locations around the world. It's really great to see the impact of our products for farmers growing real crops – that's the reason I'm excited to get out of bed every morning.
Faculty of Arts & Science