#UofTGrad17: Entrepreneur with global roots says Toronto is the place to be if you're a startup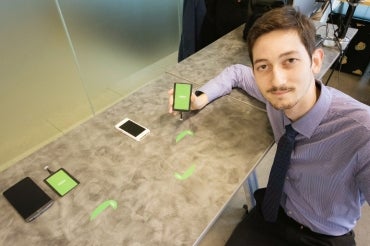 Lachezar Arabadzhiev grew up in Bulgaria, attended high school in China and goes "home" to visit his parents in the United Arab Emirates. But when it comes to launching a startup, he says Toronto is clearly the place to be.
"There are a lot of opportunities here and exciting things that are happening – like in artificial intelligence," says Arabadzhiev, who graduates this week from the University of Toronto Scarborough with a bachelor's degree in business administration.
"There are so many resources being offered and so many things you can learn."
In recent years, U of T has emerged as a hotbed of AI-related research and, earlier this year, helped launch the Vector Institute for Artificial Intelligence with the federal and provincial governments. Meanwhile, there are 10 accelerators on U of T's Toronto-area campuses – and the university also maintains key partnerships with others like MaRS and Johnson & Johnson's JLABS life sciences incubator. 
"People don't appreciate it sometimes because they take it for granted, but Toronto is actually a pretty big [startup] hub" Arabadzhiev says.
He should know. Since starting his undergrad at U of T Scarborough, he's been involved with not one, but two different startups. 
The first was a music application that he helped develop along with an engineer he met during a work co-op at TimePlay, which makes interactive games for moviegoers. Called Kaign, the app allows users to filter their music libraries or streaming accounts based on such subjective measures as mood and taste.
His second effort, developed at U of T Scarborough's The Hub accelerator, was a more personal project that sprang from the realization the so-called "mobile revolution" had arrived with a lot of wires attached. 
"I had so many different devices – phone, laptop, headphones and different USB cables," Arabadzhiev recalls. "So I had this bag with all these cables inside of it, representing different iterations of devices. Every time I wanted to charge something, I had to dig."
His solution was Volykos, a company that helps bars, restaurants and coffee shops implement wireless charging technology for their patrons' devices. 
While the concept of wireless charging was invented decades ago, Arabadzhiev says the lack of a universal standard has slowed adoption. Another hurdle: many establishment owners balk at the prospect of embedding charging pads into their expensive wooden tables and drilling them full of holes to accommodate the necessary wiring.
So Volykos worked with manufacturers to come up with a more palatable option, which it now offers to establishments as part of subscription package. "We came up with a device that doesn't require you to drill – it goes under the table – and it's very strong," Arabadzhiev says. "We come in and place the devices and produce this sticker that you put on the back of your phone that allows your phone to be capable of wireless charging."
Rather than pursue a strict, one-size-fits-all approach, Volykos works with venues to find customized solutions that best meet their needs.  "For a very classy venue, we will make the sticker look better and co-brand it with the venue, making it a souvenir," Arabadzhiev says.
Volykos is also exploring another project that involves providing wireless charging for drones.
"My vision for the future is that wireless charging will be everywhere," Arabadzhiev says, noting that Apple has already indicated it's heading in this direction after ditching the headphone jack on the iPhone 7. 
"Soon, it will be the only option." 
Following graduation, Arabadzhiev plans to continue focusing on Volykos and taking advantage of the growing accelerator ecosystem in and around U of T. 
When asked if he had any words of wisdom for would-be entrepreneurs who are about to join the university, Arabadzhiev said not to be intimidated by the startup scene. 
"Most students will go to an entrepreneurship lab or accelerator if they have an idea," he says, adding that The Hub was a constant source of connections and contacts. "But you don't necessarily have to have an idea. You can learn so much just from the whole environment there."
UTC