Toronto's Vector Institute officially launched
Aims to produce the world's largest number of deep learning graduates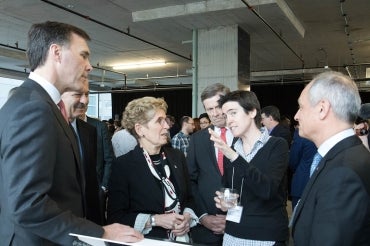 With the creation of the Toronto-based Vector Institute, Ontario and Canada are choosing to lead in the booming field of artificial intelligence, said Ontario Premier Kathleen Wynne today.
"We can own this space. This is who we are," she told a crowded room filled with University of Toronto researchers, officials from all three levels of government and top Canadian companies who are supporting Vector.
The independent institute aims to produce more deep learning grads than any other institution in the world – as part of an effort to produce, attract and retain top talent. It will also build on the existing expertise of the globally renowned deep learning team at U of T.
The applications and implications of this ground-breaking research could be seen in demonstrations on self-driving vehicle technology by Raquel Urtasun, a U of T computer science associate professor, as well as U of T startup Deep Genomics.
Founded by Professor Brendan Frey of the Edward S. Rogers Sr. Department of Electrical & Computer Engineering, Deep Genomics uses deep learning to predict the molecular effects of genetic variation.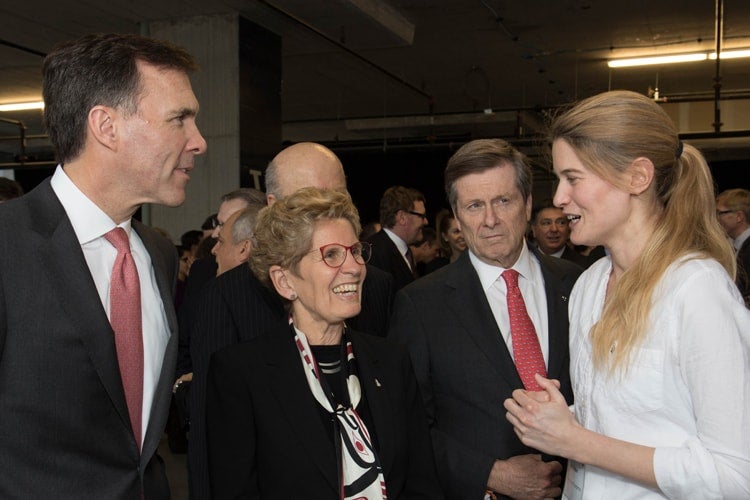 Sanja Fidler (right), an assistant professor of computer science at U of T, focuses on object recognition, 3D scene understanding, and combining vision and language. She explains her research at Thursday's event to (from left to right) Minister of Finance Bill Morneau, Premier Kathleen Wynne and Mayor John Tory (photo by Lisa Lightbourn) 
In addition to $50 million in provincial support, Vector will also receive $40 million to $50 million as part of the Government of Canada's Pan-Canadian Artificial Intelligence Strategy, federal Finance Minister Bill Morneau said. The $125-million strategy is also supporting similar institutes in Montreal and Edmonton.
"We are home to some of the top talent when it comes to artificial intelligence," Canadian Prime Minister Justin Trudeau said at an event earlier in the day in Brampton. "We can't afford to lose that competitive advantage, and all the good jobs that come along with it."
More than 30 companies have also committed a combined total of more than $80 million over 10 years to support the Vector Institute, reflecting the transformational potential of deep learning and machine learning in fields as diverse as health care, finance, insurance, education, retail, advanced manufacturing, construction and transportation.
"What an amazing moment," said U of T President Meric Gertler. "The governments of Ontario and Canada and our industry partners deserve huge credit for the visionary leadership represented in today's announcement. On behalf of the University of Toronto, and our sister universities: Thank you for enabling us to seize this incredibly exciting opportunity."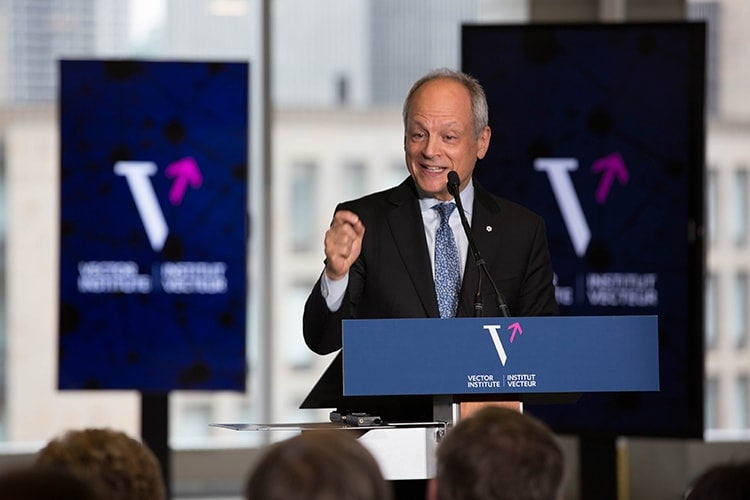 U of T President Meric Gertler talked about how the university has long been considered a global leader in artificial intelligence research, and that expertise can now act as an anchor to bring together researchers, government and private sector actors through the Vector Institute (photo by Lisa Lightbourn)
Using his time at the podium, Geoffrey Hinton, a U of T University Professor Emeritus in computer science and Vector's new chief scientific adviser, deviated from the usual prepared remarks to deliver a pithy TED Talk-like PowerPoint on how neural networks and deep learning work.
Toronto Mayor John Tory said the city's diversity and livability will help attract the talent Vector and the AI industry in Canada needs to grow and prosper. The Vector Institute is "one more thing putting us on the map," he said. "I want us to be leaders. I want us to compete. I want us to be the home of disruptors!"

U of T University Professor Emeritus Geoffrey Hinton, who is vice-president engineering fellow at Google and will serve as the chief scientific adviser of the newly created Vector Institute, gave the audience a mini-lecture about artificial intelligence (photo by Lisa Lightbourn) 
UTC