Uncover hidden histories of Toronto's Kensington Market with augmented reality app from U of T students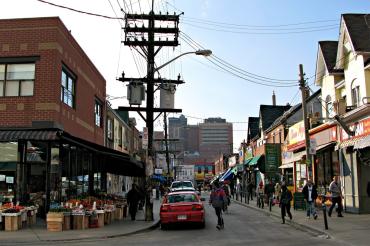 An augmented reality app that guides users through a dynamic tour of key locations in Toronto's historic Kensington Market is now available for free download – thanks to U of T students in the Faculty of Arts & Science.
Students enrolled in University College's 'Digital Tools in a Canadian Context' course used original research and archival documents to unearth generations of Kensington Market's vibrant legacy and transform it into an interactive database.
"Kensington Market is a microcosm of factors that have contributed to Toronto's richness as one of the world's most multicultural city, and reveals how Canada has changed over time," says course instructor Siobhan O'Flynn, a lecturer in Canadian studies.
This is the latest example of how U of T students and researchers are taking the classroom to the city – and in particular to Kensington Market – to learn more about Toronto's vibrant culture. The neighbourhood has also served as a way to introduce international students to the city. 
The student researchers were exposed to an array of high tech and old school technology, from digital tools, data plotting and coding techniques, to analogue curiosities like microfiche that left them scratching their heads about pre-internet research methods.
Nicole Paroyan interviewed members of the Ladovsky family, owners of the well-known United Bakers Dairy restaurant that was a staple of the market for more than 60 years before it moved uptown.
Along with their memories, the Ladovskys shared a treasure trove of artifacts, including menus from a bygone era.
"What was interesting was that the move by the family business to a different part of the city also reflected the movement of the Jewish community in Toronto," says Paroyan, a fourth-year Canadian studies student. "It was fascinating how I could learn so much more about the city and immigration by studying the market's history."
The team worked with Toronto digital creative company No Campfire Required to create the app, which displays layers of archival video and digital content for 12 points of interest at 11 locations in and around the market. The app works through any mobile device viewfinder, triggered by a geolocation signal and specific features of each building.
From the childhood homes of composer Percy Faith and actor Al "King of Kensington" Waxman, to points of interest in the neighbourhood's rich immigrant history, the Kensington Market: Hidden Histories app is on the Android App store and will be available for Apple devices soon, says O'Flynn.
The app is also complemented by an interactive online map on the project website with details about more than 30 market locations.
While its boundaries may have shifted slightly over the years, the market is generally acknowledged to consist of the area between Bathurst Street to the west, Dundas Street West to the south, College Street to the north and Spadina Avenue to the east. It was once home to 80 per cent of the Jewish population in Toronto, and later became a base for waves of new immigrants, from Portuguese fleeing unrest to Caribbean cultures establishing a foothold in their new city.
The market was also for a time a focal point for hippy counterculture, and the app includes tours through landmarks like the old Victory Burlesque Theatre, where Canadian rock icons Rush once shared a stage with the New York Dolls punk band.
"It's interesting how one building could have so many different layers," says Natalie Simonian, a third-year student in physiology and health and disease.
The app also reveals details of the market's history as a welcoming enclave for early political groups, including anarchists, socialists, and feminists.
For Sally Zeng, who often spends social time in the market, the storied neighbourhood will never quite look the same after participating in the research project.
"I didn't realize there was such a rich history behind the buildings I walk by every day," says Zeng, a fourth-year diaspora & transnational studies student.
Arts & Science