U of T urban experts on how Toronto can become a smart, technologically connected city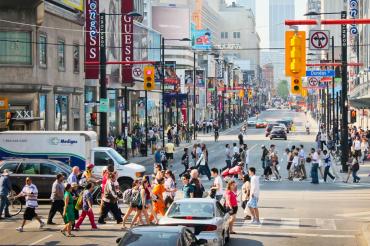 Last month, Sidewalk Labs, a sister company of Google, and Waterfront Toronto announced their intention to create a new, technologically connected neighbourhood on Toronto's waterfront.
The news was met with both excitement and caution by urbanists at the University of Toronto and beyond. And while the details of what a "smart city" will look like are up for debate, what's clear is that there are many issues and challenges that need to be addressed in order to create a technology-powered city or neighbourhood that improves the lives of its residents.
That's what fuelled the discussion on Thursday night at Innis Town Hall on the university's downtown Toronto campus for the event Understanding Smarter Cities: What Happens Next?
The panel discussion included urban experts from across the university, many of whom were on a recent trip to Mumbai to participate in a city-building workshop. The panelists included:   
Janice Stein, professor of political science in the Faculty of Arts & Science and founding director of the Munk School of Global Affairs  
Judy Farvolden, program director, Transportation Research Institute in the Faculty of Applied Science & Engineering
V. Kumar Murty, professor and chair of the department of mathematics in the Faculty of Arts & Science
Patricia O'Campo, professor at the Dalla Lana School of Public Health
Enid Slack, director of the Institute on Municipal Finance and Governance at the Munk School of Global Affairs
David Wolfe, professor of political science at U of T Mississauga and co-director of the Innovation Policy Lab at the Munk School of Global Affairs
Robert Wright, director of the Centre for Landscape Research at the John H. Daniels Faculty of Architecture, Landscape, and Design and dean of the Faculty of Forestry
"The Sidewalk Labs investment is going to raise questions like who controls the development and the implementation of the technology, but most importantly, who controls the data," said Wolfe.
This means governments have to be able to keep up with the pace of technological change in order to have a say in how it's implemented, he said, quoting Prime Minister Justin Trudeau, who spoke last week at the business of AI conference at U of T: "The pace of change has never been as fast as it is right now but it will never be this slow again."
"When we talk about smart city technologies, we have to think of it in that context," said Wolfe.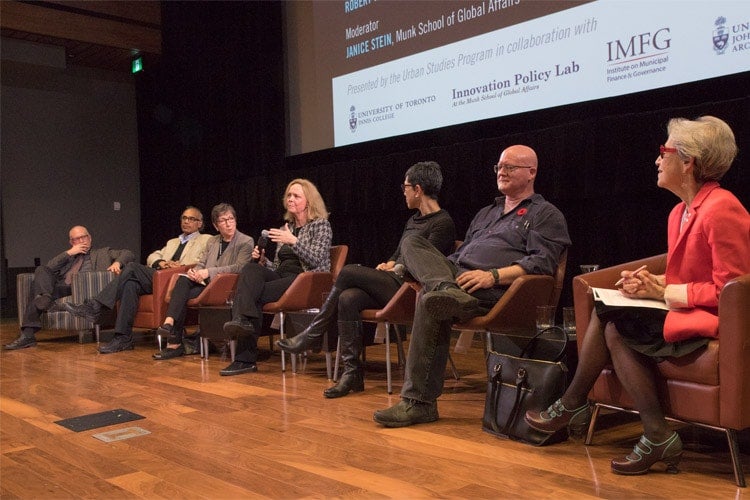 (From left) Wolfe, Murty, Slack, Farvolden, O'Campo, Wright and Stein, participating in the smart cities panel (photo by Romi Levine)
Planning for a smart city means asking its residents what they want to see, O'Campo said.
"[It's] really important and I think the potential of using all of this technology … so we are using that information to be more democratic about our decision-making."
This also means designing smart cities that are inclusive, equitable and affordable – something O'Campo said is often ignored by tech-focused cities and companies, using the shortcomings of Silicon Valley as an example.  
"It has done nothing for San Francisco in terms of reducing inequities," she said. "It has created a very inequitable environment with very high housing prices, a disappearing middle class and poverty has gone to the suburbs."
Toronto is heading in the same direction, she said, citing a recent study by U of T and United Way researchers.
Panelists agreed that smart cities cannot take a one-size-fits-all approach – all cities and towns are built differently with different wants and needs.
"I don't know any AI in the world in existence and not likely to exist in the near future that can make a car drive by itself in Mumbai," Murty joked.
Universities have a unique opportunity to bridge the public and private realms in order to ensure smart cities are designed effectively and equitably, said Farvolden.
"This university has many people who have devoted their professional lives to understanding the drivers for social return on investment and the means to achieve them," she said. "We can bring them together with the technologists to have a big impact here."
UTC