Urban experts from U of T and India share city building know-how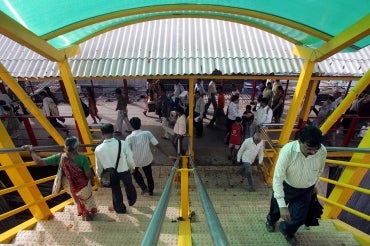 Torontonians might grumble about the consequences of their city's rapid growth, but its growing pains pale in comparison to India's massive urbanization.
University of Toronto cities experts, including Mark Fox, distinguished professor of urban systems engineering in the Faculty of Applied Science & Engineering, and Enid Slack, director of the Institute on Municipal Finance & Governance at the Munk School of Global Affairs, are in India this week to apply their city building knowledge to challenges India's cities are facing.
They'll be taking part in the Future of Smart Cities workshop in Mumbai from May 18 to 19 – an event in collaboration with the Indian Institute of Technology-Bombay, Tata Trusts and the Ontario government. The workshop is taking place alongside Municipalika, an international urban conference for urban experts and professionals.
Visit and chat with Oberoi high school students about UofT with Enid Slack from @imfgtoronto pic.twitter.com/Zf0FJ44c64

— Shauna Brail (@shaunabrail) May 16, 2017
"Our urban experts are not just urban experts for Toronto – they're international experts," says Shauna Brail, U of T's presidential adviser on urban engagement and director of the urban studies program, who is also participating in Future of Smart Cities.  
U of T has a longstanding relationship with India that continues to grow and impact both countries, says Brail.
"We can learn quite a bit by meeting with others," says Brail. "It enhances both U of T faculty research expertise and networks while at the same time, they can talk about ideas, developments, initiatives and technologies that may in fact work in an Indian context – I do think it's really reciprocal." 
In Canada, 83 per cent of the population live in urban centres compared to 33 per cent in India, according to Statistics Canada and UN World Urban Prospects.
"The proportion of their population is so much less urbanized than in Canada but they actually have far greater numbers of people living in cities," says Brail.
India has 59 cities with over a million people, five of which have over ten million, and that number is growing, she says.

Graphic by Daniela Trapani
"The scale of India's urbanization is on par with countries like China and Brazil. What distinguishes their growth is their unique historical, cultural, political and economic context," says Fox. "While the theories and methods developed by U of T faculty are relevant to India, the underlying question is how we adapt them to work in India."
U of T will be working with IIT Bombay and Tata Trusts to strengthen its partnership with cities in India, starting with Mumbai and then expanding beyond. This will engage faculty from various disciplines from both countries and expand to include a diverse range of institutional partners. 
"The faculty that are presenting at the workshop represent a small sample of faculty who have insights of relevance to India's city builders," Fox says.
U of T team off to Surat to meet with smart city officials @uoftdaniels @global_uoft @UofTCities @municipalika @tatatrusts @shaunabrail pic.twitter.com/8mmaAuLg1f

— Robert Wright (@wright1000) May 15, 2017
U of T has also helped alumni like Ayushman Banerjee, gain perspective on India's urban growth. Originally from India, Banerjee came to U of T as an international student where he completed his undergrad in urban studies and sociology and a master's degree in public policy.
He returned to India after his studies and now works in Chennai for Okapi Research & Advisory, consulting on urban development projects.
"On a fundamental level the U of T experience – both undergraduate and graduate – has helped foster and hone my creativity, perceptiveness and social skills, all of which are critical to navigating a multi-stakeholder urban environment characterized by rapidly changing socio-economic, political, and environmental dynamics and problems," says Banerjee, who will also be attending Future of Smart Cities.
In Nepal, Banerjee helped to introduce more sustainable building materials after an earthquake devastated the region in 2015. He has also helped small- and medium-sized businesses in Chennai build structures that are more resilient to flooding.
India's urbanism is much more complex than Toronto's, says Fox.
"India has its own unique political system and bureaucracy that affects their ability to change things, massive poverty, and as in all large cities, huge affordable housing challenges," Fox says.
This makes it harder to navigate, adds Banerjee.
"Solutions you come to – environmental, social, economic – are often a product of insurgencies, protest movements or negotiations amongst different groups, accommodating different people's feelings, religious sentiments and cultural proclivities," Banerjee says. "There are so many different layers here." 
UTC