Google to build living laboratory for urban innovation in Toronto
Sidewalk Toronto will redevelop part of the city's Port Lands into a technology-enhanced community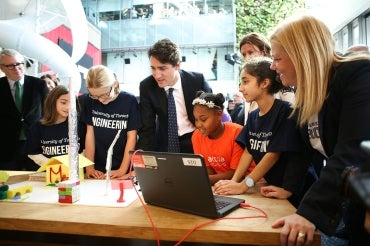 Waterfront Toronto is partnering with Sidewalk Labs, a sister company of Google, to design a new kind of mixed-use, complete community on Toronto's eastern waterfront.
The project – called Sidewalk Toronto – will be located in a new neighbourhood called Quayside, located in the Port Lands. It will combine forward-thinking urban design and new digital technology to create people-centred neighbourhoods that achieve precedent-setting levels of sustainability, affordability, mobility and economic opportunity.
The announcement was made at Corus Entertainment by Prime Minister Justin Trudeau, Premier Kathleen Wynne and Toronto Mayor John Tory, and featured remarks from Eric Schmidt, the executive chair of Google's parent company Alphabet, as well as the head of Sidewalk Labs and representatives from Waterfront Toronto. 
"A world leader in urban innovation, Sidewalk Labs will create a testbed for new technologies in Quayside – technologies that will help us build smarter, greener, more inclusive cities which we hope to see scaled across Toronto's eastern waterfront and, eventually, in other parts of Canada and across the world," Trudeau said at the event. 
Trudeau added the project will "effectively transform Quayside into a thriving hub for innovation" and cited Geoffrey Hinton, a pioneer of deep learning and a University Professor Emeritus at the University of Toronto, as an example of the "innovative thinkers" Canada has to offer. 
Hinton, who attended the October 17 announcement,  is also an engineering fellow at Google and heads the Silicon Valley company's artificial intelligence research project in Toronto.
Sidewalk Toronto will include features such as an open digital infrastructure, flexible building designs and new modes of mobility. The project also seeks to be a place that encourages innovation around energy, waste and other urban environmental challenges. Waterfront Toronto and Sidewalk Labs will spend the next year holding extensive community consultations and long-range planning sessions, calling public engagement critical to the success of the project.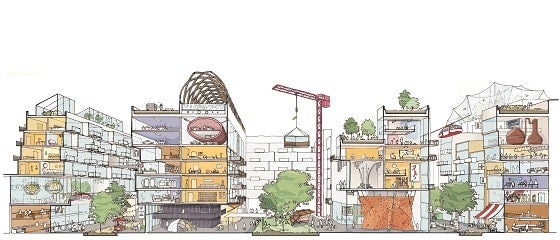 Will Fleissig, the CEO of Waterfront Toronto, put it bluntly: "We can co-create the neighbourhood of the future starting with the Quayside project."
Schmidt noted that Google has been talking for years about finding a city where the company could implement its ideas and was increasingly aware that Canada "mattered an awful lot more than we in Silicon Valley thought," thanks in part to pioneering research in machine learning and AI done in Toronto and Montreal – research that now forms the basis of the company.
Alphabet plans to move Google's Canadian headquarters to the eastern waterfront to anchor the new community.
"We believe it's possible to accelerate urban innovation by creating a new type of place where cutting-edge technology and people-first design are built into the very foundation," said Dan Doctoroff, the CEO of Sidewalk Labs. "This will be a place where new solutions can be launched, advanced and co-ordinated at scale.
"We looked all over the world for the perfect place to bring this vision to life, and we found it here in Toronto."
Doctoroff went on to praise Toronto's diversity and history of openness, noting the city has recently experienced a technology boom.
The announcement is proof that Toronto has become a magnet for international companies, drawn to the city's economic strength and cultural diversity, said Shauna Brail, U of T's presidential adviser on urban engagement and director of the university's urban studies program.
"It highlights the position Toronto is in right now in terms of being able to attract innovative, exciting, interesting, dynamic firms that have the potential to also behave as city builders to help transform and improve our city," she said.
Among the global technology firms that have recently grown their presence in Toronto are Facebook, Uber and Thomson Reuters. Toronto is also considered to be a contender for online retail giant Amazon's second North American headquarters.
A key draw for many of these firms is Toronto's wealth of talented workers and the presence of world-leading universities like U of T, which is generating cutting-edge research in fields like artificial intelligence, fintech and, of course, sustainable city building.
With U of T President Meric Gertler on the Waterfront Toronto board and the university's strong links to municipal projects, "there's a real opportunity for so many of our disciplines to participate," said Brail. 
"This idea of building a neighborhood mostly from scratch and figuring out how to connect it and weave it into the rest of the city, and how to make it into a strong, vibrant neighborhood in its own right are the kinds of things we've been talking about at U of T for years," she said. 
Dawn Britton, associate director of engineering outreach at University of Toronto, attended today's announcement, along with 20 aspiring engineers in Grades 4 to 6 who have participated in engineering outreach programs such as Girls Jr. DEEP, a week-long course fostering experiential learning in science, technology, engineering and math (STEM) disciplines. The students spent the day imagining, designing and building components of the neighbourhood of the future. 
At the event, they shared their designs with the prime minister.
"When students see how technology can transform their environment and make a difference in their daily lives, they are inspired to become inventors, innovators and makers," Britton said.
Sidewalk Toronto offers an opportunity to accelerate and enhance this research through strategic partnerships. It will also inspire a new generation of students to think innovatively about urban design and perhaps develop technologies that could make the cities of the future safer, cleaner and more livable.
"A living laboratory of this kind is a natural partner for our researchers and students as they work across disciplines to address urban and global challenges," said Cristina Amon, dean of the Faculty of Applied Science & Engineering. "On behalf of our faculty, I would like to welcome Sidewalk Labs to the neighbourhood."
Faculty of Applied Science & Engineering, Cities