Trudeau gets his geek on at U of T, talking AI and Canada's future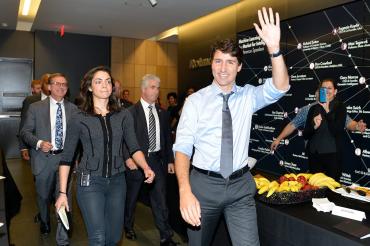 Prime Minister Justin Trudeau reaffirmed his nerd-in-chief reputation and outlined his government's vision to capitalize on Canada's early lead in artificial intelligence, or AI, during an appearance at the University of Toronto's Rotman School of Management.
Trudeau, a self-professed "geek," was a special guest at the annual business of AI conference hosted by Rotman's Creative Destruction Lab (CDL), a seed stage accelerator that specializes in building AI-powered startups. 
Quizzed on his AI knowledge, Trudeau compared the technology to playing chess against a computer that not only made moves based on cold hard calculations, but "leaps of instinct" that mimic how the human brain works.
 "I think we all understand, certainly in this room, the way the world is going," Trudeau said during Thursday's 20-minute conversation with Shivon Zilis of Tesla, Bloomberg Beta and Open AI. 
"So let's be part of it and help shape it, and let's make sure we're benefiting from the innovations – in both the designing of them and the applications and the jobs."
In recent years, Canada – and Toronto in particular – has emerged as a hotbed of AI activity thanks in part to fundamental research performed by people like U of T's University Professor Emeritus Geoffrey Hinton, who is known as the "godfather of deep learning" and works for Google, and U of T Associate Professor Raquel Urtasun, who is heading up Uber's self-driving car lab in Toronto. 
In a bid to capitalize on the country's early lead in a field that is expected to transform everything from transportation to medicine, the Trudeau government announced in March that it would make a $125 million investment in a pan-Canadian AI strategy. As part of that initiative, Ottawa partnered with U of T,  the province of Ontario and industry to create the Vector Institute for AI research – an effort to train and retain more AI talent in Canada.
Trudeau said his goal was both to lure multinational giants like Google, Facebook and others to Canada – using  the country's talented STEM graduates, high quality of life, and commitment to diversity and open immigration as carrots – while also creating dynamic clusters of innovation around technologies like AI that are capable of launching Canadian success stories.
"Someone will work for Google for a few years and get a great idea, but decide they don't want Google to own it and want to develop it on their own," Trudeau said. "So they will sneak out the back door and start a little company that hires others. We saw this a lot when I was living in Vancouver in the late 1990s in the video game industry around [Electronic Arts]. 
"There were lots of little, exciting startups that were really innovative."
Trudeau discusses AI and Canada with Shivon Zilis of Tesla, Bloomberg Beta and Open AI at U of T's Rotman School of Management (photo by Laura Pedersen)
Thursday's conference at Rotman, meanwhile, focused on how to capitalize on AI research in the business realm. 
Ajay Agrawal, the founder of CDL and Rotman professor of entrepreneurship, argued it was no longer a question of "if" but "when" AI would begin to dramatically reshape businesses in Canada and around the world. He used the example of online retailer Amazon, which already operates a sophisticated AI-powered recommendation engine to guide shoppers to products they might be interested in.
But what happens when Amazon's algorithms become so accurate that it knows what you're planning to buy before you do?  "At some point … all of a sudden, somebody says, 'Why are we waiting for orders before we ship [merchandise]?'" said Agrawal.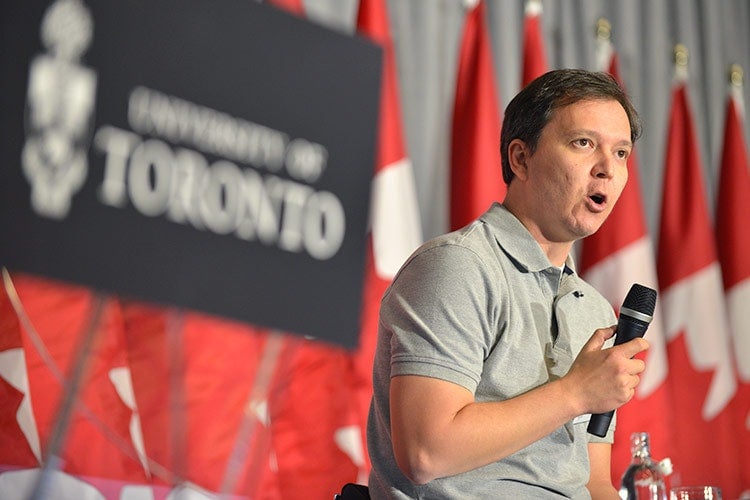 Russ Salakhutdinov did his PhD at U of T under Hinton and is now an associate professor at Carnegie Mellon University and head of AI research at Apple (photo by Laura Pedersen)
Russ Salakhutdinov is among the many sought-after U of T alumni who are helping Silicon Valley's biggest companies make a transformative AI leap. An associate professor at Carnegie Mellon University and the head of AI research at Apple, Salakhutdinov told the conference's 600-odd attendees about the steady progress being made in AI fields while also highlighting key challenges, including teaching algorithms how to learn from relatively sparse datasets. 
"I see lots of work in this area," said Salakhutdinov, who completed his PhD work at U of T with Hinton as a supervisor.
Also speaking at the conference was U of T alumna Elizabeth Caley, the chief of staff of Toronto-based Meta. The company was purchased earlier this year by the Chan Zuckerberg Initiative, the philanthropic organization set up by Facebook CEO Mark Zuckerberg and his wife Priscilla Chan. 
Why was the Initiative so interested? Meta uses AI to spot trends in the millions of scientific papers published around the world – some 4,000 biomedicine papers are published every day – in a bid to figure out where the leading edge of scientific discovery actually exists and where there are hidden gaps that need to be addressed, Caley said.
"We're hoping to give scientists a new starting line," she said, adding that the tool could have enormous implications for global health.
Elizabeth Caley of Toronto-based Meta, purchased earlier this year by the Chan Zuckerberg Initiative, talks about how AI is being used to spot trends in scientific research (photo by Laura Pedersen)
Yet, for all their promise, machines that think like humans also beget thorny new problems. Trudeau, for one, cited the ethical quandary posed by self-driving cars that may have to choose between running down a pedestrian or swerving into oncoming traffic. The same goes for the transportation and other jobs that could be forever changed by automation. 
"It's challenging for us to think about in an ethical and moral sense, but also as a legislator and someone who wants to build a framework for us to succeed in a safe and fair world," Trudeau said.
"All I can say is, I'm glad we're having the reflections around AI in a country where we have the Charter of Rights and Freedoms, and where we have a decent ethical and moral framework to think about these consequences and these contexts, as well as the benefits of diversity and all the things we do well in Canada.
"There's some parts of the world where those decisions wouldn't be as top of mind."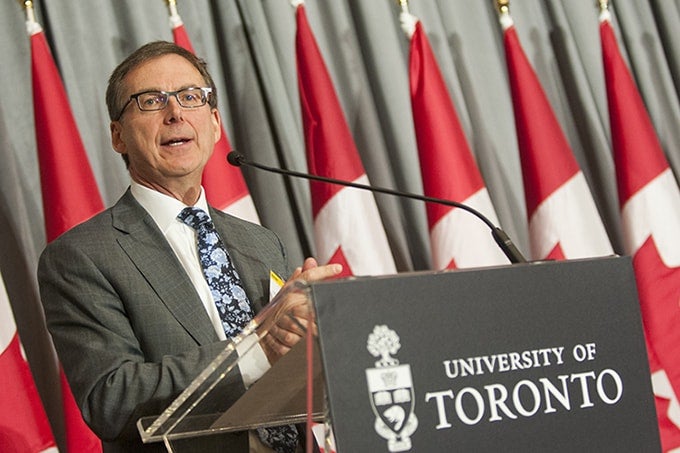 Tiff Macklem, dean of the Rotman School of Management, welcomes people to Thursday's conference on the business of AI (photo by Laura Pedersen)
UTC