U of T startups win prizes for products helping disabled, injured
Steadiwear produces a tremor reducing glove. MyndTec has an electrical stimulation device to help patients with strokes or spinal cord injuries
Watching an elderly loved one struggle with a disability is never easy. But while most of us simply grimace and soldier on, Mark Elias decided to do something about it.
The co-founder of Steadiwear, a University of Toronto startup, developed a specially designed glove that stabilizes the hands of patients with Parkinson's disease or essential tremor. 
This week, Steadiwear was one of two U of T startups to win competitions at the Ontario Centres of Excellence Discovery conference, an event that seeks to promote the commercialization of innovative ideas in the province. The other startup was MyndTec Systems, which won an accessibility-tech pitch competition with an electrical stimulation system that helps patients with upper-limb paralysis regain movement.
Elias got the idea for Steadiwear after visiting his grandmother in France several years ago.
"I saw her spilling coffee on herself helplessly, and it was very painful for me," said Elias, who graduated from U of T three years ago with a bachelor's degree in applied science and civil engineering. "When I returned to Toronto, I made it my personal mission to solve this problem."
His solution? Elias started by investigating the tuned dampening systems used to make buildings more earthquake resistant. He eventually settled on a ball joint surrounded by a non-Newtonian fluid – not unlike the state-shifting slurry one gets by mixing cornstarch with water. The resulting device, developed with co-founder Emile Maamary at U of T's Impact Centre accelerator, allows patients to move their hands voluntarily but stiffens up when it encounters the quick, jerky movements associated with tremors. 
That's in stark contrast to existing tremor treatments that either rely on powerful drugs, which can have unpleasant side effects, or weighted gloves that impede voluntary movement and cause muscle strain.
On Tuesday, Elias and Maamary won the Ontario Brain Institute's ONtrepreneurs $20,000 Pitch Challenge – the fourth award Steadiwear has won in the past few months. 
Steadiwear's growing pile of hardware shouldn't come as a suprise. Canada's aging population – the number of seniors recently surpassed the number of children in Canada for the first time – means there is ballooning demand for new innovative products to help elderly Canadians live more comfortably with chronic diseases and disabilities.
It also happens to be an area where U of T entrepreneurs and researchers are carving out an area of expertise, building on research done at U of T and partner hospitals. 
U of T startups, many of them focused on the accessibilty space, put in a particularly strong showing at the ONtrepreneurs pitch competition. All but one of the five finalists were from the university, which boasts 10 accelerators spread across its three Toronto-area campuses.
The others were: WinterLight Labs, which developed a system to assess dementia based on patients' speech; iMerciv, which makes a wearable device to assist people with vision loss; and SensOR Medical Laboratories, which devised a force-sensing skin tool to help students and surgical residents improve performance when using minimally invasive surgical techniques.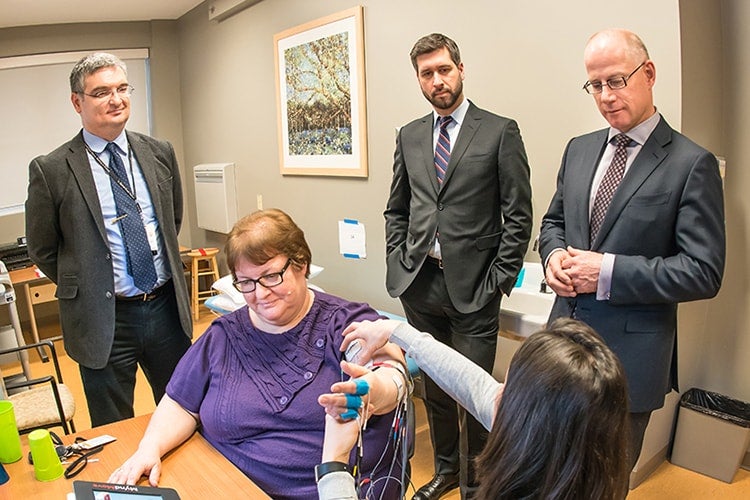 Professor Milos Popovic (left) and his team give a demonstration of MyndMove, MyndTec Inc.'s first commercial product (Photo: Barry Westhead / Toronto Rehabilitation Institute)
The other big U of T winner at OCE Discovery was MyndTec, co-founded by Milos Popovic, a professor at U of T's Institute of Biomaterials & Biomedical Engineering and a senior scientist at Toronto Rehab, and Aleksandar Prodic, a professor at the university's department of electrical and computer engineering. 
MyndTec's first commercial product, MyndMove, uses a system of coordinated electrodes to stimulate arm muscles and replicate functional upper limb movement in patients who have suffered strokes or spinal cord injuries. Here's how it works in practice: a physiotherapist will tell a patient to think about executing a movement – making a fist, for example – and MyndTec's system will stimulate the patient's arm into action. 
"Eventually those will connect and create a new pathway from an uninjured part of the brain," says Alexa Granger, a quality assurance manager at MyndTec. "If someone's had a stroke or spinal cord injury, and they now have paralysis or weakness in the arm and hand, they can't do many things that we take for granted – like bathing ourselves, feeding ourselves, grooming ourselves, getting dressed. With our therapy, we can help them to gain some function back in their arms and hands."
MyndTec's equipment is already available at clinics in Ontario and B.C.. The company is now preparing to launch into the huge U.S. market.
Reza Moridi, Ontario's minister of research, innovation and science, congratulated MyndTec and the accessibility competition's other finalists, which included TranQool – a startup founded by U of T alumni that uses encrypted video to match users with cognitive behavioural therapists. 
"These talented innovators are making a real difference for people with disabilities, and for Ontario," Moridi said.  
UTC