Tiny device from U of T startup helps blind and partially sighted people navigate daily life
"The BuzzClip detects obstacles within the wearer's immediate surroundings and provides intuitive vibrations at different frequencies depending on the distance to the object," says Bin Liu (all photos courtesy iMerciv)
There's a story behind the Buzzclip – a clip-on device that detects obstacles in the path of blind and partially sighted people and uses vibration to alert them to obstructions ahead.
And the story begins in India.
That's where Arjun Mali spent years volunteering with his family at a blind school and orphanage. His late grandmother was one of the school's largest supporters and he spent a lot of time helping prepare and serve food to the children. 
"I used to spend a lot of time with kids that were the same age as me. We would play games and I would teach them bits of English and read them English books," said Mali. "They especially loved Harry Potter."    
The orphanage provides a safe and secure environment for the children to live and learn, Mali said, but the stigma associated with blindness and the everyday chaos of Indian city streets means that many of the children grow up without ever leaving the compound. When they reach the age where the opportunity of college and further education is available, many students do not participate because they fear travelling outside.
Mali and longtime friend Bin Liu – a civil engineering grad from the University of Toronto with a minor in business – channelled these experiences into a startup designed to make an important improvement in the lives of blind and partially sighted people. 
"What really inspired this venture was meeting a 19-year-old student called Sunita who wanted to continue her education," Mali said. "She would commute to a girl's college about 35 minutes away from the orphanage and would constantly talk about her love of running.
"Everyday on her way back from school, she would try and find a place where she could safely run as fast as she could. It took her seven months to carefully find a route to a field that was big enough for her to run free. That's when I decided that I had to do something, anything, even if it could make life a little bit better for her and many other incredible people like her."
Through iMerciv, a company the two friends founded, they developed the BuzzClip: a small and discreet wearable device.  
"The BuzzClip detects obstacles within the wearer's immediate surroundings and provides intuitive vibrations at different frequencies depending on the distance to the object," said Liu. "This allows the wearer to safely navigate around obstacles that might be missed by traditional aids." 
(Below, a six-foot-five user of the BuzzClip offers a video testimonial about how the device offers the kind of help a white cane cannot provide for someone who is tall.)
Mali and Liu developed their company at Techno2014, an entrepreneurship training program hosted by the Impact Centre, one of the University of Toronto's nine campus-linked accelerators and part of U of T's Banting & Best Centre for Innovation & Entrepreneurship.
"Every day, U of T entrepreneurs demonstrate the positive impact technology like the BuzzClip can have on people's lives," said Karen Sievewright, director of the BBCIE. "This social innovation addresses an important market need and I'm looking forward to seeing them exhibit their product at the university's accessibility showcase at the end of this month."  
Since graduating from the Techno program, Liu and Mali have continued to build their company and experiment with different product models. 
"Due to the social stigma attached with visual impairment, for those who are partially sighted, there are no solutions at all," said Liu. "Many of these individuals tend to opt out of using a cane or guide dog as they do not want to stand out in public or be perceived as someone that needs help."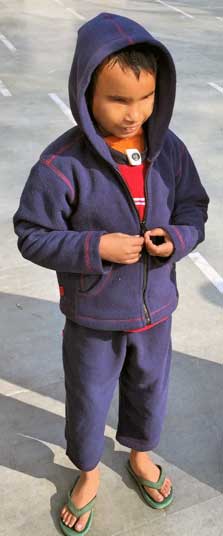 Last December, Mali returned to the school, Janta Adarsh Andh Vidyala in New Delhi, to test the BuzzClip prototype.
"It was extremely rewarding to go back to the orphanage and see the reactions when we tested our early prototypes. The kids and older students were amazed that they could so easily find people, walls, tables, chairs and navigate around the building like they have never done before. 
"There was a lot of emotion and excitement as well as many questions, the main one being: why didn't you bring this to us before?"
In addition to their work in India, Mali and Liu have been heavily involved in the local blind community. They regularly attend conferences as well as volunteer with organizations such as the Toronto Ice Owls, a hockey team for the visually impaired.
To raise funds for the first production batch of the BuzzClip, iMerciv launched its first crowdfunding campaign this month. The company raised almost 25 per cent of its $50,000 goal after only one day and has continued on to raise more half the goal of their campaign, which ends on November 21.
(Learn more about the crowdfunding campaign.)
Some of the perks available for supporters include obtaining a BuzzClip for themselves or providing one for a blind person in India.
"Our goal is to create a long-lasting impact for communities living with blindness or partial sight, empowering them to lead a confident and independent life," said Mali. "With the support we receive through this campaign, we can make this goal a reality and change the lives of millions of people living with vision loss across the world."