U of T startups draw on research, ingenuity at Entrepreneurship Week pitch competition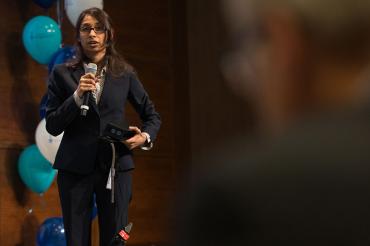 The first mass-produced electric wheelchair hit the market in the mid-1950s – invented by University of Toronto engineering alumnus George Klein to help veterans returning from the war. 
Now, more than 60 years later, U of T post-doctoral researcher Pooja Viswanathan is taking the baton by trying to make motorized wheelchairs safer and more practical.
Her startup company, Braze Mobility, makes aftermarket wheelchair sensor arrays – not unlike those now standard on many cars – to help users avoid inadvertently backing into display stands at grocery stores or tearing up the drywall in their homes.  
"You end up with a smart wheelchair that can detect obstacles," Viswanathan told the judges determining this year's RBC Prize for Innovation and Entrepreneurship awards. 
She added that the data collected by Braze's sensor arrays, which start at about $650, could later be analyzed by clinicians to inform decision-making on patients. 
Braze ended up taking home not one, but two prizes at the pitch competition: a $1,000 "people's choice" award, voted on by members of the audience, and a $10,000 second-place prize in the "later stage" startup category. It's the second pitch competition Viswanathan won in less than a month.
The RBC awards – one of several innovation-related endeavours at U of T supported by the bank – took place alongside the U of T Startup Showcase, where more than 50 startups connected to U of T set up booths in the atrium of the MaRS Discovery District.
Both events were part of U of T's annual Entrepreneurship Week, a series of workshops, panel discussions, networking events and pitch competitions designed to celebrate the thriving startup culture at one of the world's top research universities.
"Only at U of T do hundreds of disciplines and the best minds converge, igniting the most revolutionary ideas," Vivek Goel, the university's vice-president of research and innovation, said earlier in the day before Dragon's Den star Arlene Dickinson took the stage to deliver a keynote presentation. "The innovators and investors want to work with the best people, and we at U of T have a critical mass of extraordinary talent in multiple disciplines. 
"This enormous depth and breadth of excellence is what sets the U of T innovation network apart."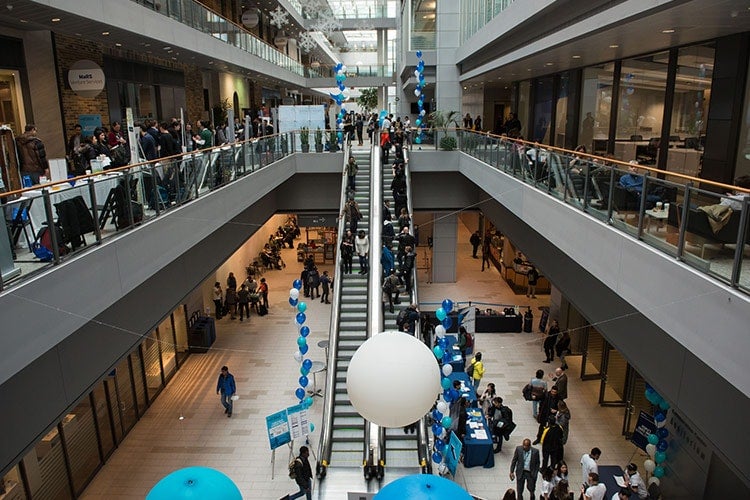 More than 50 startups connected to U of T showed off their young companies at the university's Startup Showcase (photo by Laura Pedersen)
The RBC event's top prize of $25,000 in the "later stage" category was taken home by a company called 16 Bit, co-founded by radiologists Alexander Bilbily and Mark Cicero. The startup uses artificial intelligence, or AI, to "triage" patient imaging done as the result of screening for diseases like breast cancer – so physicians won't waste their time looking at the healthy scans that comprise the vast majority of cases.
Bilbily told the judges 16 Bit's algorithms have already shown a 92 per cent accuracy when it comes to determining breast density, a key risk factor, and that the rate is likely to increase once they've had the chance to train it on bigger data sets.
"Fortunately, we're located in Toronto, which is at the heart of machine learning [research] and has all these great hospitals," Bilbily said.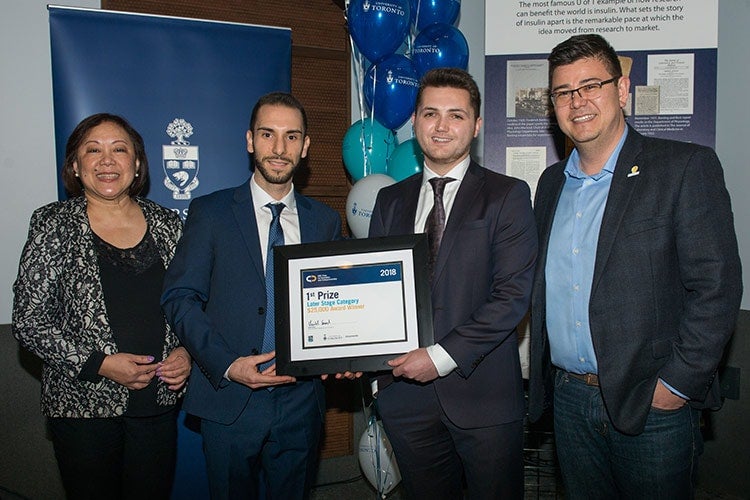 Mark Cicero and Alexander Bilbily receive first prize in the RBC pitch competition. They are joined by Professor Cynthia Goh, the academic director of U of T Entrepreneurship, and Alexander Peh, RBC's vice-president of innovation, technology and operations (photo by Laura Pedersen)
First prize in the competition's "early stage" category ($10,000), meanwhile, was taken home by Xpan, co-founded by U of T biomedical engineering alumnus Zaid Atto. The startup makes an expandable version of a surgical device called a trocar, which is used to create a tunnel into the abdomen through minimally invasive surgical tools can be inserted. 
The $5,000 second-place prize in early stage went to a startup called Pliant Power. Founded by post-doctoral researcher Tyler Schon, the startup is developing a thin, flexible lithium iron battery for use in wearable electronics. 
Finally, the $1,000 "people's choice" award for an early stage startup was handed to VECO for its affordable, solar panel-equipped umbrella aimed at outdoor market traders in sub-Saharan Africa.
The electricity captured by the umbrella's panels is stored and used to charge merchants' cellphones or illuminate the stalls at night. 
"We did all of our market research in Africa," said Olugbenga Olubanjo, who is doing a master's degree in the Faculty of Applied Science & Engineering and co-founded the company alongside neural engineering PhD candidate Vasily Grigorovsky. 
"From talking to people there we came up with this unique design."
UTC