U of T startups take home prizes at health challenge event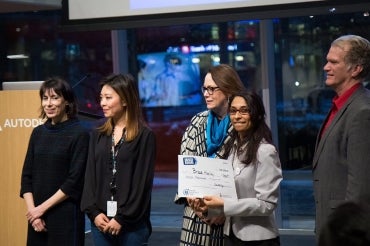 Braze Mobility uses sensors to help motorized wheelchair users avoid collisions with the obstacles that surround them. Now, with its latest product, Braze hopes to one day help eliminate the obstacles themselves.
Pooja Viswanathan, a post-doctoral researcher at the University of Toronto and the CEO and co-founder of Braze, says she's hoping to use the data collected by her startup's sensors, which can be attached to motorized wheelchairs, to create a sophisticated data analytics platform. 
The crunched data could then be used by clinicians, insurance companies and even city planners when making decisions that could impact wheelchair users. 
"This could collect data on where collisions are actually happening in the environment," Viswanathan told attendees at a recent health-care pitch competition.
Braze was one of four startups to take home $7,000 in prize money at H2i's HealthEdge Challenge. The competition is organized by three U of T accelerators – Health Innovation Hub (H2i), The Hatchery and the Department of Computer Science Innovation Lab (DCSIL) – and is designed to encourage innovation to address real-world health-care problems.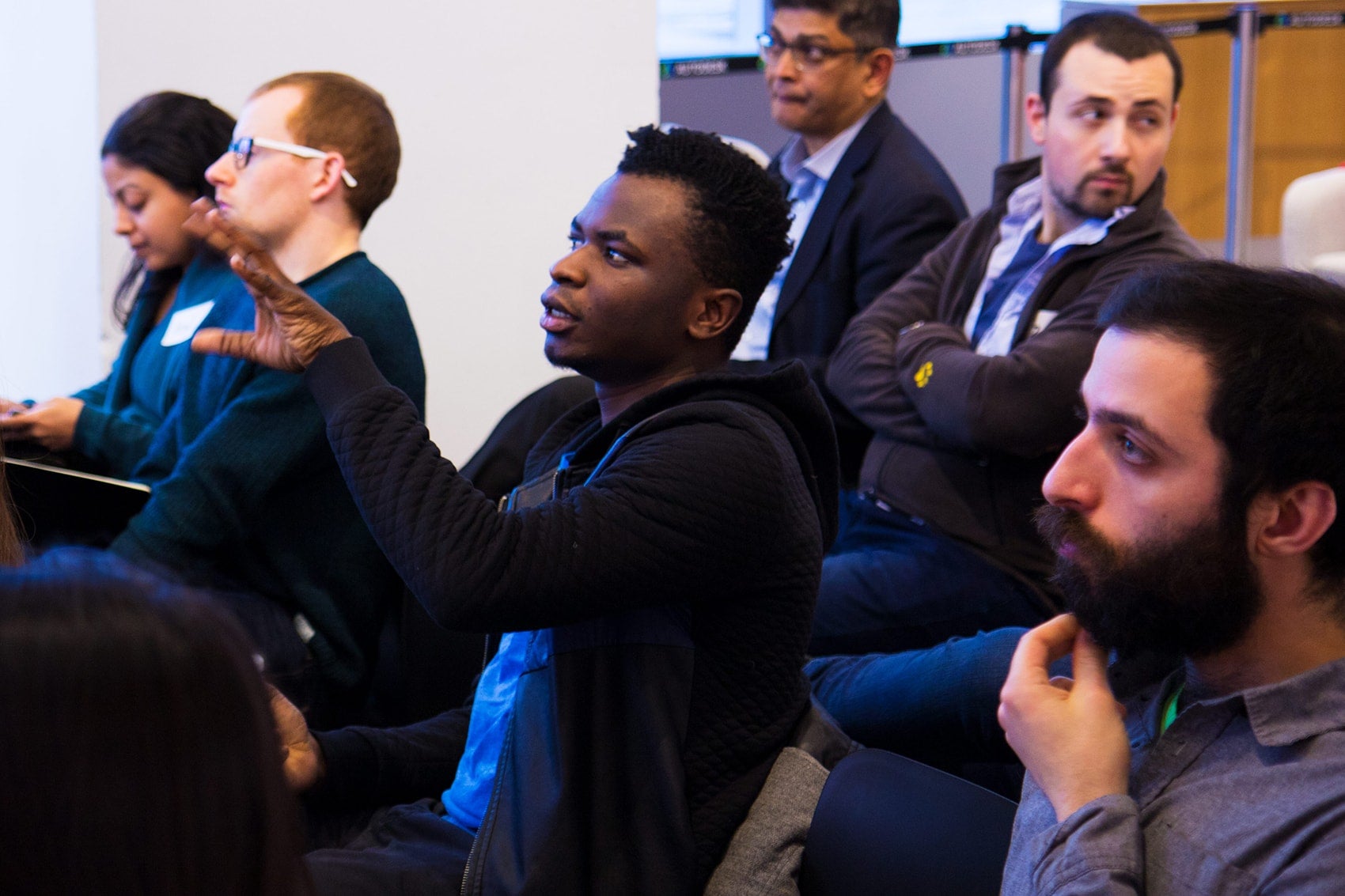 An attendee at the HealthEdge pitch competition poses a question to one of the startups (photo by Chris Sorensen)
Also taking home a prize was surgical device startup Xpan. The company, co-founded by U of T biomedical engineering alumnus Zaid Atto, makes an expandable version of a surgical device called a trocar that's used to create a tunnel into the abdomen for laparoscopic surgeries. 
At present, surgeons must swap out trocars if they need to insert larger instruments, which can slow down procedures and raise the risk of complications, Atto said. 
Xpan won a similar H2i pitch competition back in October and another in September organized by The Hatchery, which is affiliated with the Faculty of Applied Science & Engineering.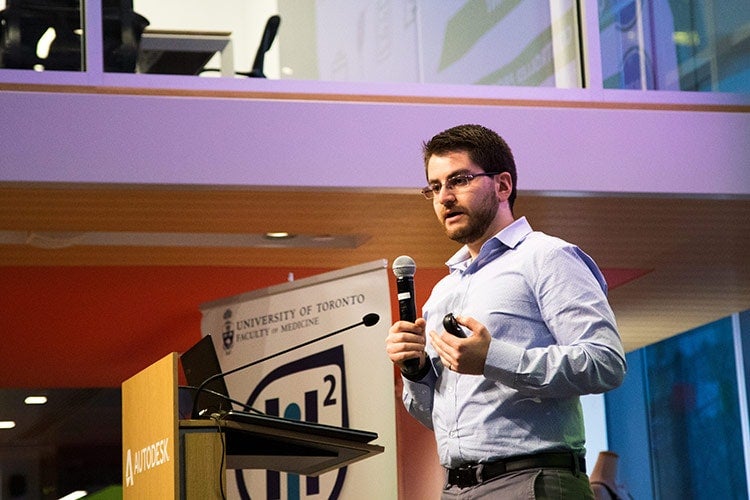 Zaid Atto, the CEO of Xpan, explains the need for his startup's expandable trocar device at the HealthEdge Challenge (photo by Chris Sorensen)
The other two winners of this week's competition were Sunny Stroke, which connects physicians providing care to stroke patients and was represented by U of T biomedical engineering graduate student Shaurya Gupta, and Opti-fold Cosmetics, which makes a special tape to encourage double eyelids and is led by Ray Tang.
In addition to the cash, the four winning startups will receive further support from the accelerators supporting HealthEdge competition as they fine-tune their business plans.
UTC