'The only thing stopping you from huge success is you,' Dickinson tells entrepreneurs at U of T event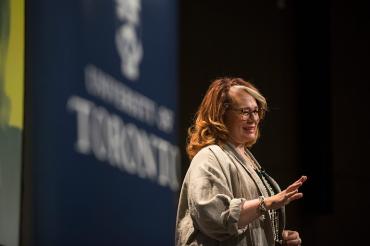 More than 50 startup companies with connections to the University of Toronto were on display today at the MaRS Discovery District – and entrepreneur and Dragon's Den star Arlene Dickinson had a pointed message for their founders and employees.
"The only thing stopping you from huge success is you," Dickinson told a packed auditorium.
She added that U of T entrepreneurs enjoy the benefit of attending one of the world's top research universities and living in Toronto.
When it comes to building big businesses and powering the future of the Canadian economy, "you have a huge responsibility," Dickinson said.
Dickinson was the keynote speaker at an RBC-sponsored speaker series that accompanied the U of T Startup Showcase, where entrepreneurs set up booths and answered questions about their companies and the innovative ideas and technologies that underpin them.
The showcase is one of the highlights of U of T's annual Entrepreneurship Week, which kicked off on Monday and consists of workshops, networking events, panel discussions and pitch competitions.
"To feel the energy and enthusiasm here is fantastic and is truly a credit to the University of Toronto," said Steven Del Duca, Ontario's minister of economic development and growth, who also spoke at the event.
Del Duca also specifically cited the work of WinterLight Labs, a U of T startup that combines artificial intelligence, or AI, and speech analysis to detect cognitive decline in patients. The startup was co-founded by Liam Kaufman, Katie Fraser, Maria Yancheva and Frank Rudzicz, an assistant professor of computer science and a rehabilitation scientist at the University Health Network.
"It's such important work," Del Duca said. "Companies like WinterLight Labs inspire people like me and, frankly, inspire our government to make sure we continue to invest in programs that support the next generation of entrepreneurs."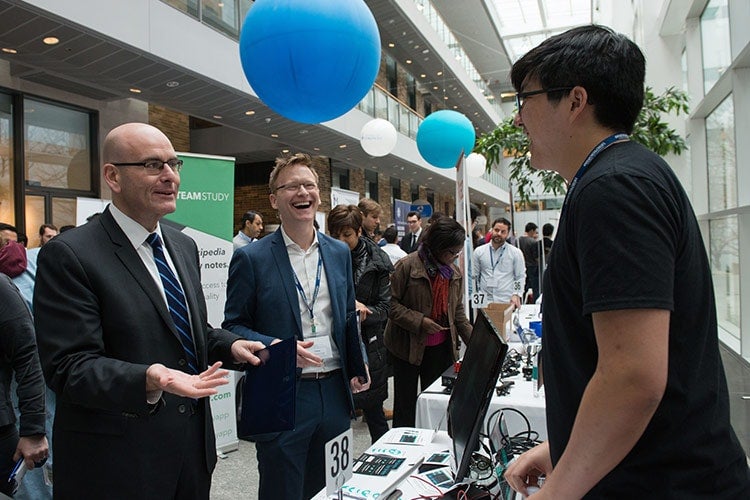 Steven Del Duca, Ontario's minister of economic development and growth, and Derek Newton, U of T's assistant vice-president, innovation, partnerships and entrepreneurship, at the Startup Showcase (photo by Laura Pedersen)
As for Dickinson, she told attendees about the path she took to becoming one of Canada's most recognized business personalities. That included immigrating to Canada from South Africa and settling in frigid Edmonton with no money. At one point, Dickinson said her father traded in her mother's diamond wedding ring – cut by her late grandfather – for a used car.
Yet, despite those hardships and others, or perhaps becase of them, Dickinson said she learned the value of being able to tell the difference between what people say and what they're capable of accomplishing – a lesson she says helped her spot one of the most successful deals ever done on Dragon's Den.   
"Learn what people are really going to do," she said.
UTC