U of T staff form group to learn about Indigenous history and teachings
It was an inspiring lecture that prompted Lise Watson to start a group at University of Toronto's Ontario Institute for Studies in Education to learn more about Indigenous history, cultures, traditions and teachings.
Watson, a U of T alumna and staff member in the registrar's office at OISE, attended a talk by Jonathan Hamilton-Diabo, U of T's director of Indigenous Initiatives who co-chaired the university's Truth and Reconcilaiton steering committee.
"He was saying, 'It's really up to non-Indigenous people to educate themselves. It's not up to us to teach you what you need to know,'" recalls Watson.
"I really took that to heart."
So now, on their lunch breaks and after work, a group of OISE staffers often go off together to take in a lecture on Indigenous history, visit an Indigenous art exhibit or have a bite to eat at an Anishinaabe restaurant.
The OISE Staff Indigenous Alliance, or OSIA, was also a response to Canada's Truth and Reconciliation Commission's calls to action, and U of T's own report calling on the university to take action to improve its relationship to Indigenous peoples.
"I really took the TRC report seriously. It's been a big passion for me for a long time," says Watson.
Watson has been seeking out Indigenous education since she was an undergraduate student at U of T in the 1980s, studying anthropology. She says it was on a summer road trip across Canada when she realized just how little she knew about Indigenous cultures and people in her own country. Some European travellers in northern Ontario asked her about the First Nations communities in the area and she realized she had no answers for them. When she returned to U of T that fall to continue her studies, Watson says she took every Indigenous studies course that was on offer at that time.
Since OSIA's founding in March, its members – and there are about 40 of them so far – have organized group tours to U of T's Art Museum to see Kent Monkman's Shame and Prejudice exhibit and attended U of T's inaugural Orange Shirt Day to commemorate residential school survivors. They also participated in Blanket Exercises, where blankets representing the land are placed on the floor and participants are taken on a guided walk from pre-contact, treaty-making, colonization and resistance.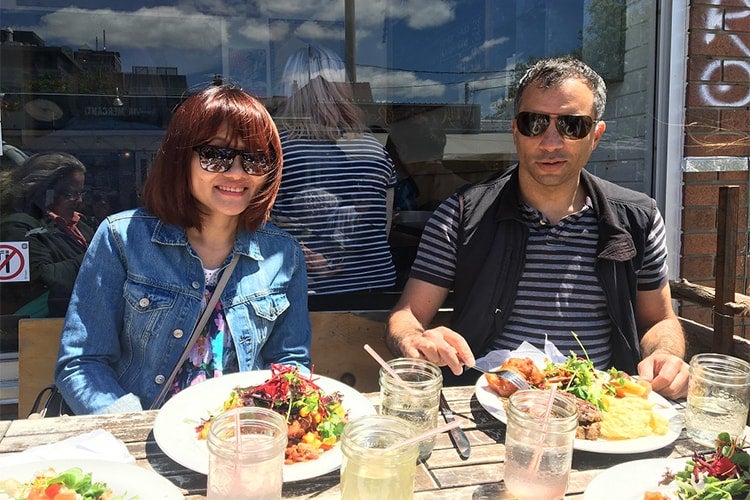 OSIA members Gladys Lim and Anil Purandaré tuck into piled-high plates at PowWow Cafe in Kensington Market (photo courtesy of OSIA)
Anil Purandaré, a member of OSIA and staff member at OISE, says he is committed to educating himself about Indigenous peoples in Canada by attending events and training sessions at the Native Canadian Centre, participating in First Story walking tours to learn about local Indigenous history, and by reading as much as he can, including the national Truth and Reconcilation Commission's final report.
"I have studied it intently," he says.
When Watson invited him to join OSIA, Purandaré was happy to get involved.
He says that while he's pleased to see efforts to acknowledge Indigenous perspectives and presence by, for example, reading land acknowledgements at meetings,  without a deeper understanding of what these gestures mean, they risk being empty ones.
"If it's just about checking a box on a checklist when someone's just reading a prepared statement for a land acknowledgement, what's the impact really?" 
OSIA visited Jaime Black's REDress art installation at U of T, which addresses missing and murdered Indigenous women across Turtle Island (photo by Hannah James)
Purandaré says OSIA has been a great way to get his colleagues to talk about what role they can play in reconciliation. "It provides opportunity for people who might not otherwise engage to think about the issues, to have some exposure to those kinds of thoughts and issues in a fairly accessible way."
Watson is hoping to expand OSIA's membership beyond OISE staff. 
UTC