U of T's new director of Indigenous initiatives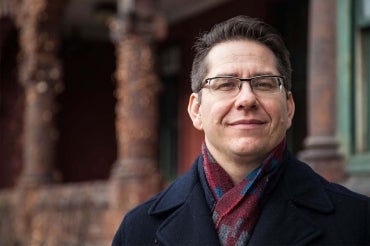 Jonathan Hamilton-Diabo – a central figure in U of T's Indigenous community as the director of Aboriginal services at First Nations House – is embarking on a new leadership role.
Hamilton-Diabo has been appointed the director of Indigenous initiatives – a position established to support and guide the U of T community as it begins to work towards reconciliation.
"I feel honoured to be chosen for this new role and to be creating more opportunities for Indigenous peoples at U of T," says Hamilton-Diabo, who has been at U of T for 17 years as a student, staff member and educator.
The position was created earlier this year in response to the report by U of T's Truth and Reconciliation Commission Steering Committee, which Hamilton-Diabo co-chaired.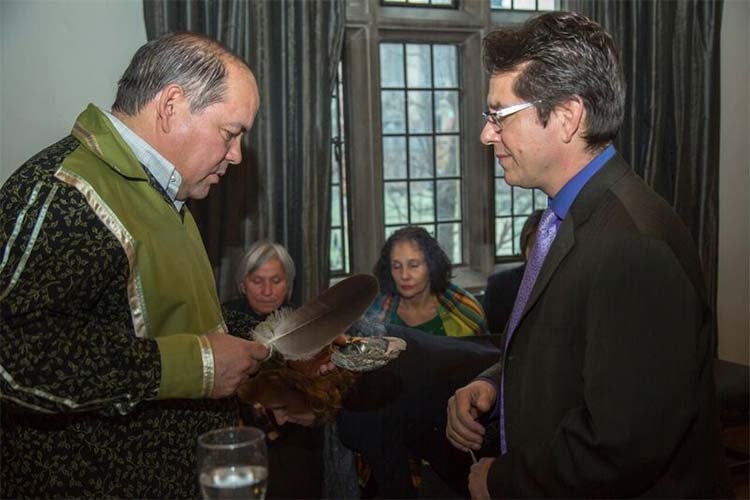 Student, James Bird (left) and Jonathan Hamilton-Diabo at TRC entrustment ceremony in January this year (photo by Johnny Guatto)
Hamilton-Diabo grew up in Kahnawà:ke Mohawk Nation in Quebec. He holds undergraduate degrees from Concordia University and York University, and a master's degree in theological studies from Emmanuel College at Victoria University.
Important work around Indigenous issues has been going on at U of T for years – especially at First Nations House, says Hamilton-Diabo.
"I have been fortunate to work with, and learn from, many fantastic people over the years," he says. "Two people in particular that I am grateful to, especially as I first became director, are Lillian McGregor and Grafton Antone, former Elders at First Nations House. Today, I also greatly appreciate Lee Maracle and Andrew Wesley, who have continued to provide me with their support.
"And of course, none of this would be possible without Diane Longboat, who was the founding director of First Nations House in 1992."
First Nations House, Hamilton-Diabo says, is a "holder of stories" and a place where Indigenous people can feel safe sharing their identity, interests and struggles.
In his new role, Hamilton-Diabo says he'd like to build that same sense of trust in the broader university community.
"I'd like it to get to a place where the Indigenous community will look at U of T as an option to consider – a place they can trust – when they're thinking about post-secondary or a partnership opportunity," he says.
Hamilton-Diabo points out that U of T's student-run powwow last month attracted hundreds of people from inside and outside U of T. Events like that probably wouldn't have received the same internal support when he first arrived at the university 17 years ago, he adds. This new interest is encouraging, Hamilton-Diabo says – and he's eager to work on deeper, institutional change.
"There's much more that needs to be considered such as curriculum, hiring of people and really thinking about how to create a stronger presence of Indigenous culture here at U of T," he says.
"Jonathan Hamilton-Diabo has been an invaluable resource and guide for students, faculty and staff at the University for many years," said Vice-President and Provost Cheryl Regehr. "His leadership and experience will be indispensable as we work towards reconciliation."
Hamilton-Diabo's expertise is widely recognized beyond the university, Regehr said. He has also served on the Toronto Police Services Aboriginal Peacekeeping Unit's advisory committee, the Council of Ontario Universities' Aboriginal Reference Group and Self-Identification working group, the Ministry of Training, Colleges, and Universities' Aboriginal Post-Secondary Framework working group and the Toronto Urban Native Ministry.
In his new role, Hamilton-Diabo's mandate will be to listen, coordinate, advise and collaborate with academic and non-academic communities in addressing the steering committee's calls to action.
He'll also be engaging Indigenous people in and outside of the university in the mission of the university, broadly intersecting with such areas as teaching and learning, student experience, faculty and staff recruitment and engagement, and community-based research.
While many post-secondary institutions are beginning the work of reconciliation, Hamilton-Diabo says U of T is in a strong place to become a leader.
"Because of where we are located and the resources that are available in and outside U of T, there's so much untapped potential," he says. "There's so much we can be doing." 
UTC