Canada 150 or Canada 15,000? Field trip by U of T's Hart House looks at Indigenous history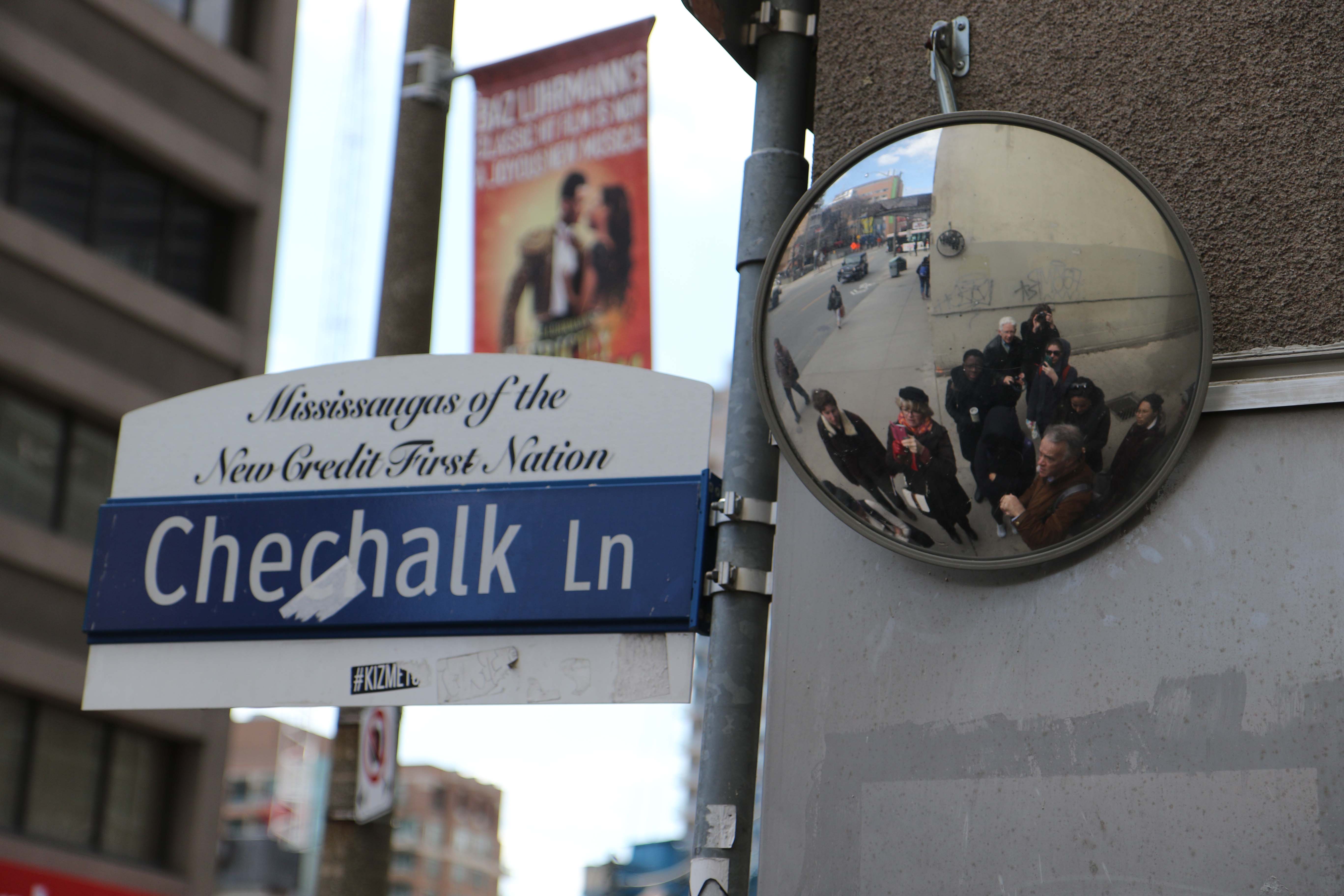 Primordial lakes, torchlight fishing in the Don River, and a Hart House porter who taught Ojibwe to U of T scholars.
Those are just a few of the little-known stories shared by First Story Toronto, an organization researching and preserving the city's Indigenous history on a recent walking tour from U of T to Allan Gardens. The goal: bringing the true history of Toronto's – or Tkaronto's – laneways, parks and landmarks to life.
"You hear a lot about Canada 150 now, but for a lot of Indigenous people, it's 'How about Canada 15,000?' That's how old the history of this place is," said Brian MacLean, who led the First Story walking tour.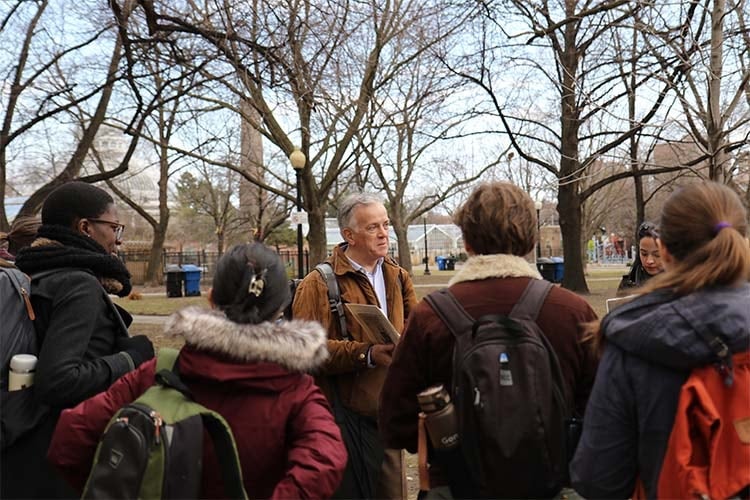 Participants on the field trip learned about the many Indigenous organizations that operate in and around Allan Gardens (photo by Hannah James)
Organized as part of Hart House's new Field Trip series – day trips to help educate U of T's community about their surroundings – the walk explored truth and reconciliation through place and storytelling.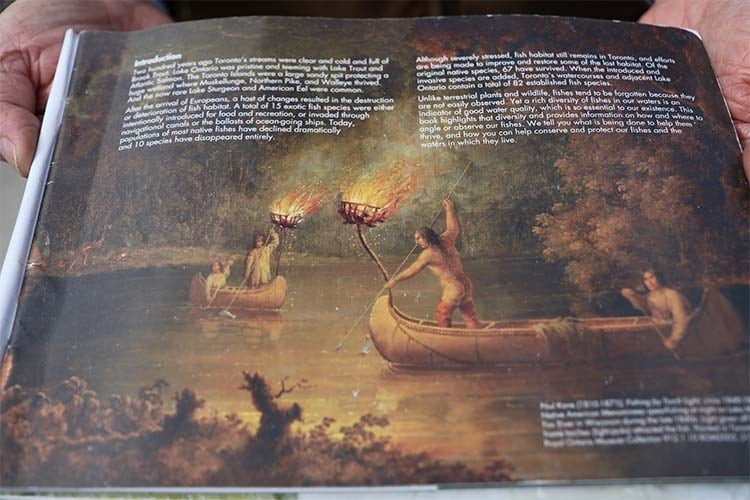 The painting, Fishing by Torchlight, by controversial artist Paul Kane. The field trip took participants to his house on Wellesley Street (photo by Hannah James)
"At Hart House, we're trying to better represent diverse identities in the space," said Trish Starling, community engagement facilitator at Hart House and co-creator of the Field Trip events.
"A lot of the work we're doing is aligned with the recommendations from the TRC, both the federal calls to action, and also the work we've done internally at U of T," said Starling, who holds a master's degree in teaching from OISE.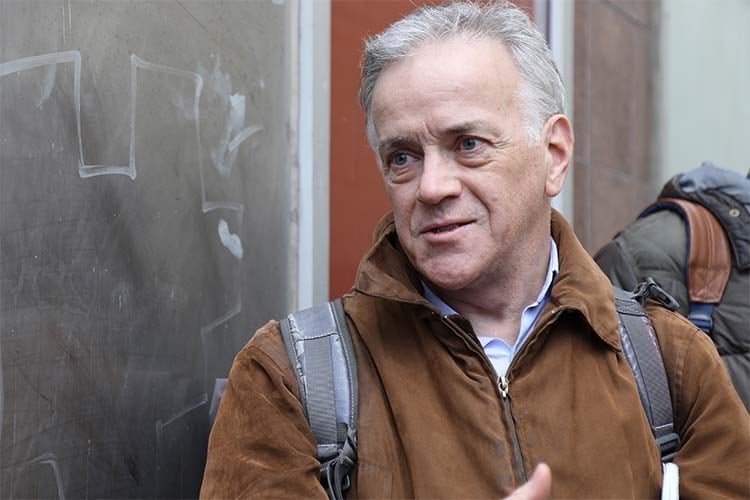 First Story's Brian MacLean says it's his duty to learn about the city's Indigenous history (photo by Hannah James)
The tour started at Hart House with a story about Fred Wheatley, a former Hart House porter. Wheatley had lost his language as a child when he was taken to a residential school and had to relearn everything as an adult. After learning how to speak Ojibwe again, he taught others how to speak it, including U of T's John Steckley and historian Donald Smith, who were both scholars of North American Indigenous studies.
"I came out to have a better understanding of the ground I walk on, and learn about the stories of the city where I'm from," said Sarah Petrucci, a recent U of T criminology grad.
MacLean told the group about U of T's connections to residential schools. He explained how some theology grads ended up doing "missionary" work in their own country, trying to convert Indigenous people to Christianity.
"The people whose land it was were treated as foreigners needing to be transformed into Canadian citizens," said MacLean.
Just beyond U of T's Soldier's Tower, First Toronto's Sarena Johnson, assisting MacLean on the walk, told participants that her grandfather – an Ojibwe man – had served in the Second World War, but because he was an Indigenous person, he was not allowed to enter The Royal Canadian Legion halls with his fellow soldiers.
Sarena Johnson speaking to the Field Trip group at Queen's Park (photo by Hannah James)
"It's interesting how there are all these blockages along the way to accessing human rights that other Canadians take for granted," said Johnson, a U of T Indigenous Studies and Women & Gender Studies alumna.
Joanne Millard, the education coordinator for ROMWalks at the Royal Ontario Museum, came out to see how she could incorporate Indigenous history into the ROM's walking tours. Reading Canada's TRC summary report, she believes she can do her part by exploring how to bring Indigenous knowledge and history to her volunteer work at the ROM.
Other Field Trip stops included stories about the Prince of Wales equestrian statue in Queen's Park, a laneway renamed Chechalk Lane and tobacco pouches resting at the foot of a tree in Allan Gardens.
Starling said it's startling how little so many Canadians know about Indigenous history. She said Hart House is trying to open up space for that learning, and First Story Toronto is becoming a hub for Indigenous knowledge and perspectives.
"We are all learning."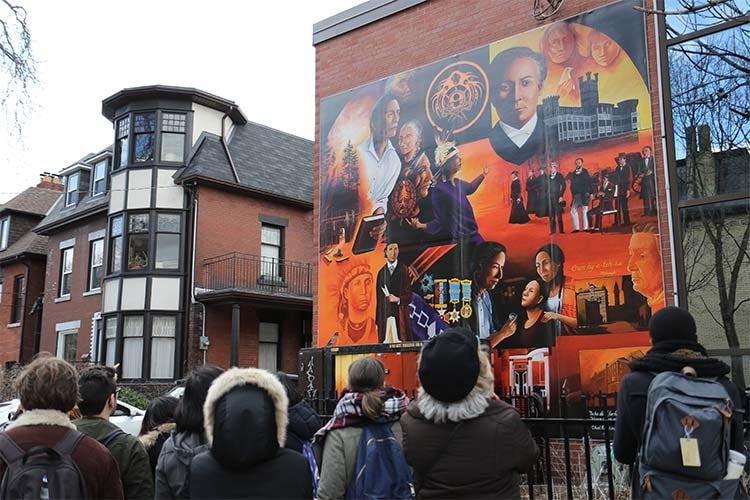 Last stop on the Field Trip – a medicine garden and mural outside Miziwi Biik Aboriginal Employment and Training centre in Toronto (photo by Hannah James)
UTC