Orange Shirt Day: U of T students show support for residential school survivors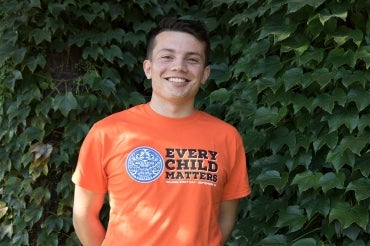 A small sea of people wearing orange shirts gathered at the Ontario Institute for Studies in Education (OISE) Friday as part of a national campaign to commemorate residential school survivors.
It is the first time the University of Toronto marked National Orange Shirt Day, which is officially recognized on Sept. 30 – a date chosen because it is around the time that many Indigenous children were taken from their homes and families to attend residential school. 
"Our objective is for people to understand the true history of residential school survivors in Canada," said Jennifer Sylvester, an event organizer and first-year master's student at OISE.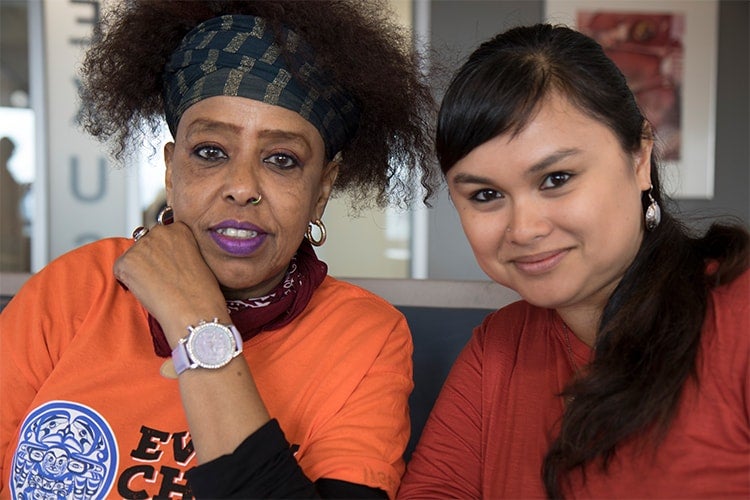 Safia Gahayr, a PhD candidate at OISE, and Ashley Caranto Morford, a PhD candidate in English, show their support for Orange Shirt Day (photo by Hannah James)
Residential school survivors – and family members – spoke about their personal and family legacies and the intergenerational trauma caused by the program run by Canada. The last residential school closed in 1996.
Dorothy Peters, a Traditional Teacher and Community Nookmis (grandmother), offered a prayer and spoke about her own experience attending residential school. She said she was allowed to spend summers at home, where her grandfather taught her traditional ways, but then was forced to hide everything she learned while at school.
Orange Shirt Day grew out of a story shared by Phyllis Webstad in 2013 of having her shiny new orange shirt taken away on her first day of school at the St. Joseph Mission residential school. The event has become an annual opportunity to keep the discussion going on all aspects of residential schools.
Joshua Bowman, a third-year student and executive member of the Indigenous Studies Students' Union, helped organize U of T's Orange Shirt Day. He said when he was in elementary school, he visited a former residential school turned cultural centre – The Woodland Cultural Centre near Brantford – which opened his eyes to their history.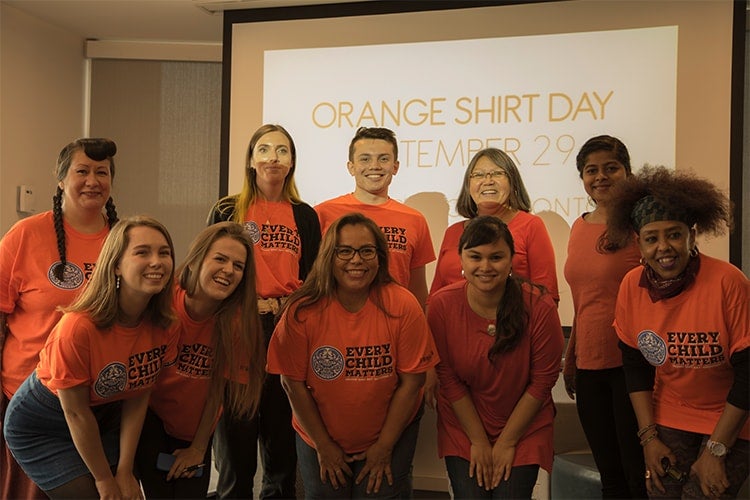 Students, faculty and staff across U of T came out to OISE's Nexus Lounge for an intimate ceremony and event leading up to National Shirt Day tomorrow (photo by Hannah James)
"I could not comprehend that people my own age – I was in Grade 3 at the time – would go through all those things. Even grown men and women shouldn't have to go through all that, and children were," said Bowman.
Jenny Blackbird, who runs Ciimaan/Kahuwe'yá/Qajaq,the Indigenous language initiative in U of T's Centre for Indigenous Studies, offered an honour song with drum. Blackbird also set up a beading station for students to create orange shirt pennants, giving students the opportunity to have a hands-on experience at the event.
"I hope we're going to do it every year," said Lise Watson, an OISE staff member who helped organize the event. "It would be so great to see a sea of orange across the university."
UTC