U of T's Deep Genomics raises US$13 million to fund expansion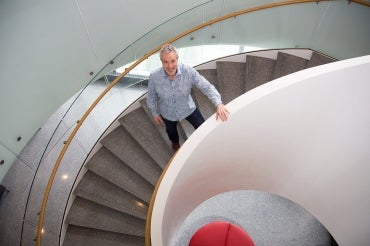 Deep Genomics, an artificial intelligence-powered health startup co-founded by University of Toronto's Brendan Frey, has raised US$13 million from a Silicon Valley venture capital firm.
The startup, launched in 2015, combines artificial intelligence, or AI, and genomics research to help develop genetic medicines to treat a myriad of disorders – everything from autism to cancer. 
Frey, a professor in U of T's Faculty of Applied Science & Engineering, told the Globe and Mail the cash raised through an equity investment by Khosla Ventures of Menlo Park, Calif. will be used to hire a range of scientific experts, doubling the firm's current 20-person staff.
"We are aiming to flip medicine on its back and do something completely different," said Frey, who is also Deep Genomics's CEO.
The company's platform is used to search through 69 billion molecules to generate 1,000 compounds that can be used to manipulate cell biology and develop new therapies. The hope is the technology will eventually help drug companies create new pharmaceuticals to treat genetic ailments.
Frey, a founding member of the Vector Institute for artificial intelligence research, said in a statement that Deep Genomics is "a company whose founding principle is that the future of medicine will rely on artificial intelligence because biology is too complex for humans to understand."
Deep Genomics previously raised $3.7 million in a seed round in 2015. It is currently a resident of Johnson & Johnson's JLABS life science incubator in Toronto, which was launched last year in partnership with U of T, MaRS and pharmaceutical company Janssen. 
The startup also recieved support from U of T's Innovations & Partnerships Office, as well as UTEST and the Creative Destruction Lab at the Rotman School of Management – all part of the expansive U of T entrepreneurship ecosystem. 
"We believe that the technology developed by Deep Genomics puts them in a unique position to identify new therapies," said Khosla founding partner Vinod Khosla in a statement. 
"Because of the quality of their science and engineering team and the deep integration of their AI technology into their preclinical drug development pipeline, we are confident a very large potential exists here."
UTC