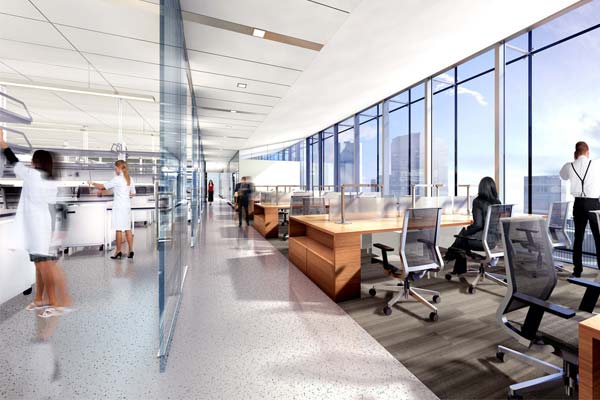 JLABS startup incubator selects University of Toronto, MaRS for first international expansion
Johnson & Johnson partnership will support up to 50 biomedical ventures in MaRS West Tower
The University of Toronto has joined forces with the Government of Ontario, the MaRS Discovery District and Johnson & Johnson Innovation to establish the first JLABS incubator in Canada.
Formally called JLABS @ Toronto, the 40,000-square-foot facility will occupy a floor of the MaRS West Tower and accommodate up to 50 startups dedicated to the biomedical sciences. Primary users are expected to be young researchers and entrepreneurs who have made significant discoveries and can benefit not only from state-of-the-art laboratory space but also from access to senior researchers, industry consultants and capital funding partners.
"Research and innovation are fundamental to the mission of the University of Toronto," said President Meric Gertler. "We host a vibrant entrepreneurial ecosystem featuring nine campus-led accelerators under the umbrella of our Banting & Best Centre for Innovation & Entrepreneurship. 
"The addition of JLABS will further propel the creation of new companies and new jobs, and ultimately new healthcare solutions that will benefit individuals and society for years to come."
The collaboration with JLABS is a natural extension of the university's focus on city building and entrepreneurial activity and education. Slated to open in April 2016, the Toronto facility will join JLABS in Boston, Houston, San Diego, San Francisco and South San Francisco.
"Toronto is a natural choice for our first international expansions of JLABS," said Melinda Richter, head of Johnson & Johnson Innovation. "Our new location, within a University of Toronto site, close to our hospital collaborators, and neighbouring the financial centre of Canada, will deliver great opportunities and impact for emerging biomedical technology entrepreneurs."
JLABS operates according to an "open innovation" model. This means ventures with proven scientific achievement and medical potential are invited to apply for its space and services. Selected companies will remain independent – Johnson & Johnson does not claim any rights or affiliation. The goal is to provide an atmosphere in which biomedical startups can thrive.
U of T has acquired a 20 per cent equity share in MaRS and will sign space license agreements with individual companies. 
University of Toronto students are expected to compete strongly for these positions. "We fully expect U of T to have a significant presence," said Professor Scott Mabury, U of T vice-president of operations. "Our students will be taking discovery-based research in the medical sciences area and knocking on this door.
"But it is competitive and there is a selection process, which JLABS will run. So the most persuasive and best ideas will get the space."
While about three-quarters of the JLABS floor will be dedicated to laboratories, digital equipment and bench tops, there will collaborative and meeting spaces to encourage interaction with industry mentors and potential investors. 
A central component of the JLABS mission is making it possible for entrepreneurs to transform discoveries and innovations in the health care field – be they related to pharmaceuticals, therapeutics, diagnostics, device development or data analysis – into market-worthy products. This is also a priority of the MaRS Discovery District, one of the world's largest innovation hubs, and the focus of its commercialization wing, MaRS Innovation.
"Working with Janssen and Johnson & Johnson Innovation gives us important insights that we don't necessarily always have access to in the academic setting," said Professor Ruth Ross, chair of the department of pharmacology and toxicology and director of the centre for collaborative drug research. "Well-developed expertise in areas such as screening, medicinal chemistry and working with large libraries of compounds often lies with our colleagues in industry."
Ross pointed to the university's previous experience with a successful venture called Neuroscience Catalyst, a partnership between U of T, Janssen Inc. and the Johnson & Johnson Innovation center in California. Its mission is to fund collaborative research towards treatment of diseases such as mood disorders and Alzheimer's. 
"The Neuroscience Catalyst has demonstrated that we can pursue open and collaborative research conducted in partnership with industry support that can deliver new therapies to improve human health." 
Mabury said the new JLABS partnership is also attractive to Johnson & Johnson Innovation, "because there is a contingent of the world's very best research going on in Toronto."
The initiative is supported by a $19.4-million investment from the Jobs and Prosperity Fund of the Ontario Ministry of Economic Development, Employment and Infrastructure.
"The arrival of the Johnson & Johnson Innovation, JLABS model to the MaRS West Tower reinforces Ontario's position as one of the world's leading life sciences clusters," said Brad Duguid, Minister of Economic Development, Employment and Infrastructure at the announcement on Sept. 8.
"JLABS @ Toronto will support entrepreneurs and researchers across the province and accelerate the development of Ontario companies."
(From left: Chris Halyk, president of Janssen Inc.,The Honourable Brad Duguid, Minister of Economic Development, Employment and Infrastructure, Melinda Richter, head of Johnson & Johnson Innovation JLABS, Meric Gertler, president of the University of Toronto and Dr. Rafi Hofstein, president and CEO of MaRS Innovation)