U of T's Creative Destruction Lab adds New York City to its growing accelerator network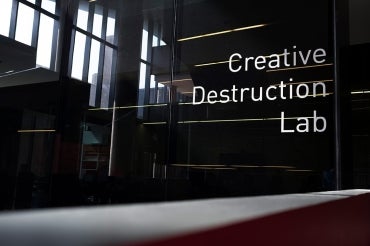 The Creative Destruction Lab is Big Apple-bound. 
The seed-stage startup accelerator affiliated with the University of Toronto's Rotman School of Management said Tuesday it is partnering with New York University's Stern School of Business to bring the concept to the United States. 
The creation of CDL New York City comes on the heels of a national expansion earlier this year that brought the nine-month program, focused on scaling science and technology startups, to business schools across Canada. 
"We're very pleased that NYU Stern will be adopting the CDL methodology for accelerating science-based ventures," said Tiff Macklem, who is Rotman's dean and a former senior deputy governor of the Bank of Canada.
"New York has a particularly dynamic innovation ecosystem, which, together with the depth of capital markets in New York, will be a big benefit for the whole CDL network."
The NYU version of the program will look nearly identical to the one that was pioneered at U of T by Rotman professor and CDL founder Ajay Agrawal several years ago. Startups will work with a seven-member panel of experienced entrepreneurs and investors to set clearly defined objectives for their young companies, working in eight-week intervals.
Those who fail to meet their objectives will be asked to drop out. 
Entrepreneurs will also have access to NYU faculty drawn from a variety of science and technology disciplines, as well as support from Stern professors and MBA students through an affiliated course.
Deepak Hegde, an associate professor of management and organizations at Stern, said the business school was looking for a way to marry NYU's top notch research in fields like artificial intelligence, or AI, life science and fintech with New York's deep pools of investment capital. 
"When we looked at the Creative Destruction Lab, it struck us of serving our purposes beautifully," said Hegde, adding that the integration of professors and MBA students was also a big draw.
"The CDL model in Toronto brings these elements in a very tight program, allowing us to take these ingredients and convert them into massively scalable businesses."
U of T's Agrawal got the idea for the program after realizing the biggest thing startups lacked wasn't necessarily money or business training, but experience and judgment. 
The formula has proven particularly successful at U of T, where CDL Toronto has generated more than $1 billion in equity value creation in its first five years.
Among the startups that have participated in the Toronto program are Deep Genomics, Trexo Robotics and Winterlight Labs.
"Our model for developing massively scalable science-based ventures has proved successful in Canada," Agrawal said in a statement Tuesday, "and we anticipate it will be similarly successful for our partners at NYU."
Earlier this year, CDL revealed it had signed similar agreements with the University of Calgary's Haskayne School of Business, HEC Montréal and Dalhousie University's Rowe School of Business. The CDL concept was expanded to the University of British Columbia's Sauder School of Business in the fall of 2016.  
Each of the new CDL locations in Canada are to specialize in specific sectors, from energy in Calgary to oceans in Halifax, while the original CDL program at U of T retains its existing focus on AI-powered startups and this year added a new quantum machine learning stream.
It's too soon to say whether the latest addition to CDL's network will develop its own specialty, according to NYU's Hegde.
CDL New York City will begin taking applications on Jan. 1 and expects to admit 25 startups in its first cohort.
The program begins in September 2018.
UTC