#UofTGrad17: How a U of T startup is helping disabled children walk like 'Iron Man'
"Why do mechatronics engineering if you can't build something to help someone?"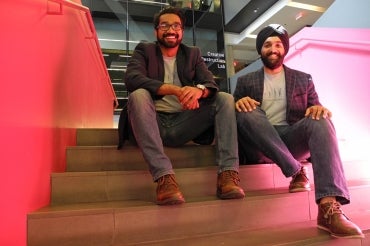 Few product tests are as emotional as the one Manmeet Maggu performed at his brother's house near Delhi last summer.
The MBA student at the University of Toronto's Rotman School of Management was watching as his eight-year-old nephew Praneit, who suffers from severe cerebral palsy, was hoisted into a robotic exoskeleton device built by his startup, Trexo Robotics.
Moments later, Praneit's robotically assisted legs began tracing delicate steps across the floor as a grin crept across his face.
"He gave us a smile," said Praneit's mother, Jasmeet Maggu, who battled back tears in a short video that was filmed following the initial tests. "That was the very first sign – a good sign that said, yes, he was going to take his steps and was going to walk."
Maggu, who graduates this week, says the moment was incredibly satisfying on both a personal and professional level. 
"It showed that it can be done," he says. "So now we're working on the next version of the prototype and, when it's ready, we're going to build another one for my nephew and take it to India again.
"Watching Praneit take his first steps using our device was an incredibly proud moment for us."
The idea behind Trexo was first planted while Maggu was studying mechatronics engineering at the University of Waterloo several years ago. After learning about his nephew's devastating diagnosis back in India, he and fellow student Rahul Udasi began tinkering with the idea of building a child-sized robotic exoskeleton to help Praneit – and other children like him – escape life in a wheelchair.
But it wasn't until the pair arrived at U of T in 2015 – Udasi graduated with a master's in engineering from U of T last year – that they realized their side project could be a full-time business. They focused their efforts, perfected a prototype and took advantage of U of T's expansive network of 10 campus-linked accelerators to transform the idea into a startup.
Trexo Robotics recently joined the inaugural cohort of Hatchery LaunchLab, a new program in U of T Engineering's Entrepreneurship Hatchery accelerator that provides support and funding to enable follow-on investment for engineering research-based startups. Last fall, the company took home the $20,000 Lacavera Prize at the Hatchery's annual Demo Day competition, which sees startups pitch their business models to panel of entrepreneurs and investors.
Trexo is also a recent graduate of Rotman's Creative Destruction Lab, the Department of Computer Science Innovation Lab, and a member of the Faculty of Medicine's Health Innovation Hub (H2i).
Jan Andrysek, an assistant professor at U of T's Institute of Biomaterials & Biomedical Engineering, is the company's scientific advisor.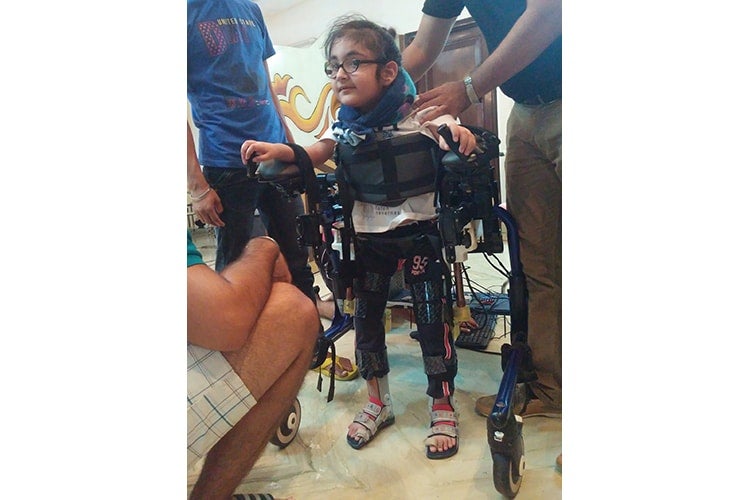 Manmeet Maggu's nephew Praneit takes Trexo Robotics's exoskeleton for a test drive in India
Building an exoskeleton — particularly one for kids — isn't easy. Children are small, with weak muscles and limited cognitive development. Most existing exoskeletons, by contrast, are big, heavy and relatively difficult to operate.
For safety reasons, Maggu and Udasi decided to build their device around a walker-type frame. Keeping the weight down meant using a mix of metal and plastic parts. Miniaturizing key components tested their engineering skills.
The result was a unique design that reduces the weight of a child's body on his or her legs, while also stimulating a walking motion in the hopes of gradually retraining the brain. "It's like reducing the effect of gravity while, at the same time, it's also providing mobility to your legs to actually walk," Maggu says.
Given the young age of potential patients, Maggu says he was also conscious that his exoskeleton had to be fun to use. "We call it the Iron Man," he says, referring to the comic book superhero and popular movie franchise. "For them it's a bit like a ride – this robotic thing they're getting into that's really cool.
"We also added exciting things. For example, we put a tablet on the device so the child can be watching his favourite Paw Patrol episode while he's getting to walk around in the device."
This summer Trexo is launching its first partnership with Able Bionics, a Toronto-based distributor providing exoskeletons direct to physiotherapy clinics. 
While Trexo is currently focused on the pediatric market, Maggu says the long-range plan is to make robotic mobility devices for an aging population. The wheelchair, after all, was invented more more than 400 years ago. "It's high time some disruption happened in that area," he says. 
For now, he's content with seeing the positive impact Trexo is having on his nephew and his family.
"Why do mechatronics engineering if you can't build something to help someone?" Maggu asks. "That is the kind of impact that you want to have in life."
UTC