U of T President Meric Gertler's second term extended by two years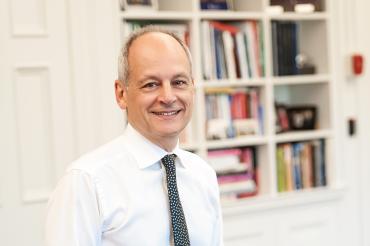 President Meric Gertler will have his second term as president of the University of Toronto extended by two years to provide continuity and stability in leadership as U of T emerges from the pandemic.
The two-year extension – from June 30, 2023 to June 30, 2025 – was approved by U of T's Governing Council Thursday following a review that involved confidential consultations with governors and senior leaders.
A renowned urban scholar and former dean of the Faculty of Arts & Science, President Gertler was first appointed U of T's 16th president on Nov. 1, 2013 and was reappointed to a second term in May 2017.
"There was unequivocal support for President Gertler continuing in his role and a shared view that an extension was in the best interests of the university as it provides important continuity and stability in leadership and momentum as the university emerges from the pandemic," Brian D. Lawson, chair of Governing Council, said in a memo to the U of T community.
"There was a clear and strong consensus that President Gertler has provided exceptional leadership over the course of his presidency to date. I am grateful that he is willing to continue to serve."
Since March 2020, President Gertler has overseen U of T's successful navigation of the myriad challenges posed by COVID-19. That includes pivoting course delivery in keeping with shifting public health guidelines; instituting and communicating safety measures for the university community; and supporting researchers and innovators across U of T in their efforts to contribute to local, national and global responses to the pandemic.
In recent months, U of T community members have returned to U of T's three campuses amid high vaccination rates and strong demand for programs from students in Ontario, Canada and around the world.
President Gertler said he is "honoured and humbled" by the prospect of extending his leadership for two more years and is "extremely grateful to Governing Council for putting their faith in me for this purpose."
However, he added that U of T's response to COVID-19 has been a team effort from the outset.
"I have to salute the incredible effort, creativity and commitment of our entire community: our faculty and librarians, our staff members – many of whom continued to work on our campuses throughout the pandemic – and, most of all, our students, who showed tremendous resilience and patience, but also inspiring commitment to their studies," he said.
"As well, our research enterprise has carried on more or less uninterrupted."
U of T has prospered under President Gertler's leadership during his second term.
In 2020, the university received the largest gift in Canadian history in support of the Temerty Faculty of Medicine. One year earlier, U of T was the beneficiary of the largest gift in the history of Canada's innovation sector to create the Schwartz Reisman Innovation Campus. In 2018, U of T launched the School of Cities to help address urban challenges around the world. And this year, U of T launched a new brand platform, Defy Gravity, and the largest university fundraising and alumni engagement campaign in Canadian history.
U of T has also taken bold steps on sustainability – including a commitment to divest from fossil fuel investments and construction of Canada's largest urban geoexchange system – and worked diligently to advance equity, diversity and inclusion at the university and beyond.
Beyond the university's three campuses, President Gertler is a respected leader in the Canadian and international post-secondary sector. He currently serves as the chair of the board of Universities Canada and, in 2021, served as host of the Times Higher Education World Academic Summit. He also serves, or has served, on the boards of numerous other Canadian and global organizations.
Janet Ecker, vice-chair and chair-elect of Governing Council, praised President Gertler for his service and said she looked forward to his continued leadership.
"I am delighted that President Gertler will continue his exceptional stewardship of U of T at this vital juncture," said Ecker, who takes over as chair of Governing Council on July 1. "From reimagining how university education can be delivered to deepening global partnerships and taking a leadership role on sustainability, he has done a stellar job across a number of areas.
"Above all, his thoughtful and proactive leadership over the past two years has helped U of T emerge from the worst period of the pandemic in strength, and with an optimistic outlook for the future. I look forward to seeing how President Gertler continues to uphold and advocate for U of T's mission, vision and reputation in the years ahead."
President Gertler said he believes U of T's future has never been brighter.
"I think the university comes out of the pandemic stronger," he said. "We've learned to do things differently and we have embraced innovation out of necessity – it's evident in everything we do," he said, citing the success of virtual tools, hybrid learning environments and Global Classrooms as key innovations on the academic front.
"The pandemic also underscored the important role that universities play in stabilizing communities and enabling them to bounce back after the kind of challenging period we've been through."
UTC