'Watershed moment': U of T president says universities to play key role as world recovers from COVID-19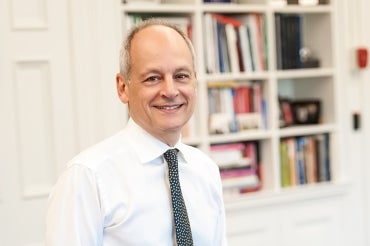 What role must universities play as Canada and the world recover from the COVID-19 pandemic? How can post-secondary institutions contribute to a society where difficult issues can be discussed and debated without fostering political polarization? How can campuses foster diversity? How can they address the global climate crisis?
These were some of the questions addressed by University of Toronto President Meric Gertler in his recent inaugural address as chair of the board of Universities Canada. He took over the role from Sophie D'Amours, rector at Université Laval, and will serve for a two-year term.
In his remarks, President Gertler – who previously served as the board's vice-chair – said the role of universities is especially important today as Canada and the world look to navigate "the beginning of the end" of the pandemic.
"The scale of the economic and human suffering has been immense, and the challenges ahead are daunting," he said during a luncheon keynote. "And yet, with many of our campuses coming back to life this fall, and with in-person activity continuing to ramp up, there appear to be grounds for cautious optimism.
"Indeed, we find ourselves at a watershed moment, as we transition to a changed society and a changed world."
President Gertler noted that the successful reopening of many university campuses across the country carries a significance which extends well beyond the post-secondary community.
"At its most prosaic level, our success in reopening our campuses to in-person teaching, learning and research has demonstrated to the rest of society that it is possible to return safely," he said. "The fact that we have had few if any serious outbreaks of COVID-19 on our campuses is a testament to the tremendous work that so many have put into preparing for a safe re-inhabitation of shared spaces – classrooms, labs, libraries, cafeterias and residences.
"More significantly, our campuses have been at the vanguard in this respect – demonstrating to other employers, governments and individual workers that this can be done, and largely without incident.  Many of us have pioneered vaccine mandates, the safe return to congregate living and assembling indoors in higher densities – well before other sectors have followed suit."
He also emphasized that virtual learning – despite its necessity during COVID-19 – will never be a perfect substitute for face-to-face interaction, as evidenced by the scores of students once again living in residence and the many international students who have endured significant obstacles to travel to Canada for their studies.
He added that the reopening of campuses may also help tackle some of the downsides of the pandemic-induced reliance on virtual communication and social media, including greater political polarization, growing tribalism and an erosion of people's ability and willingness to listen to, disagree with, and learn from one another.
"The return to our campuses offers the prospect of restoring this critical capacity, because it signals the return of the academic forum in a literal sense," he said.
David McKay, president of the Royal Bank of Canada, congratulated President Gertler on his new role as chair of Universities Canada.
"Since you took over as president of the University of Toronto in 2013, we've worked on a number of functions in our community [and] across the country, and I've enjoyed working with you – most recently and most closely on the Business Higher Education Roundtable, where you were co-chair with me on the important work around work-integrated learning, inclusion and skills for the future of youth," McKay said.
"I certainly have benefited from your guidance. I know Universities Canada and your peers benefit from that guidance as well. You're an incredible leader within our community, within the school system and within youth in this country."
Founded in 1911, Universities Canada is a non-governmental organization dedicated to furthering the mission of universities to tackle pressing global challenges, strengthen their surrounding communities and transform lives. It also aims to provide presidents of Canada's universities a forum to advance the cause of higher education, research and innovation.
"Universities Canada leads such an important cause in the service of Canadian higher education and advanced research," President Gertler said.
"It plays a vital role in setting the agenda and trajectory for Canada's future economic and social wellbeing."
Referencing What Universities Owe Democracy – a recent book written by Ron Daniels, president of Johns Hopkins University and former dean of U of T's Faculty of Law – President Gertler stressed the importance of equality of access and said universities must ensure that admissions processes focus on active recruitment of students from historically underrepresented groups.
The president, who earlier in the day announced a suite of sustainability measures the university is taking, including divesting from fossil fuels, also addressed the global climate crisis in advance of the upcoming 2021 United Nations Climate Change Conference (COP26) in Glasgow.
"Universities can and must play an outsized role in helping our planet combat this existential threat," he said. "Our teaching, research and innovation will figure prominently in this effort. But so too will our campuses and the way we manage our operations."
He noted that ambitious goals on the part of universities – such as U of T's pledge to make the St. George campus climate-positive by 2050 – will make a substantial difference.
"To conclude, as university leaders, let's focus on enhancing the ability of our institutions to break down barriers, educate citizens, foster debate, engage difference, prize truth and discovery, create sustainable communities and open portals for social mobility. For everyone."
UTC