U of T President Emeritus and honorary degree recipient David Naylor tells grads 'life is a team sport'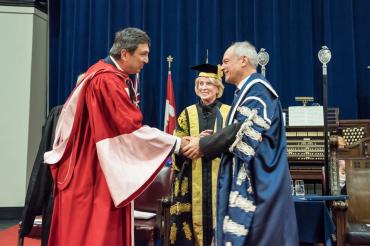 When he got the call offering him the job of president of the University of Toronto, Dr. David Naylor suddenly felt the weight of responsibility on his shoulders.
"It was one of the more acute attacks of imposter syndrome that I've had," he told the Globe and Mail in 2005 after he was tapped to be the university's 15th president.
He needn't have worried. Few can claim to have made as great an impact on the university or – indeed – beyond it. Not only did Naylor take steps to boost U of T's research, innovation and student experience, he has been a driving force for increased public funding of post-secondary research and improved organization of health care right across Canada.
For "his outstanding service for the public good, excellence in the academy, and service to the University," Naylor receives a Doctor of Laws, honoris causa, at the Faculty of Medicine's convocation ceremony on June 3.
Watch David Naylor deliver his remarks:
It will be a homecoming of sorts for Naylor, who earned his medical degree at U of T in 1978. He later went on to study sociology and social history at Oxford University as a Rhodes Scholar. It was there that he met his future wife and fellow Rhodes Scholar, Ilse Treurnicht, the former CEO of the MaRS Discovery District who received an honorary degree from U of T last year. Naylor even taught himself to speak Afrikaans, the language spoken in Treurnicht's native South Africa, according to the Toronto Star.
Naylor eventually returned to U of T to become dean of medicine, a post he held until 2005. It was during his tenure as dean that he rose to national prominence. He was asked to lead an inquiry into Canada's response to the SARS crisis involving all levels of government. The committee's report recommended an overhaul of Canada's public health system and spurred the creation of the Public Health Agency of Canada. His many accolades include being named an Officer of the Order of Canada and an induction into the Medical Hall of Fame.
(photo by Tim Fraser)
As U of T's president, Naylor sought to leverage the university's strength in research to enhance the student experience. The university introduced the One series of small-class learning opportunities, a co-curricular record and the President's Teaching Award for outstanding faculty. The Towards 2030 strategic planning exercise that took place under his watch laid out a long-term vision for a regional "University of Toronto system" characterized by three campuses with strong individual identities.
Naylor's focus extended well beyond U of T. He lent his expertise to a panel looking into the ways the federal government could foster innovation in health care, improve accessibility and reduce costs. More recently, he led a blue-ribbon group of experts reviewing how basic science is funded in Canada. The panel's final report led to significant federal investments in fundamental research. 
"More needs to be done to improve administration and governance of federal supports for research, and more investment is definitely needed," Naylor said in an interview with U of T News last spring. 
"But extramural science and scholarship in Canada are in a much better place than was the case a year ago." 
---
David Naylor's message to the Class of 2019:
The mass media continues to mythologize individuals and individual accomplishment, and it's easy to be seduced by social media into worrying more about your "digital brand" than your personal relationships. That's a dangerous snare and delusion.  Life is a team sport. The lion's share of credit for accomplishments will sometimes still go to individuals. And yes, leadership matters. But solo geniuses are few and far between. Most of the things that will matter to the future of this complex world can only be accomplished through major collaborative efforts. In short, you will not only be judged by the company you keep. Your prospects for success, your resilience in the face of setbacks, your career trajectory, your happiness and your life's legacy also depend on who you choose as travelling companions in the decades ahead – and how well you work with those companions you did not choose or would not have chosen.
UTC