Zero to $3.5 billion: U of T honorary degree recipient Ilse Treurnicht built MaRS into an innovation powerhouse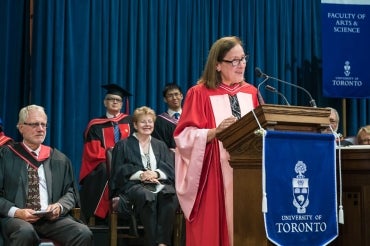 With its mix of old brick walls and soaring glass towers, the MaRS Discovery District is often singled out as a critical element in Toronto's emergence as a leading innovation hub – and Ilse Treurnicht played a key role in making it all happen.
Treurnicht, who received an honorary Doctor of Laws, honoris causa, from the University of Toronto on Tuesday, was named MaRS's CEO in 2005 just as the innovation complex was set to open its doors at the corner of College Street and University Avenue. 
She was charged with turning MaRS founder and U of T President Emeritus John Evans's bold vision – to boost the commercialization of public investments in research at places like U of T – into a fully functioning reality. And she delivered.
"Our beautiful centre has doubled in size and is thriving," Treurnicht told the website Betakit two years ago after she announced her plan to step down as CEO after 12 years. 
"We are working with an outstanding group of fast-growing companies, and we are seeing strong results from our proudly Canadian approach to innovation that focuses on both economic results and societal impact."
Now one of the world's largest urban innovation hubs, MaRS is today home to some 6,000 people from 150 organizations who have collectively raised over $3.5 billion in capital in areas that include health, cleantech, fintech, and work and learning. Key to MaRS's success have been efforts by Treurnicht (pictured left) to build a dynamic, collaborative atmosphere that brings together educators, researchers, entrepreneurs and business types in a single space, allowing their innovative ideas to collide. 
As Treurnicht told the Toronto Star more than a decade ago, "That's where the magic is." 
Treurnicht came to MaRS from a seed-stage venture capital fund called Primaxis Technology Ventures, where she was president and CEO. Before that, she was an entrepreneur who held senior management roles in a number of startup companies and had been involved in the commercialization of technologies that ranged from medical devices to consumer products.
A Rhodes Scholar, Treurnicht received her PhD in chemistry from the University of Oxford. She completed her graduate and undergraduate degrees in South Africa. 
Treurnicht has also been a tireless advocate for building a Canadian innovation ecosystem that fosters both economic and social prosperity, and for being a strong advocate for women in innovation.
"I absolutely love startups," Treurnicht told the Star back in 2005. "I admire the energy and passion of entrepreneurs."
A message to U of T grads from Ilse Treurnicht:
"You are graduating at a time of profound change, which is both unsettling and energizing. Our institutions and our systems have been designed for a different reality, and your generation will lead us through a broad societal transformation. Your education at this great university has equipped you well to make your own positive contribution to this generational innovation effort. No matter what the next stage of your life involves, there is no shortage of challenges in this troubled world.  Pick a good cause and you are very likely to find good company.  Problems worth solving attract people and organizations worth spending time with." 
UTC