U of T launches new startup space in the heart of Toronto's Discovery District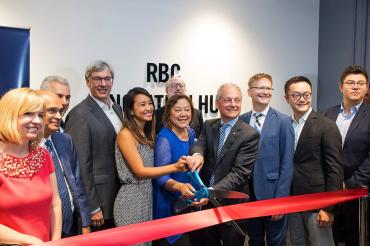 With the official launch of a new co-working space for startups, the University of Toronto and its partners are taking another bold step toward establishing Toronto as a nexus of innovation in Canada. 
More than 200 people packed U of T Entrepreneurship's new ONRamp facility today for an official ribbon-cutting ceremony for the 15,000-square-foot space. 
It's a big leap forward for the entrepreneurship ecosystem at U of T and the city's Discovery District, home to a booming number of startups and corporate giants.
ONRamp is "a space where ideas and energy can collide and bounce off one another, inspiring people to realize their ambitions, and leading to great new insights they wouldn't have struck upon otherwise," said U of T President Meric Gertler. 
Built with the support of RBC and in partnership with McMaster University and Western University, ONRamp spans three floors of the nearly 90-year-old Banting building and consists of flexible shared workspaces, meeting rooms, boardrooms and event spaces, including the RBC Innovation Hub.
"This is a really exciting addition to our innovation and entrepreneurship ecosystem, which is truly burgeoning here at U of T," said President Gertler, who went on to quote famed urbanist Jane Jacobs about the importance of old buildings in the creation of new ideas.
He also noted that more than 150 startups have emerged from U of T's world-leading research over the past five years in fields that range from life sciences to clean tech and artificial intelligence, placing U of T at the forefront of North American universities on this measure.
Through initiatives like ONRamp, U of T is leveraging the university's key location in the middle of Canada's largest city to build a dynamic innovation, entrepreneurship ecosystem that consists of U of T's numerous on-campus incubators and accelerators, as well as partner organizations like the MaRS Discovery District and Johnson & Johnson's JLABS life sciences incubator – both located directly across the street.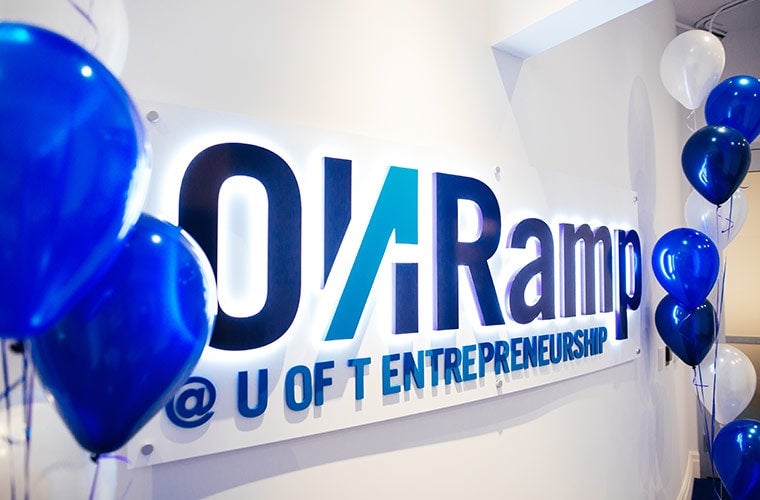 ONRamp is a co-working and collaboration space open to entrepreneurs from partner universities U of T, McMaster and Western (photo by Kenneth Cheung)
The combination of world-leading research and commercialization infrastructure is having the desired effect.
Ride-sharing giant Uber, for example, recently set up a research lab in Toronto for the development of self-driving cars that's headed by artificial intelligence star and U of T Associate Professor Raquel Urtasun. And, today, Fujitsu Laboratories Ltd. announced it was setting up its own R&D centre focused on quantum-inspired computing in partnership with U of T.
"The quality of the research that we generate and the talented graduates that we produce are now attracting leading global firms to Toronto, as well as stimulating the growth of home-grown enterprises and attracting major corporate partners such as the one we're here to talk about today," said President Gertler.
That corporate partner is the country's largest bank, which has made a $4-million commitment to support U of T's innovation and entrepreneurship efforts. In addition to ONRamp, RBC-supported initiatives at U of T include an innovation and entrepreneurship speakers series, post-doctoral fellowships and graduate scholarships, and an innovation and entrepreneurship prize.
"We had this magnificent, world-class facility right beside us, but we didn't feel at RBC that we were doing enough to really support and leverage the great talent and great knowledge done at this great research university," explained RBC President David McKay. "ONRamp is part of that for us."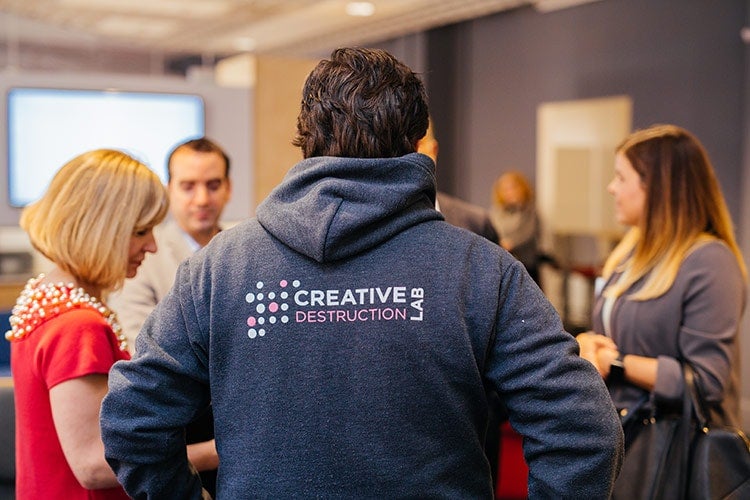 U of T's Creative Destruction Lab is one of several entrepreneurship hubs on campus to make use of ONRamp (photo by Kenneth Chung)
One of the many startups already making use of ONRamp is Vicis Labs, an app-based, fintech company that's focused on improving financial outcomes for people.
"Right now we're focused on the self-employed, trying to help them manage their financial lives," said Tricia Jose, a U of T alumna who is also the startup's co-founder and CEO. Jose helped cut the ribbon to officially open ONRamp with the help of McKay and President Gertler.
ONRamp isn't only about U of T. The facility will also serve entrepreneurs from partner universities McMaster and Western, which each operate their own startup accelerators.
"They've been here since Day 1, trying to imagine a place where students from the three universities can come together collaboratively," said Scott Mabury, U of T's vice-president of university operations. 
"My vision is that each of the universities will deliver programming here for the entire collective."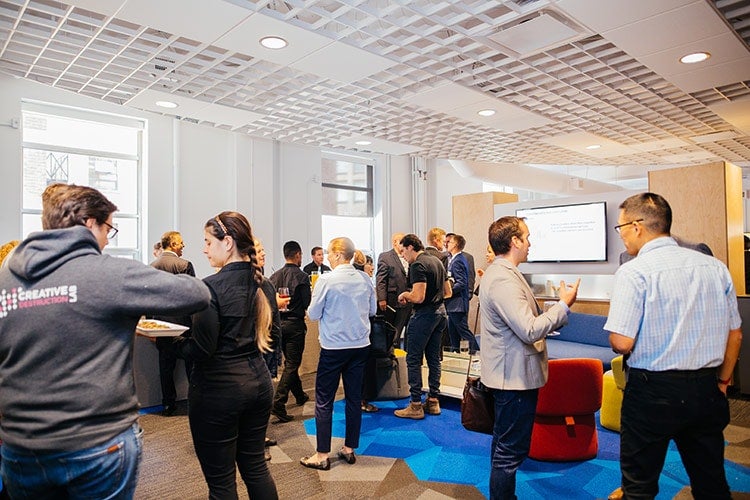 Guests mingle in advance of ONRamp's official launch (photo by Kenneth Cheung)
Mabury used the launch of ONRamp to highlight the bright future of U of T entrepreneurship. He said U of T has signed a contract with a globally recognized architecture firm to plan a new innovation complex where the Best building currently resides. 
The complex, immediately adjacent to Banting and ONRamp, will eventually house a quarter million square feet of space for entrepreneurs and their startups, Mabury said.
"We expect ONRamp itself to kick out a number of companies who are going to want space in this ecosystem for their evolution."
UTC