U of T, City of Toronto and family members celebrate Terry Fox mural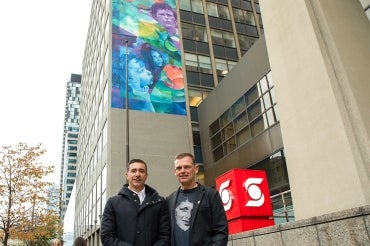 A new mural depicting Terry Fox outside the University of Toronto's Rehabilitation Sciences Building honours the legacy of the Canadian hero and marks the route he took through the city in 1980 during his Marathon of Hope to raise money for cancer research.
A celebration was held Thursday to mark the completion of the project – a partnership between U of T, the City of Toronto and the Legacy Art Project, itself part of the ArtworxTO initiative – that towers over University Avenue.
Toronto artists Alexander Bacon, Que Rock and their team of 20 people worked on the eight-storey mural for nearly a year, using 400 cans of spray paint.
"It's a tremendous honor to work on this mural," Bacon told U of T News. "Terry Fox is probably one of the greatest Canadian heroes and I call him a hero because of his courage."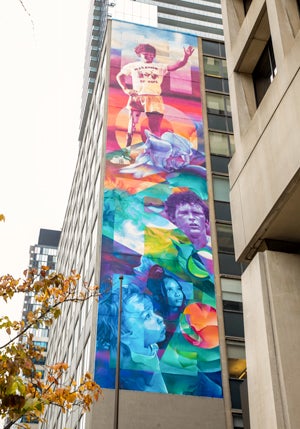 Located on the north side of U of T's Rehabilitation Sciences Building, the mural overlooks part of the route Fox took through downtown Toronto on July 11, 1980, before eventually making his way to Nathan Philips Square. An image of a bison recognizes and celebrates Fox's Métis heritage with the word "hope" emblazoned vertically in block letters.
"I do a lot of murals and I find when you put a big splash of colour into a downtown core where all the buildings are just grays and browns, it stands out more," said Bacon.
Fox ran 5,373 kilometres with an artificial right leg over 143 days until illness forced him to cut his journey short near Thunder Bay, Ont. 
Darrell Fox, senior adviser to the Terry Fox Research Institute and Terry's younger brother, says it's incredible to see the mural completed.
"It's so vibrant, the colours chosen," he said. "It feels like Terry is here and that's really impressive.
"Terry wasn't about recognition. His focus was raising money for cancer research. I think he'd be pretty thankful and proud as much as he'd prefer to see others who are going through cancer now featured on this mural."
Over the past decade, the Terry Fox Research Institute has provided tens of millions of dollars to support cancer research at the University Health Network and U of T.
"Our research program is about training future generation of scientists and researchers who will be continue to be inspired by Terry Fox's vision of hope through research," said Luc De Nil, a senior scientist at Toronto Western Research Insititute, associate scientist at SickKids Research Institute and a professor in the department of speech-language pathology in the Temerty Faculty of Medicine. "Thank you Terry, Terry's family and supporters for believing so much in what we do.
"We are committed to ensuring that many students, staff and faculty continue to be aware of his incredible story and the mural will be a visual reminder of that."
Ron Saporta, U of T's chief operating officer, property services and sustainability, said the project exemplifies the close relationship between the city and the university.
"The piece is evocative and hopeful," he said at the event. "We are proud that a U of T building dedicated to maximizing the physical function and participation of Canadians is hosting this work.
"Early on in the selection of the artwork, the advisory committee identified that one of the elements in the mural should be the legacy of hope Terry Fox left for persons with disabilities and their ability to participate and inspire. This mural and its location realize their direction."
University-Rosedale Councillor and U of T alumnus Mike Layton said the mural recognizes the lasting impact Fox has across the city and country, while Fox's brother suggested that people will feel inspired when they're walking by the artwork.
"The reality is the Marathon of Hope was 42 years ago, but maybe people will be inspired to read more and find out about the story of an average person who did this remarkable job through hard work and determination," he said. "That's a message that I think we could all benefit from."
UTC