Terry Fox to be celebrated on U of T's Rehabilitation Sciences Building with one of five mural designs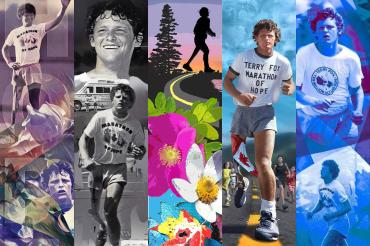 The University of Toronto has teamed up with the City of Toronto and the Legacy Art Project to commemorate Terry Fox, the Canadian hero who – with one leg amputated due to cancer – embarked on a quest to run across Canada in 1980 to raise money for cancer research.
The city recently unveiled five shortlisted designs – submitted by local artists – for a giant mural of Fox on the north side of the university's Rehabilitation Sciences Building at 500 University Avenue.
When it's finished, the mural will overlook part of the route where people gathered to cheer on Fox as he made his way to Nathan Phillips Square in downtown Toronto on July 11, 1980.
Darrell Fox, senior adviser to the Terry Fox Research Institute and Terry's younger brother, says the Fox family was especially pleased to find a location for the mural on University Avenue with a connection to the university.
"It was Terry's vision to support cancer research," Fox told U of T News. "So, a University of Toronto building is a fitting place for it."
Fox added that his older brother probably would have felt sheepish about the towering mural of himself.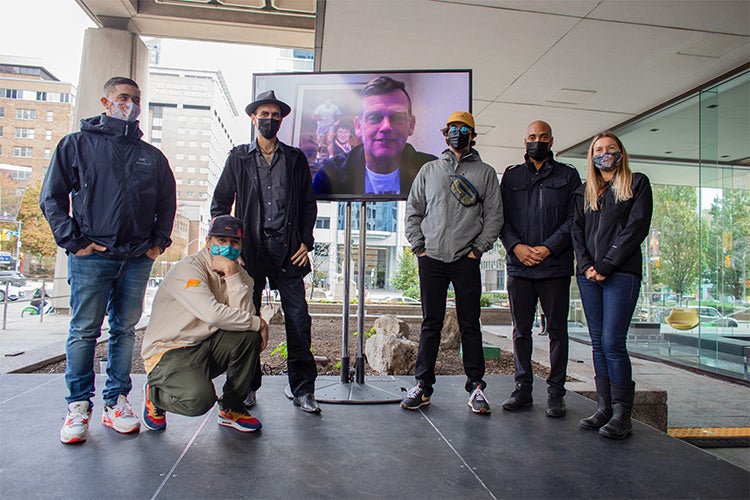 Artists participating in the mural project, including (from left) Alexander Bacon, Que Rock, Christiano De Araujo and Jason Pinney, as well as representatives for Keitha Keeshig-Tobias Biizindam and Emmanuel Jarus, pose for a picture with Darrell Fox (photo by Johnny Guatto)
"Terry would be quite embarrassed and uncomfortable with the recognition. He was always about raising one more dollar [for research]. But the mural will be in a location – on University Avenue and on a University of Toronto building where research is happening – that will inspire others. He would have been happy about that."
Barbara Fischer, executive director and chief curator of the U of T Art Centre and a member of the mural advisory committee, echoed Fox's comments, noting that the mural's location among several U of T partner hospitals "underscores and perhaps makes newly visible the role that hospitals, research centres and universities play in research that is very much at the heart of Terry Fox's heroic achievement."
Fischer, who is also a professor in the John H. Daniels Faculty of Architecture, Landscape, and Design, added that the mural will be "a wonderful marker … of the university's dedication to contribute to and improve the health and well-being of the city and region."
Jim Woodgett, the president and scientific director of the Terry Fox Research Institute, says raising funds for cancer research continues to be a priority since one in four Canadians will be diagnosed with cancer in their lifetimes – half of whom will die from it.
Over the past decade, the institute has provided tens of millions of dollars to support cancer research at the University Health Network and U of T – primarily to collaborations among small groups of scientists that other funding agencies don't typically support.
Woodgett, himself a cancer researcher and a professor of medical biophysics at the Temerty Faculty of Medicine and a senior investigator at Sinai Health's Lunenfeld-Tanenbaum Research Institute, says progress is incremental but new cancer therapies are becoming available thanks to ongoing research.
Toronto Mayor John Tory, who spoke at the event, commended the city's partnership with the Legacy Art Project and U of T – part of the ArtworxTO initiative – as an example of how to bring together people and inspire them through public art.
"What Terry Fox did was so extraordinary, so courageous, so inspirational and so important," said Tory, adding that the story of a heroic Canadian is an apt subject for a mural.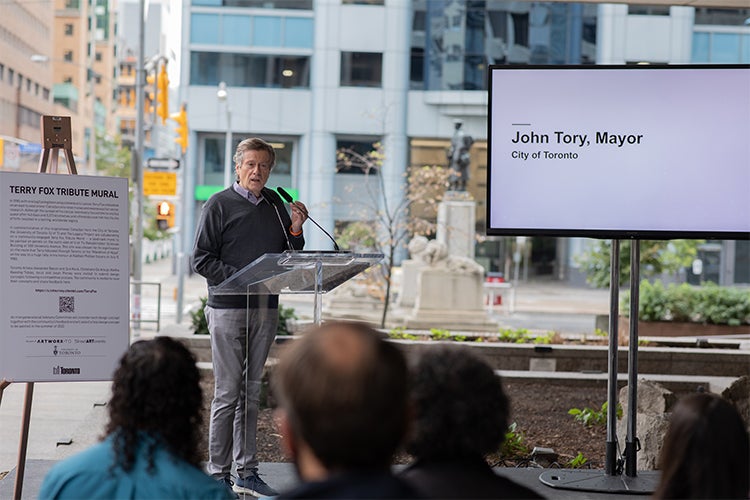 Mayor John Tory speaks at an event showcasing the mural project at U of T's Rehabilitation Sciences Building on University Aveneue (Photo by Johnny Guatto)
In addition to the mural, U of T has worked with the city and other partners on a number of projects for ArtworxTO. They include an Indigenous public art installation on tree-protection hoardings in the Hart House Commons; exhibitions and programming at the U of T Art Museum on the St. George campus and at U of T Scarborough; and student-led research through U of T's School of Cities to evaluate the Year of Public Art initiative that's currently underway.
Terry Fox began his Marathon of Hope in 1980, with the goal of crossing the country from east to west by running at least 42 km a day and raising one dollar from every Canadian to support cancer research. He had completed 143 days and reached as far as Thunder Bay, Ont., when the spread of his cancer forced him to end his quest.
He died in 1981, from cancer, at the age of 22. Since then, Fox's legacy has inspired millions of Canadians and others around the world to give to the Terry Fox Foundation, which has raised more than $850 million for cancer research.
Katrina Jang, who is pursuing a master's degree in occupational therapy at U of T, spoke about how Fox's hope and determination had inspired her.
"I want to be able to help, support and advocate for my future patients of all ages and abilities to engage in activities that are meaningful to them – even in the face of challenge and adversity," she said at the event. "Terry's values are something I'll try to channel."
The Toronto-based artists who were invited to submit mural designs are: Alexander Bacon and Que Rock, Christiano De Araujo, Keitha Keeshig-Tobias Biizindam, Emmanuel Jarus and Jason Pinney.
Pinney shared his own experience of being treated for childhood cancer at Sick Kids Hospital. "My family and I are grateful to Terry Fox for helping to normalize the conversation about cancer and the importance of early diagnosis," he said at the event. "We're grateful for the money he raised for research that helped save my life and so many others through research that continues to save lives today."
Members of the public can view the mural concepts and share feedback until Oct. 31. A selection committee that includes Darrell Fox, Fischer and Jang will review the designs and consider feedback from the public before selecting a winner.
The mural is scheduled to be painted in the summer of 2022.
UTC