'An international hero': Design unveiled for Terry Fox mural on U of T's Rehabilitation Sciences Building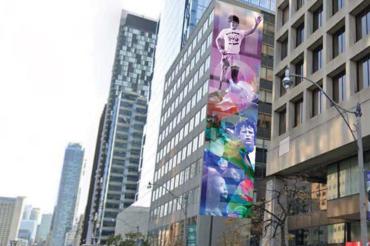 The design for a Terry Fox mural that will grace the University of Toronto's Rehabilitation Sciences Building has been selected by a panel that includes the Canadian hero's younger brother and niece.
The winning submission, by Toronto artists Alexander Bacon and Que Rock, depicts Fox smiling and waving. The mural's colours symbolize the different types of cancer research supported by the Terry Fox Foundation, while an image of a bison pays homage to Fox's Métis heritage. The word "hope" emblazoned vertically in block letters references his cross-country "Marathon of Hope" to raise money for cancer research.
"We are honoured to have had our design concept selected by the Advisory Committee for this landmark commission," the artists said in a statement. "Terry Fox is an international hero, a timeless symbol of selflessness and resilience against all odds. We are so proud to celebrate this global icon through our mural."
To be painted this summer at 500 University Avenue, the mural is expected to be eight storeys tall and will overlook part of the route Fox took through downtown Toronto more than 40 years ago. Upon his arrival in Toronto, he told the Globe and Mail that being a patient in a cancer ward was tougher than running across the country. "People I saw who had cancer set an example. I've got to be strong, I can't give up," he told the paper. 
Fox ran 5,373 kilometres with an artificial right leg over 143 days until illness forced him to cut his journey short outside Thunder Bay, Ont. 
"The University of Toronto is pleased to collaborate with the City of Toronto and The Legacy Art Project to commemorate Terry Fox's brave journey and his legacy of inspiration and support for advanced research to fight cancer," U of T President Meric Gertler said in a statement. "This project will enhance Toronto's public space and provide our city with an uplifting public art installation in the heart of our city's hospital and health care corridor."
The Legacy Art Project is part of the ArtworxTO initiative. 
The selection committee included Fox's brother, Darrell, and niece Jessie Adler. In a statement, they thanked the five artists who submitted designs and noted that "Alexander Bacon and Que Rock truly captured the euphoria and power of Terry running down University Avenue to Nathan Phillips Square on July 11, 1980."
Mayor John Tory, a U of T alumnus, similarly thanked the artists who submitted designs.  
"Each design was inspiring and powerful and honoured the legacy of Terry Fox in remarkable ways," he said. "Congratulations to the artists for their winning design, which will be a wonderful tribute in downtown Toronto to the legacy of a great Canadian."
UTC