U of T's Rosie MacLennan wins gold at #Rio2016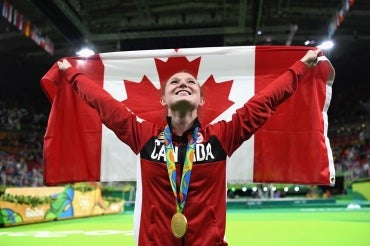 U of T alumna and student of the Faculty of Kinesiology and Physical Education (KPE) Rosie MacLennan is Canada's gold medallist in trampoline. She won with a final score of 56.465.
"I had a bit of a shaky preliminary round so I was coming into the final trying to stay strong, trying to stay high," she told CBC after the medal ceremony. "When I was done I looked over at Dave [her coach] and he had a smile on his face and that was the first indication that I did all right."
MacLennan is Canada's Olympic flag bearer at Rio, the first Canadian summer athlete to successfully defend an individual Olympic gold medal and a three-time Olympian. She earned Canada's only gold medal at the 2012 Olympic Games in London and finished in seventh place at the 2008 Beijing Olympics.
Follow MacLennan on Twitter: @RosieMacLennan
As the world's best continue to compete in Rio, take a look at these other outstanding U of T athletes who are competing this weekend. 
Earlier this week U of T's Kylie Masse won a bronze in the women's 100-metre backstroke race. Masse, a second-year student of KPE, was named U of T female athlete of the year, Ontario University Athletics (OUA) female athlete of the year and the BLG top female athlete in Canadian University Sport. She is also the first Varsity Blues swimmer to claim an Olympic medal while enrolled as a student at U of T. Follow Masse on Twitter: @Kjmasse
Third-year psychology student Gabriella Stafford will compete tonight and over the weekend in the 1,500 metres event. The Varsity Blues track star is part of a family who bleeds blue.
Stafford's father, U of T professor Jamie Stafford, represented Canada at four World Championships. Her mother, Maria Luisa Gardner (1965-2008), was from a running family with a brother, John Anthony Gardner, who was an OUAA champion for U of T and sister, Sara Gardner, who also represented Canada at a World Under-20 Championship for U of T. Gabriella's sister Lucia, who starts studying engineering at U of T in the fall, just became the 2016 junior national champion in the 1,500-metre event.
Stafford will compete tonight, August 14 and August 16 in the 1,500 metres events. Follow Stafford on Twitter: @gstafford13
U of T News will continue following the progress of U of T athletes and will share developing news about our athletes in the coming weeks. 
U of T athletes have the advantage of training in top-notch facilities. At the downtown Toronto campus, athletes can train at the Athletic Centre, Varsity Centre, Goldring Centre for High Performance Sport and Hart House Fitness Centre.
At the University of Toronto Mississauga, athletes can train in the comprehensive Recreation Athletics & Wellness Centre. UTM recently welcomed 520 athletes during the Ontario Summer Games (OSG), and hosted the OSG basketball and field lacrosse competitions on the UTM campus. Read more about  the Ontario Summer Games at UTM. 
And at University of Toronto Scarborough, athletes can benefit from the Toronto Pan Am Sports Centre, a 365,000 square foot world-class facility, features a fitness centre, field house, climbing wall and an aquatic centre containing two Olympic sized swimming pools, a competition and training pool and a Dive Tank.
"When we designed the Toronto Pan Am Sports Centre, we worked closely with experts to create a complete environment that would give our elite national team athletes the best chances to compete international," says Andrew Arifuzzaman, CAO at the University of Toronto Scarborough. "From the two edgeless,10-lane Mertha stainless steel pools to the starting blocks at TPASC, the facilities mirrors what our athletes compete in internationally."
"I watched this week as our men's and women's wheelchair basketball teams prepared to head to Rio for the Paralympics," says Laura Boyko, director of the health & wellness centre. "It makes me proud to know that TPASC is for everyone; an inclusive facility to help all athletes reach their full potential. U of T has not only some of the greatest minds in the country, but also some of the most competitive athletes as well."