#Rio2016: Investing in the best can bring out the best in all of us
"When we fail to invest in public facilities, we shortchange those who cannot afford to pay out of their own pocket": Bruce Kidd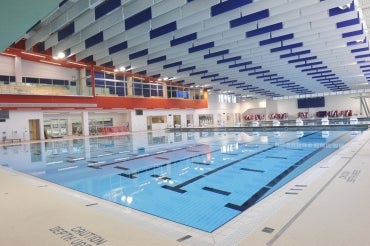 The breakout performance of 16-year-old Penny Oleksiak and the success of our women's swim team made Canadians proud during these Olympic Games.
For all Canadians – and especially those living in Ontario and in Toronto – there is a special element to Oleksiak's stellar performance in which we should take particular pride. She achieved it while training in a state-of-the-art public facility that is open to people of all ages and abilities, not just elite athletes, and serves as a site for research and education.
Four years ago when we broke ground on the Toronto Pan Am Sports Centre at the University of Toronto's Scarborough campus there were many skeptics. The $205-million price tag of the project raised eyebrows among those inclined to cut costs. But with the support of the city, province and federal government and $30 million from our own students at U of T Scarborough, we built a facility that is the envy of many.
The Toronto Pan Am Sports Centre is co-owned by the City of Toronto and the University of Toronto, with the Canadian Sport Institute Ontario as the major tenant, and represents the single largest investment ever made in amateur sport development in Canada. Now it also is the home of three Olympic medalists – Oleksiak, U of T Varsity Blues swimmer Kylie Masse and Winnipeg native Chantal Van Landeghem, as well as other Olympians and Paralympians competing in Rio.
There are many lessons to be learned from what we have achieved with the Toronto Pan Am Sports Centre.
For far too long our inclination has been to cut corners and pinch pennies when it comes to public investments, a tendency that can leave future generations paying the cost in lost opportunities and expensive do-overs.
The examples of such penny-wise and pound-foolish thinking are easy to find. In Toronto, the Donald D. Summerville pool in the Beach was built just short of Olympic size. At the University of Toronto, alterations to plans for the Athletic Centre in the 1970s meant the height needed for a 10-metre diving tower was cut from the plans, forcing elite divers to forge a future elsewhere. 
Supporters of such measures will argue that public money is scarce and must be spent with the utmost caution. They will get no argument from me on that.
But when we fail to invest in public facilities – in athletics, in the arts, in education – then we are shortchanging those who cannot afford to pay out of their own pocket. Whether we realize it or not, we are saying that only the affluent should have access to the very best.
The facilities at the Toronto Pan Am Sports Centre answer a need that has existed for more than three decades.
The dearth of facilities in Ontario forced athletes to leave the province or the country to train or to miss out altogether. Who can say how many would-be athletes forfeited their chance because of a lack of access to adequate facilities?
The Pan Am venues built on our campus and elsewhere are turning that around. Ontario and the Toronto area are no longer known for antiquated facilities with enormous deferred maintenance costs.   
Sure, there are lots of instances of people training and achieving excellence in makeshift facilities. Such adversity might build character, but it also discourages participation.
It makes a difference if we strive for excellence in public spaces. There is something about creating great facilities that excites people and enhances participation. People show up when you have an opportunity to use the very best.
Simone Manuel of the United States and Penny Oleksiak embrace after finishing in a dead heat in the Women's 100m freestyle final (Tim Clayton/Corbis via Getty Images)
On any given morning, visitors to the Toronto Pan Am Sports Centre can see it being used by the whole community. Local seniors use the track to walk laps, students use the gym to work out and swimmers – elite and otherwise – use the pool to swim lengths, while beginners learn to swim. Local use of the centre is twice the original estimates and we want to grow that even more. 
It is a testament to a commitment to make sport facilities for all, rather than hothouses for high-performance athletes alone. It's what we call a "puddle to podium".  
It's a model for Canada. Investing in the best can bring out the best in all of us. 
Bruce Kidd is vice-president and principal of University of Toronto Scarborough. A former Olympian, he has written extensively about the politics of sport.