U of T among top 20 public universities for physical sciences: Times Higher Education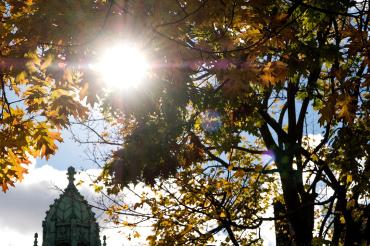 On the downtown Toronto campus, behind a door with a sign saying "Lasers vs Atoms," Amar Vutha is fine-tuning a clock.
Not just any old timepiece. He and his research team are developing an atomic clock so precise it can be used to measure infinitesimally small ripples in space-time known as gravitational waves. 
Vutha joined the University of Toronto's physics department in 2015. The assistant professor and Canada Research Chair in Precision Atomic and Molecular Physics is continuing a tradition of scientific discovery and invention that has helped U of T earn its reputation as one of the top universities for the physical sciences.
This week, Times Higher Education recognized U of T as the top university in Canada for the physical sciences – math, statistics, physics, astronomy, chemistry, geology, and environmental, earth and marine sciences – in departments and faculties across U of T's three campuses.
THE ranked U of T 29th globally and 20th among the world's public universities. Princeton University was ranked first out of 500 universities surveyed. 
Two other Canadian universities ranked in the top 100: the University of British Columbia (52nd) and McGill (58th). The rankings are based on measures including teaching, research, citations, international outlook and innovation.
The physical sciences are the last in a series of subject rankings released by THE this year. Overall, U of T was the highest-ranked Canadian university in eight of 11 subjects. It is the only public university and one of only three universities in the world to be ranked among the top 30 in every category, the other two being Stanford University and Columbia University. 
Amar Vutha is working to develop a portable atomic clock that could be used to help measure gravitational waves (photo by Geoffrey Vendeville; the researcher is wearing safety attire appropriate for working in the lab shown above – learn more about safety measures at U of T labs) 
In the basement of the McLennan Physical Laboratories, Vutha and his team are trying to design an atomic clock the size of a tabletop. Today's clocks are so large that they would take up both rooms of his lab.
With a more portable device, Vutha says it will be possible to study gravitational waves and make other measurements of gravity to test Einstein's general theory of relativity.
"Given the lower level of funding for science in Canada, compared with the international competition, our ranking is amazing"
Vutha is part of the quantum optics research group, one of the physics department's core focus areas, along with condensed matter phyics and particle physics. The department is home to six Canada Research Chairs.
"The biggest change in the department in the last 20 years has been the introduction of biological physics," says Professor Stephen Julian, chair of the department.
Researchers in this area take a physics approach to understand biological phenomena. Professor Anton Zilman, for example, has developed a new theory on the operation of the nuclear pore complex, which passes molecules across the membrane that surrounds the nucleus in a cell.
"Given the lower level of funding for science in Canada, compared with the international competition, our ranking is amazing, really," Julian says, "but at the same time, U of T typically does so well in these rankings that perhaps we shouldn't be surprised."
As rankings by THE suggest, U of T also excels in the other physical sciences. At U of T Scarborough, research by faculty in the environmental sciences has influenced international treaties and policies, says George Arhonditsis, the chair and graduate chair of the department of physical and environmental sciences.
He describes the department as a "research powerhouse" at U of T Scarborough, with tenure-stream faculty publishing more than 100 peer-reviewed publications per year and bringing in over $2 million in funding annually.
"Our researchers are addressing a wide range of environmental problems, including contamination, air pollution, eutrophication, climate change, and development of technologies to monitor environmental pollution," he says.
Over at U of T Mississauga, the department of chemical and physical sciences also publishes 100 papers per year, and it
'
s home to prominent researchers such as analytical chemist and
new UTM Principal
Ulrich Krull
– and
Patrick Gunning
, a medicinal chemist who has synthesized drugs that have proved effective against cancerous tumours.
The department brings together scientists with backgrounds in physics, chemistry, earth sciences and astronomy. Many of them submit to life science journals, in addition to chemistry and physics publications.
"The key point is the interdisciplinary feel of the department," says Associate Professor and Chair Claudiu Gradinaru. "We collaborate with each other often because of the proximity."
In astronomy, U of T scientists were part of the large team whose research on gravitational waves made headlines around the world. For that research, three U.S.-based professors won the Nobel Prize in Physics this year.
Scientists from 20 countries co-operated on the Laser Interferometer Gravitational-Wave Observatory, which operates the twin detectors that detected the waves.  
Harald Pfeiffer, an associate professor at the Canadian Institute for Theoretical Astrophysics in the Faculty of Arts & Science, and several students helped the team analyze their data. 
"If you know the shape of the signal you're looking for, it's like knowing the colour of a needle in a haystack. It's easier to find," he says.
Although U of T ranked highly, THE editors warn that Canada's performance is slipping due to greater global competition. U of T dropped four spots in the ranking, although the number of institutions considered expanded to 500, up from 100 last year. "As more universities compete for a place in the table, Canada will need to ensure it can stand its ground," says Phil Baty, THE editorial director of global rankings, in a statement.
U of T President
Meric Gertler
and his counterparts at McGill and UBC
have called on Ottawa
to boost funding for research and implement the other recommendations of the Fundamental Science Review panel, chaired by U of T President Emeritus
David Naylor
. 
Overall, U of T continues to be the highest-ranked Canadian university and one of the top public universities in the five most prestigious international rankings: Times Higher Education World University Rankings (22), QS World University Rankings (31), Shanghai Ranking Consultancy's ARWU (23), U.S. News Best Global Universities (20) and National Taiwan University Ranking (4).
UTC