U of T to aid in historic vaccination effort, host Mississauga clinic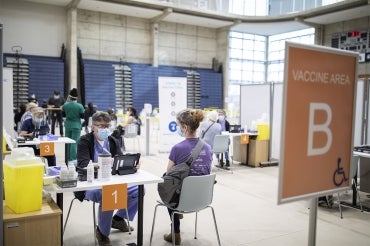 The University of Toronto is hosting a COVID-19 vaccine clinic on its Mississauga campus and is exploring other ways to support the largest vaccination campaign in Canadian history – including providing space for clinics on its other campuses.  
U of T Mississauga has joined forces with Trillium Health Partners (THP), overseen by Peel Public Health, to open a mass vaccination clinic in the campus's Recreation, Athletics & Wellness Centre on March 1. 
The THP-operated clinic has the capacity to deliver up to 2,000 doses a day of Health Canada-approved vaccine by the end of March – and could grow its capacity to 4,000 doses per day in later phases. It's expected that the clinic could ultimately vaccinate up to half a million people against the coronavirus. 
U of T Scarborough is also preparing to provide space for a vaccination clinic, and discussion is underway regarding a clinic on the St. George campus. With clinics open on all three campuses, it is estimated that hospital partners and public health authorities would have the capacity to administer more than one million vaccinations by the end of summer using space provided by U of T.
U of T President Meric Gertler said the university is pleased to offer space and equipment, such as ultra-cold storage freezers, to support these critically important initiatives.  
"From the outset of this crisis, University of Toronto students, faculty and staff have stepped up to help, in addition to their crucial work on the front lines of COVID-related research, innovation and clinical care," he said.
As examples, President Gertler cited volunteer efforts to run errands for front-line workers and to provide much-needed personal protective equipment to hospitals. 
"Now, the U of T community is ready and eager to help carry out the largest immunization campaign in Canadian history." 
The vaccine clinic at U of T Mississauga comes as public health experts warn of a potential third wave fueled by more contagious variants of the virus. It could be just one of several ways the university lends its resources to public health authorities in connection with Ontario's mass vaccination effort.
"THP's COVID-19 mass vaccine clinic is now in place and prepared for a quick ramp up to deliver the vaccine to Peel residents," said Ontario Premier Doug Ford.
"We thank Trillium Health Partners, University of Toronto Mississauga and the Peel region for their partnership and for sharing our goal to be able to administer COVID-19 vaccines quickly and safely to protect the community."
Salvatore Spadafora, a physician and senior adviser to the dean of the Temerty Faculty of Medicine, who is also special adviser to the president and provost on COVID-19, likened the university's participation in the vaccination campaign to its contributions at another time of crisis: the Great War.  
"A hundred years ago, there were British First World War biplanes on the university grounds and troops training on campus," he said. "We are taking the same all-hands-on-deck approach toward fighting a different common enemy: SARS-CoV-2.  
"The variants of concern make it even more important to vaccinate people as soon as possible."  
To help co-ordinate any on-campus vaccine efforts, U of T administrators, clinicians and faculty members – led by the department of family and community medicine in the Temerty Faculty of Medicine – are in close contact with public health authorities and leaders of the university's partner hospitals. The group is known internally as "Team Vaccine."
All on-campus clinics would be operated by public health and hospital partners and would deliver vaccinations to the public based on the priority groups set out by the province. The province's three-phase distribution plan focuses first on populations who are at greatest risk of COVID-19 and severe illness, as well as those who care for them. Members of the U of T community – faculty, librarians, students and staff – will be prioritized in the same way as other members of the public in accordance with the province's implementation plan.  
"If clinics are ultimately set up on all three campuses, there could be as many as one million vaccinations administered via our hospital partners and public health authorities at university sites by the end of the summer," said Ron Saporta, U of T's chief operating officer, property services and sustainability.  
"That could go a long way toward helping the Toronto and Peel regions respond to one of the biggest health crises of our lifetimes." 
U of T's Temerty Faculty of Medicine is also surveying learners in the health professions to determine their interest and availability to act as volunteers in various capacities.  
Alexandra Gillespie, vice-president and principal of U of T Mississauga, said she is pleased to see U of T Mississauga support THP and Peel Public Health. 
"The university is pleased to offer its resources for this historic initiative to support residents' health and well-being, here in Mississauga and in the wider Region of Peel," Gillespie said. "We are excited to collaborate with Trillium Health Partners and Peel Public Health, and look forward to safely welcoming members of the community.
"The THP vaccine clinic at UTM is a pivotal step for mass community vaccine delivery in Ontario."
At U of T Scarborough, a COVID-19 assessment centre operated by Scarborough Health Network has been open for the local community since December in the Highland Hall event centre, with more than 40,000 COVID-19 tests completed for the general public. Plans are now in place to relocate the assessment centre to a new location on campus to make way for the vaccination centre that will be operated by Scarborough Health Network.
Also set to begin operations in March, the centre will follow the same safety measures and protocols as the Scarborough Health Network's other vaccine centre sites and will be managed by hospital staff. 
Wisdom Tettey, vice-president and principal of U of T Scarborough, said the campus is ready to do whatever it can to help its hospital partners and public health authorities put a stop to the pandemic.  
"Scarborough has been hit particularly hard by COVID-19 and we want to do everything in our power to support public health efforts," he said.  
As of Feb. 25, more than 620,000 doses of the vaccine had been administered in Ontario and more than 255,000 people have been fully vaccinated. Nationally, less than one per cent of the population has received two doses.  
Speaking to reporters last week, Adalsteinn Brown, dean of U of T's Dalla Lana School of Public Health and co-chair of the province's COVID-19 Science Advisory Table, stressed the importance of social distancing, masks and hand washing as new variants of COVID-19 take hold in Ontario.  
"Only care and caution will protect the gains we have made," he said. "A better summer is in sight if we work for it now." 
UTC