As COVID-19 battle escalates, U of T students offer busy health-care workers help on the home front
In the week leading up to the declaration of the COVID-19 pandemic, as it became clear the virus would have a wide-ranging impact, four students at the University of Toronto's Faculty of Medicine found themselves searching for a way to help.
Knowing the toll the outbreak would take on the health-care system, the students – Jordynn Klein, Daniel Lee, Tingting Yan and Orly Bogler – organized their peers to babysit, fetch groceries and carry out other domestic tasks for health-care workers and hospital support staff who are increasingly at risk of being stretched to the limit.
"Daniel and I reached out to some members of our class to see if they would be interested in designing some kind of initiative to help health-care workers who are on the front line," Klein says.
Within an hour of putting the call out on Twitter, they had dozens of responses from students who wanted to help in any way possible.
The initiative quickly grew larger than the four medical school students could handle themselves, so they recruited other students in medicine and nursing to help co-ordinate the effort. As of Wednesday, the organizers had signed up over 240 volunteers and have received requests for help from more than 130 health-care workers. Students sign up to volunteer using one online form, while health-care providers fill out another form to ask for help. Already, volunteers have been dispatched all across the Greater Toronto Area. 
Nelson Saddler, a second-year medical student, has been putting in six to eight hours per day driving around town in his Hyundai SUV fetching groceries or babysitting. On Wednesday, he did three grocery drop-offs, picking up chicken breasts, fruits and vegetables and salt-and-vinegar potato chips for busy health-care staff.
"These health-care workers are trying to keep us safe and treat our community," he told U of T News over the phone. "The only way they can keep doing that is by being supported by all of us with the little things – like groceries, pet care – so they can focus." 
Many parents have asked the students for help taking care of their kids now that school has been cancelled to promote social distancing, or because grandparents can no longer look after their grandkids because the elderly are at higher risk of serious illness from COVID-19.
"We've been receiving a lot of gratitude from those folks for offering some stopgap coverage for them so they can be at work and not worry about who's going to take care of their child while they're taking care of other people," Klein says.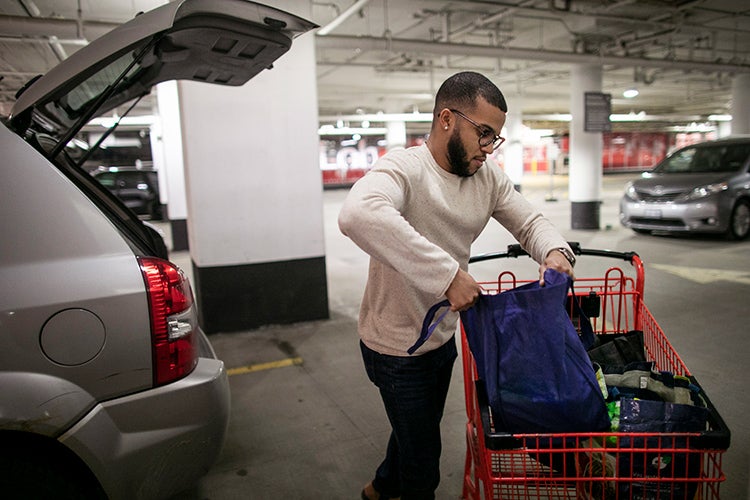 Nelson Saddler, a second-year medical student at U of T, gets groceries for busy health-care staff during the novel coronavirus outbreak (photo by Nick Iwanyshyn)
Before even launching their initiative, the students thought hard about what precautions the volunteers should take so that they didn't inadvertently make the problem worse. Students aren't allowed to volunteer if they have been out of the country in the last 14 days, or if they have been in contact with anyone who has. They can't volunteer if they're involved in high-risk work such as screening patients in an emergency room. And they can't sign up if they are experiencing any upper-respiratory symptoms, according to Lee. As an added safety measure, the organizers assign a single volunteer per family to limit exposure. (U of T News also took precautions while reporting this story by interviewing and photographing the students from a safe distance or over the phone.)
The U of T students say they are in touch with more than a dozen medical students at other Canadian universities who are interested in launching their own volunteer network. "I think in a way eyes are on us," says Lee, adding that the U of T students are the only ones  who have so far connected volunteers with families. 
Meanwhile, Klein says students from Case Western Reserve University in Cleveland, Ohio and New York University have also reached out. 
Yan, a first-year medical student, says that seeing how the medical community is responding to the crisis has strengthened her resolve to join the profession. "People are in the midst of a crisis and [yet they] are able to rush in and help as best they can and [be] really brave and generous and caring," she says.
Bogler, a fourth-year student whose residency in internal medicine is supposed to begin in July, says she "felt a pull" to help front-line workers. "I was very motivated to get this off the ground, to ensure our year collectively contributes to the cause," she says. 
For Klein, who has spent much of the last few days fielding calls and answering emails, the way the medical community has responded to the outbreak has been inspiring.
"If there's one thing that we had reinforced over the course of this initiative, it's that bravery… is doing what you think is right, especially when you're scared," the second-year student says. "To go in and feel that fear, and go in and do it anyway because you know it's the right thing to do." 
UTC