U of T Scarborough hosts COVID-19 testing centre for local community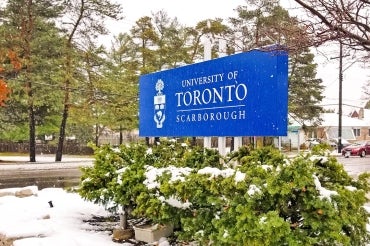 The University of Toronto Scarborough's Highland Hall will provide a safe, warm space for the Scarborough community to get COVID-19 tests.
As winter looms, the Ontario government is encouraging hospitals to move their COVID-19 Assessment Centres to indoor locations so testing can continue. U of T Scarborough has partnered with the Scarborough Health Network (SHN) to give one of these centres a new home, from Dec. 1, 2020 to April 2021.
The assessment centre will operate in Highland Hall's event centre, which will now be an independent facility. The centre will have a separate entrance and exit and will even have separate air, using its own dedicated air system. SHN staff will manage the centre, which will run under the same safety measures and protocols as the organization's other locations. Hospital staff, in personal protective equipment, will run testing, regularly disinfect the space and equipment, and dispose of garbage.
The centre will sit next to U of T Scarborough's bus loop and its own designated parking lot (Lot A), streamlining the route between transportation and testing. Tests will be by appointment only, while marked pathways and directional signage will designate exactly where and how people move on campus. Those coming for tests will have to print their own parking tickets (provided when booked), wear masks at all times, sanitize their hands and practise physical distancing. They will also be instructed not to use any U of T Scarborough facilities or buildings – all of which have controlled access points.
Members of the Scarborough community, including students, staff and faculty at U of T Scarborough, will be able to book an appointment if deemed eligible. The province's self-assessment tool should be used to determine if testing is needed and further criteria can be found on the COVID-19 Assessment Centre FAQ page. Those eligible can use the Ontario government's list of Greater Toronto Assessment Centres to select the testing location that best works for them. If choosing U of T Scarborough, booking will be available through the SHN website, and results will be delivered through the Ministry of Health's online platform.
U of T Scarborough sits in a key, accessible space for testing. Unlike U of T's St. George campus, which is near several hospitals and testing sites, U of T Scarborough is located in a residential area where the community does not have close access to existing testing centres. The centre will not only keep users comfortable and safe through the winter, but increase testing capacity in Scarborough – a geographically large region that has only three hospital sites and a population hit hard by COVID-19.
The assessment centre will open for bookings on Tuesday, Dec. 1, 2020. 
UTSC