Together in friendship and grief: U of T Mississauga holds vigil for victims of Flight 752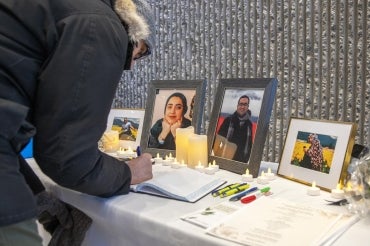 Students, faculty and staff at the University of Toronto Mississauga gathered on Thursday to remember those who were on Ukrainian International Airlines Flight 752, including fourth-year biology student Zeynab Asadi Lari and her brother Mohammad Asadi Lari.
The atrium of Maanjiwe nendamowinan was filled with those who came together in shared grief. The plane crashed near Tehran on Jan. 8, killing all 176 on board.
Eight members of the U of T community were on the flight, including six students.
"We mourn for every single one of them," said Mark Overton, U of T Mississauga's dean of student affairs and assistant principal, student services.
The vigil started with a prayer led by Imam Mustafa Khattab before the names of those from the U of T community on the flight were read out. Those gathered hugged one another, shared memories of the Asadi Lari siblings, and wrote messages in a book of condolences that will be sent to their family.
Friends of Zeynab who spoke at the vigil, many holding back tears, recalled an intelligent young woman who brought people together and was always there to help a friend in need.
Described as a generous, uncomplicated and kind person, Zeynab is remembered for bringing together many who came from broken friendships. She not only brought them together, she "kept us united," said Fatima Sahibzada. "She had a kind personality and a heart full of love."
"Each moment with Zeynab was significant," added Hamna Zubair. "Together was her word."
Many shared memories of when Zeynab would reach out to them to help, bringing light to dark moments and promising those going through difficulties that they would get through it together.
"She made us less lonely," said Saleha Zubair. "As long as Zeynab was by my side, I was powerful, I was unstoppable."
Fiona Rawle, associate professor, teaching stream, of biology, explained Zeynab was a "fierce advocate" for showing emotion and ending the stigma related to mental health. "She would want you to grieve together," Rawle said.
A phenomenal friend, Zeynab also knew what it took to succeed. Friends and faculty recall she was driven, focused and hard-working with clear goals for the future.
Rawle said one of the greatest joys of her job is watching students set goals and try to achieve them. Zeynab, who was "fiercely competitive with herself and immensely collaborative with everyone," achieved many of her goals, Rawle said.
Assistant professor of biology, teaching stream, Jade Atallah said Zeynab came to her with eyes filled with excitement. She was a vibrant, passionate and driven student with a clear view of what it took to succeed, Atallah said, adding that vision and drive is what led her to create a way for students to take charge of their future. She founded the U of T Mississauga branch of STEM Fellowship, a student-run, non-profit organization that strives to engage future STEM leaders. Her brother, Mohammad, a student at St. George, was a co-founder and former managing director with the organization.
Seyed Mohammad Ebrahim Naghavi, a companion of Mohammad's since fifth grade, described his friend as "energetic, ambitious and helpful to others.
"I truly believe in the potential Mohammad and Zeynab had," Naghavi said. "My world will not be the same without him."
Friends took some small measure of solace that, in their final moments, Zeynab and Mohammad had each another.
"You deserve better," Atallah said. "We will do better than what was done to you. We need to do better. We need to aim as high as Zeynab did."
UTM