A change-maker in the making: Remembering U of T student Mohammad Asadi Lari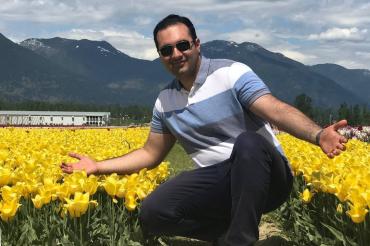 The University of Toronto community is remembering students who were passengers on Ukraine International Airlines Flight PS752, which crashed on Jan. 8 outside of Tehran, Iran. Over the coming days, U of T News will share stories about the students and their legacies. We will update the stories as new information becomes available.
---
Mohammad Asadi Lari was one of two students who studied at the Faculty of Medicine – both known for their curiosity and commitment to discovery. The other was Mohammad Amin Jebelli.
"On behalf of the Faculty of Medicine, I extend my deepest condolences to the family and friends of Mohammad Asadi Lari and Mohammad Amin Jebelli," said Professor Salvatore (Sal) Spadafora, acting dean of the Faculty of Medicine. 
"They made an indelible mark on the life of this faculty and the world has lost two remarkable individuals." 
Asadi Lari is remembered by his peers as a deeply compassionate individual who was known for lifting people up when they were feeling down. Active in many projects and organizations, it was clear to many that Asadi Lari was a change-maker in the making.
An MD/PhD student at the Faculty of Medicine, Asadi Lari was in the second year of the eight-year program. He was traveling back to Toronto after visiting family in Iran aboard Ukraine International Airlines Flight PS752 when it crashed. Also with him was his sister, Zeynab Asadi Lari, who was a student at U of T Mississauga.
Among his many accomplishments was helping to found the Canadian Association for Physician Innovators and Entrepreneurs (CAPIE). Reflecting on Asadi Lari's legacy, Dr. Alexandra Greenhill, Board Chair of CAPIE, said "…his incredible mind, heart and energy will be missed. Being a truly gifted forward-thinker and systems-thinker, we know he would want us to focus on the future, on innovating and on contributing – so let's remember him for all the 'can-do' and 'must-do' attitude he brought into the world."
Youth mentorship was also dear to Asadi Lari and an activity he was actively engaged with – he even gave a TEDxTalk last February about the ways in which we can empower youth. Since 2015, he served as the managing director of STEM Fellowship, which is a youth-led non-profit organization he co-founded that works to create mentorship and experiential learning opportunities for young STEM researchers and innovators.
"Mohammad Asadi Lari was a remarkable young man who touched many in his short life. He always gave much more than he ever expected in return. It is a great loss for all of us and for his family who have lost two of their children," said Dr. Patricia Houston, vice dean of the MD program at U of T.
Asadi Lari was involved in numerous youth-focused activities through his efforts with the Canadian Commission for the United Nations Educational, Scientific and Cultural Organization (UNESCO), the Canadian Institutes for Health Research, the Canadian Red Cross, Science World British Columbia, the non-partisan, civic-engagement group Apathy is Boring and the World Economic Forum – to name just a few of the many organizations he served over the last few years.
On campus, Asadi Lari was the vice-president of global health with the U of T Medical Society and helped to advocate for matters of international health, aid and equity.
Asadi Lari's accomplishments were recognized with numerous national and international scientific Olympiad medals, a 3M National Student Fellowship, a Governor General's bronze academic medal, a University of British Columbia Faces of Today Leadership award, a Society for Scholarly Publishing Fellowship and being included as a 2018 Royal Bank of Canada (RBC) Top 25 Immigrant Finalist.
---
Feeling distressed? Find someone to talk to right now – and if there is an immediate risk, call 911.
Round-the-clock support:

Students can speak to a trained crisis worker at any hour of the day.
Other 24-7 supports available to students include:
The following services are available to students on all three campuses:
Faculty and staff have access to 24-7 support through:
Medicine