U of T community mourns Iran plane crash victims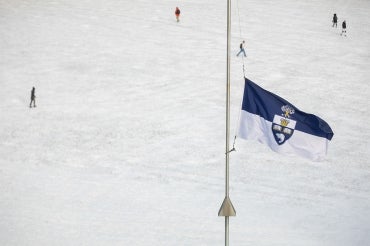 The University of Toronto is mourning the loss of students killed in the tragic crash of Ukraine International Airlines Flight PS752 near Tehran.
The university has learned that the names of the following U of T students appear on the flight manifest for Ukraine International Airlines Flight PS752. The university is continuing to gather information and monitoring reports closely.
"We have learned, with profound sorrow, that several U of T students were among the 176 people killed in the crash of Ukraine International Airlines flight PS752 in Tehran, Iran," U of T President Meric Gertler said earlier today in a statement. 
"On behalf of the entire University of Toronto community, I want to say how deeply saddened we are, and how concerned we are for the families and friends of those who lost their lives. We are continuing to gather information, and taking care to respect the privacy and wishes of all involved."
All 176 passengers and crew were killed after the Boeing 737 passenger jet crashed shortly after taking off from Tehran Imam Khomeini International Airport en route to Kyiv. Sixty-three Canadians were among the victims.
Flags at U of T's three campuses will be flown at half-mast as the university unites in mourning the victims and offers sympathy and condolences to their families and friends.
"Many members of our university – and many across the GTA and Canada – have been directly affected by this tragedy," President Gertler said. "We are all heartbroken."
He added that the university is ready to support anyone who needs help, and encouraged members of the university community to seek out the support services listed below.
---
Feeling distressed? Find someone to talk to right now – and if there is an immediate risk, call 911.
Round-the-clock support:

Students can speak to a trained crisis worker at any hour of the day.
Other 24-7 supports available to students include:
The following services are available to students on all three campuses:
Faculty and staff have access to 24-7 support through:
UTC