A 'fierce advocate' for mental health: Remembering U of T student Zeynab Asadi Lari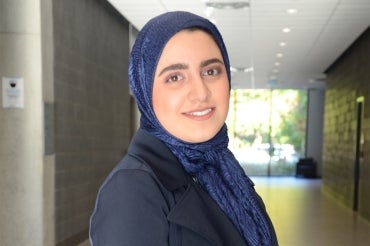 The University of Toronto community is remembering students who were passengers on Ukraine International Airlines Flight PS752, which crashed on Jan. 8 outside of Tehran, Iran. Over the coming days, U of T News will share stories about the students and their legacies. We will update the stories as new information becomes available.
---
Zeynab Asadi Lari, a fourth-year student pursuing an honours bachelor of science at U of T Mississauga, is being remembered as an accomplished young leader, mentor and friend.
She was travelling with her brother, U of T Faculty of Medicine student Mohammad Asadi Lari.
Associate Professor Fiona Rawle, associate dean, undergraduate, says she can still clearly recall Asadi Lari walking down the steps of the lecture hall and introducing herself after her first biology class – she was full of curiosity and always asked relevant questions.
"She was a scientist from the start," Rawle says, adding that Asadi Lari had plans and dreams to improve people's lives.
A "fierce advocate" for mental health, reducing stigma, public health and global health, Rawle says when faced with a barrier, Asadi Lari would look for solutions and always followed up her ideas with action.
"She was fiercely competitive with herself but collaborative with others," Rawle recalls, explaining Asadi Lari had an incredible capacity to build relationships and exhibited "tremendous leadership skills." She could often be found mentoring others.
Rawle says she can see the impact Asadi Lari had on her fellow students, who have been brought together in their shared grief.
Asadi Lari was the founder and president of the U of T Mississauga branch of STEM Fellowship, a student-run, non-profit organization that strives to engage future STEM leaders and innovators in data science and scientific communication. Her brother, Mohammad, was a co-founder and former managing director with the organization.
Dr. Sasha Noukhovitch, founder of STEM Fellowship, describes Asadi Lari in a statement as a "creative, hardworking, committed young leader who made invaluable contributions to STEM Fellowship." He says she brought passion and enthusiasm that were "warmly welcomed by her community," and was a patient and encouraging mentor who was always willing to lend a hand and support those around her.
"She demonstrated a strong commitment to fostering equity in medicine and global health, increasing community involvement and tackling stigma surrounding mental health," the statement says.
Zeynab was an active member of her community, with a strong admiration for medicine, public and global health, STEM education, mental health advocacy and humanitarianism. She served as the mental health network co-ordinator for the Youth Mental Health Association, a youth member at Young Canadians Roundtable on Health, and executive board member at the Iran University of Medical Sciences Medical Student Association for Cancer Research. She previously interned with the Worth Health Organization.
"Their passing is an unimaginable loss for their family, friends and communities they were part of," Noukhovitch's statement continues. "During their lives, they touched many people with their tireless altruism and advocacy, and with their deep care for the people around them."
---
UTM