Three generations of chief librarians toast U of T Libraries' 125th anniversary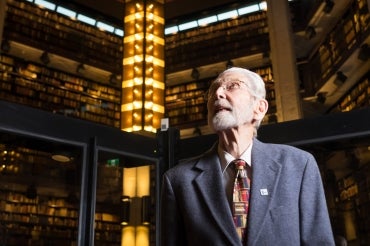 Much has changed since Robert Blackburn took the helm of the University of Toronto Libraries.
After service in the Royal Canadian Air Force and a stint at the Calgary Public Library, he became the university's chief librarian in 1954. One of Blackburn's signature achievements of his almost three decades in charge was overseeing the construction of Robarts Library, which opened in 1973.
Now 98 years old, he returned to Robarts sporting a bookshelf tie to celebrate U of T Libraries' 125th anniversary. The building looks so different now, he said, that he can hardly find his way around anymore.
"It still feels like home, however," he added.
He was joined by his successor Carole Moore, current chief librarian Larry Alford and Vice-President and Provost Cheryl Regehr. In speeches at the Thomas Fisher Rare Book Library, they reflected on the library's past and noted that another important era in the institution's history has just begun: the construction of the Robarts Common expansion, which will add 1,200 study spots by the fall of 2019.
Katherine Morrison, an alumna and lead donor with her late husband Russell, helped Moore (below left) and Alford cut a chocolate cake with a picture of the Robarts expansion.
Regehr, who often meets with other provosts from across the continent, said U of T's library system is the "envy" of other universities. The 44-library network, including libraries at U of T Scarborough and U of T Mississauga, is consistently ranked the best in Canada and among the top 10 in North America.
The library system owes much of its success to the vision of university leaders of the 1960s such as Blackburn and former university president Claude Bissell, Moore said.
They anticipated collection growth needs and built a library system able to support research on the same level as Harvard and Oxford Universities.
But no one could have predicted a later surge in university enrolment or the impact of the information age, she said. In her 25 years as chief librarian, Moore led a renovation of Robarts, making more space for students by moving books to the library's massive book vault at Downsview.
Most of Robarts's 14 floors underwent a makeover. The government documents and map room on the fifth floor became a state-of-the-art geographical information centre. Second- and third-floor reading rooms were upgraded with new furniture and lighting.
An exhibition on the first floor of Robarts tells the story of U of T Libraries, from the opening of King's College in 1843. The modern library system dates back to 1892, after a new library was built following a fire that devastated University College, which housed the library at the time.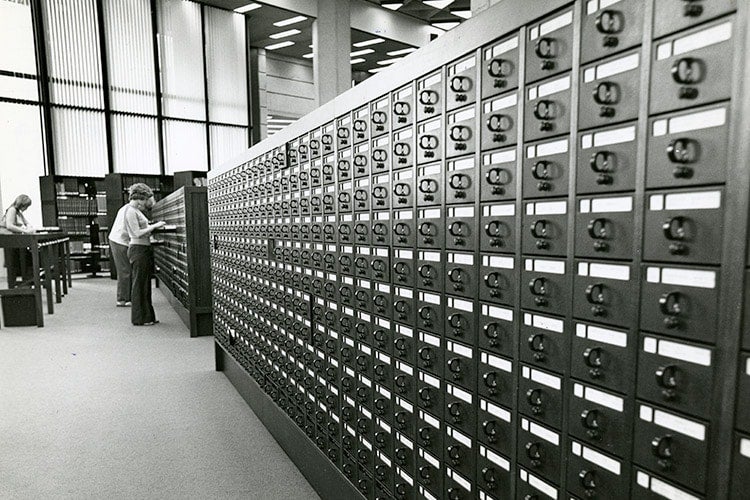 The main card catalogue of Robarts Library in August 1973 (photo courtesy of University of Toronto Archives) 
The next chapter in the library's history will be written with Alford at the helm. Although libraries have changed dramatically since he became a librarian in 1978, their mission remains to support research and scholarship, he said. Their role has expanded to storing digital information so that research data can be put to new use.
U of T Libraries stores 1.5 petabytes of information (a petabyte equals a million gigabytes). One faculty member in economics has used that information to analyze micro-economic events in the 1920s, Alford said, with the goal of predicting larger economic trends in the 1930s.
"Libraries are about preserving and storing information. I think research data is the next frontier," he said.
UTC